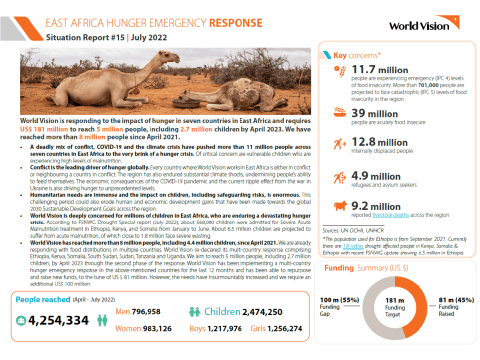 East Africa Hunger Emergency Response Situation Report - July 2022
Thursday, September 1, 2022
A deadly mix of conflict, COVID-19 and the climate crisis has pushed more than 9 million people across seven countries in East Africa to the very brink of a hunger crisis. Of critical concern are vulnerable children who are experiencing high levels of malnutrition.
World Vision has reached more than 8 million people, including 4.4 million children, since April 2021. We are already responding with food distributions in  Ethiopia, Kenya, Somalia, South Sudan, Sudan, Tanzania and Uganda. We aim to reach an additional 5 million people, including 2.7 million children by April 2023. 
Learn more about and support World Vision's global response to a growing hunger crisis.