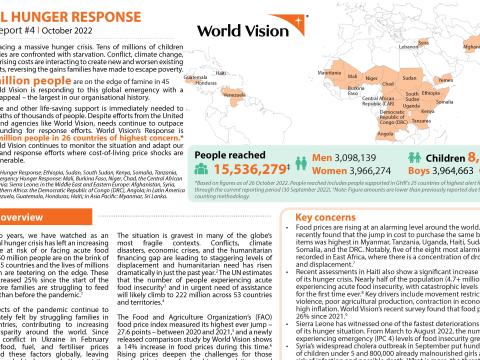 Global Hunger Response Quarterly Update - 31 October 2022
Monday, October 31, 2022
This is the fourth situation report released by the Global Hunger Response (GHR) and our second 'quarterly' sitrep, which provides a detailed overview of our qualitative and quantitative impacts, including regional situational overviews and highlights as of the end of September 2022.
Over the last two years, we have watched as an unparalleled global hunger crisis has left an increasing number of people at risk of or facing acute food insecurity. Nearly 50 million people are on the brink of starvation across 45 countries and the lives of millions of hungry children are teetering on the edge. These numbers have increased 25% since the start of the year, and 40% more families are struggling to feed themselves today than before the pandemic.
The lingering effects of the pandemic continue to be disproportionately felt by struggling families in the poorest countries, contributing to increasing socioeconomic disparity around the world. Since the outbreak of conflict in Ukraine in February 2022, spiralling food, fuel, and fertiliser prices have compounded these factors globally, leaving people even further behind, exacerbating existing humanitarian crises, driving millions of people around the world into extreme poverty, and magnifying hunger and malnutrition.
You can help children and their families overcome hunger by supporting our work here.