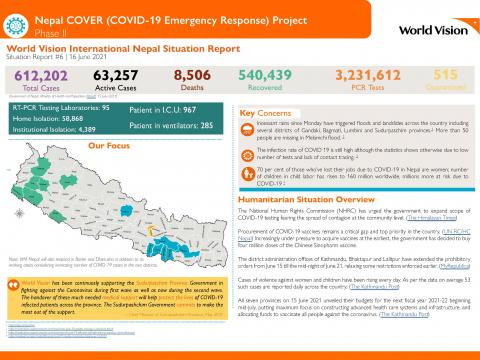 Nepal COVER Project Phase II SitRep 6 (16 June 2021 update)
Thursday, June 17, 2021
Following are the major highlights of Nepal COVER Project – Phase II, as of 16 June 2021:
The fourth episode of radio programme "Hamro Ghar Hamro Paathsaala" has been broadcasted to remotely engage children to continue their learning during the prolonged nationwide COVID-19 lockdown. WVI Nepal also is continuously broadcasting Public Service Announcements (PSAs) through 300+ radio stations associated with ACORAB.

Local-level vendor assessment for Cash Voucher programming is being conducted at identified distribution points across WVI Nepal's working areas.

The procurement of self-learning materials for children is ongoing. The materials will be distributed with an aim to ensure continuity of learning in children.
Highlights of the first 30-day response