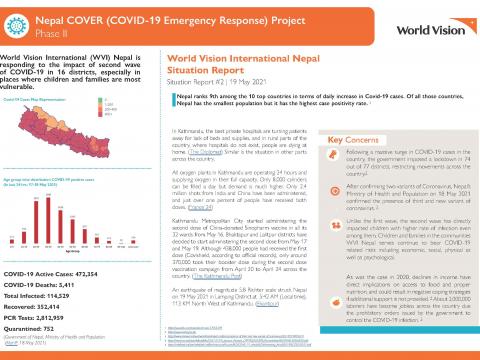 Nepal COVER Project Phase II SitRep 2 (19 May 2021 update)
Monday, June 7, 2021
Health facilities across the country are overwhelmed with the continuing spike in COVID-19 cases. Unlike the first wave, the second wave is of even higher concern as it is affecting people of all ages severely, with a higher rate of infection among children.
Considering the growing concern over children and general public as a whole, World Vision, who have been working closely with the Government of Nepal (GoN), stepped-in after the government appealed national/international development and humanitarian agencies for the support. 
World Vision launched Nepal COVER (COVID-19 Emergency Response) Project – Phase II focusing on providing life-saving assistance to the vulnerable children and communities in close coordination with the Federal, Provincial and Local governments and in partnership with local implementing partners. The 90-day (May - July 2021) multipronged integrated response focuses on educating general public on the issues associated with the coronavirus and child protection, strengthening government health facilities and ensuring food security of the vulnerable families through cash programming.  
Following are the major highlights of Nepal COVER Project – Phase II, as of 19 May 2021:
World Vision International (WVI) Nepal's second phase of COVID-19 response is aligned with the Government of Nepal's National Preparedness and Response Plan, World Vision Global Guidance for COVER as well as with the specific needs of children and the most vulnerable groups in Nepal in particular in Area Programmes. Efforts are made to mobilize resources from internal and external sources to reach out as many as children and most vulnerable groups as possible, in partnership with all stakeholders. Timeline for response will be 90 days starting from May-July 2021.

To respond to the second wave of COVID-19, the total estimated budget is USD $1.5 million. World Vision International (WVI) Nepal has $472K immediately available from the 5% Area Programme budget re-allocation; a $1027K gap currently remains.

1,000 units of oxygen cylinders (46 liters), 400 units oxygen cylinder (40 liters), 1,225 sets of Personal Protective Equipment (PPEs), 1,012 units Pulse oximeters and 1,012 IR Thermometers and 20 pieces of oxygen concentrators will be handed over to the Government of Nepal in next two weeks.

33 oxygen cylinders (46L) have been handed over through WVI Nepal's Partner NGOs Relief Nepal (19) and from SIDS (14) in Sindhuli so far.

Cash Based Voucher programming will be the major approaches to provide immediate food assistance and early livelihood recovery for the ultra-poor families and other most vulnerable groups, and this approach is likely to continue in TP adaptation process beyond response.

Direct Personal Protective Equipment support to the health workers at local, province and federal level health facilities will be conducted through the Ministry of Health & Population.

Preventive risk communication will be carried out for educational and awareness raising through community mobile vehicles along with radios. Integrated risk communication messages are being broadcasted through the Association of Community Radio Broadcasters Nepal (ACORAB) via Community Information Network (CIN).

The project will also intervene to ensure that learning materials and radio education programme are conducted for continued learning of children. A radio programme "Hamro Ghar Hamro Paathshala" will also be broadcasted to remotely engage and help children continue their learning during the prolonged nationwide