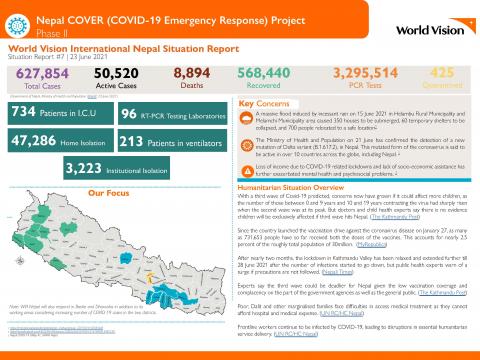 Nepal COVER Project Phase II SitRep 7 (23 June 2021 update)
Thursday, June 24, 2021
Following are the major highlights of Nepal COVER Project – Phase II, as of 23 June 2021:
100% beneficiary selection and endorsement for food consumption support has been completed for the total of 5,139 households. 459 households have been benefited from consumption support in Kirtipur as per need.

Cash for Work (cleaning up public spaces of Kirtipur Municipality) is ongoing in Kirtipur, Kathmandu in coordination with the local government, which has benefitted 120 households as of 22 June 2021.

Fifth episode of radio programme "Hamro Ghar Hamro Paathsaala" has been aired to remotely engage children to continue their learning during the prolonged nationwide COVID-19 lockdown.