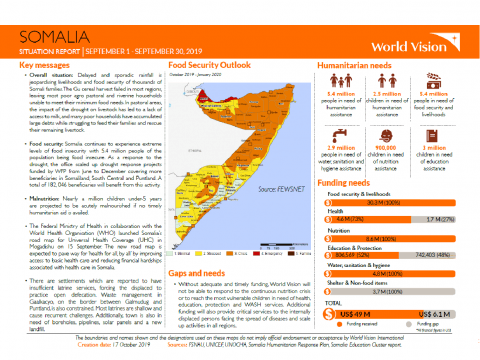 Somalia - September 2019 Situation Report
Wednesday, October 23, 2019
Overall situation: Delayed and sporadic rainfall is jeopardising livelihoods and food security of thousands of Somali families. The Gu cereal harvest failed in most regions, leaving most poor agro-pastoral and riverine households unable to meet their minimum food needs. In pastoral areas, the impact of the drought on livestock has led to a lack of access to milk, and many poor households have accumulated large debts while struggling to feed their families and rescue their remaining livestock.
Food security: Somalia continues to experience extreme levels of food insecurity with 5.4 million people of the population being food insecure. As a response to the drought, the office scaled up drought response projects funded by WFP from June to December covering more beneficiaries in Somaliland, South Central and Puntland. A total of 182, 046 beneficiaries will benefit from this activity.
Malnutrition: Nearly a million children under-5 years are projected to be acutely malnourished if no timely humanitarian aid is availed.
The Federal Ministry of Health in collaboration with the World Health Organisation (WHO) launched Somalia's road map for Universal Health Coverage (UHC) in Mogadishu on 15 September. The new road map is expected to pave the way for 'health for all, by all' by improving access to basic health care and reducing financial hardships associated with health care in Somalia.
There are settlements that are reported to have insufficient latrine services, forcing the displaced to practice open defecation. Waste management in Gaalkacyo, on the border between Galmudug and Puntland, is also constrained. Most latrines are shallow and cause recurrent challenges. Additionally, the town is also in need of boreholes, water pipelines, solar panels and a new landfill.