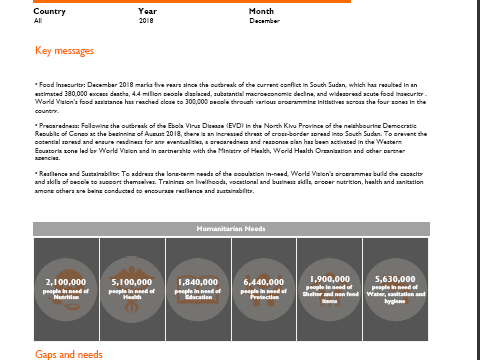 South Sudan - December 2018 Situation Report
Wednesday, February 13, 2019
Food Insecurity: December 2018 marks five years since the outbreak of the current conflict in South Sudan, which has resulted in an estimated 4.4 million people displaced, substantial macroeconomic decline, and widespread acute food insecurity .World Vision's food assistance has reached close to 300,000 people through various programming initiatives across the four zones in the country.
Preparedness: Following the outbreak of the Ebola Virus Disease (EVD) in the North Kivu Province of the neighbouring Democratic Republic of Congo at the beginning of August 2018, there is an increased threat of cross-border spread into South Sudan. To prevent the potential spread and ensure readiness for any eventualities, a preparedness and response plan has been activated in the Western Equatoria zone led by World Vision and in partnership with the Ministry of Health, World Health Organisation and other partner agencies.
Resilience and Sustainability: To address the long-term needs of the population in-need, World Vision's programmes build the capacity and skills of people to support themselves. Trainings on livelihoods, vocational and business skills, proper nutrition, health and sanitation among others are being conducted to encourage resilience and sustainability. For more information, read or download our December 2018 situation report.