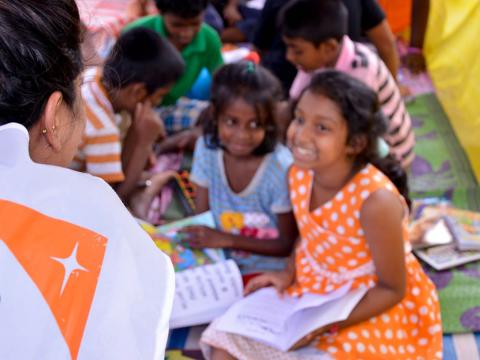 Aranayake, three months on – World Vision support continues
Wednesday, August 31, 2016
Three months on after the massive landslide buried three villages in Aranayake, World Vision still continues to work with the Government and the communities in helping them recover and rebuild their lives.
While protection of children in the camps remain a priority for World Vision, one of the primary focuses of the operation is also water, sanitation and hygiene needs of the displaced community. 
"We are very closely working with World Vision and their support to the government as well as to the community is much appreciated," said P. Nishantha, NGO Coordinator of District Secretariat Kegalle.
A landslide which occurred in Aranayake on the evening of May 17 buried over 200 people alive, shook the island nation which was already battling an emergency due to adverse weather. While the families who were affected by the floods in various parts of the country have been able to return home and rebuild their lives, resettling families in Aranayake has been a challenging process. Government is looking for lands that are landslide-safe to resettle the community and the process of acquisition also requires time.
"Until then, we really need World Vision's support to care for the families in the temporary camps," said Nishantha. 
World Vision's Adverse Weather Emergency Response covered the districts of Colombo, Gampaha and Kegalle, supported mainly by funding from UNICEF, USAID and World Vision offices in US, Australia and Taiwan.
The immediate response provided the affected families with emergency food and non-food items, hygiene packs, essential packs and baby kits. 
In Aranayake World Vision established Child Friendly Spaces I camp areas managed by trained staff to provide a safe place for children and to help them regain a sense of normalcy.   Education packs standardized by Save the children and Zonal Education Department were provided for students. 
A large part of the Response there also focuses on WASH needs of the displaced communities, providing them WASH items, camp hygiene packs, water purification filters, water storage tanks and mobile toilets and hygiene awareness to children and parents.
The Response in Aranayake will move through to the recovery phase with a special focus on economic recovery, education for children and disaster preparedness of the villages.