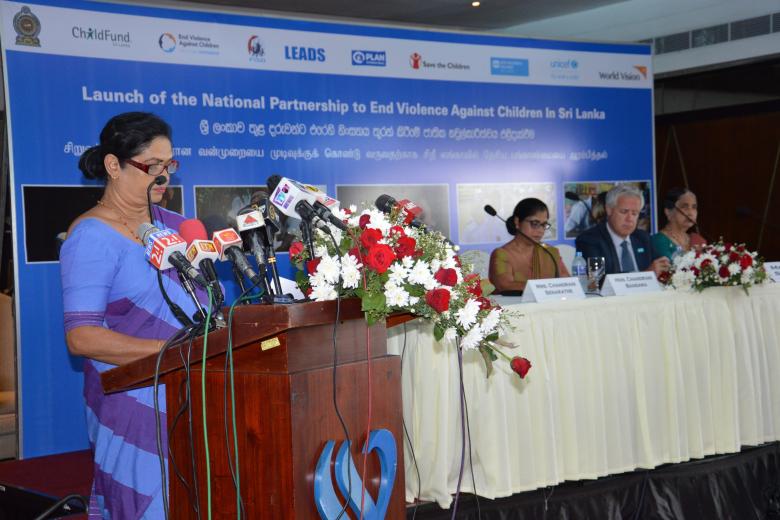 It takes a nation to end violence against children
Tuesday, June 6, 2017
World Vision Lanka recently joined with the government and non-government stakeholders in the National Partnership to End Violence Against Children (NPEVAC). As Sri Lanka is one of twelve 'pathfinding' countries, the government is taking the lead to end violence including abuse, neglect and exploitation against children by 2030. This commitment is part of a Global Partnership and supports the country's drive to achieve the Sustainable Development Goals (SDGs).
"The government is very committed to result oriented action to end violence against children and through this platform the government will work in close collaboration with stakeholders to end violence", Chandrani Bandara, Minister of Women and Child Affairs Minister said at the official launch of NPEVAC.
Currently, children in Sri Lanka are exposed to multiple forms of violence in their homes, schools, online and in their communities, with over 9,000 instances of violence involving children reported to the National Child Protection Agency (NCPA) in 2016. 
"Though the social indicators for children of Sri Lanka remains high in the sectors of education and health, we have failed in providing safe homes, schools and communities for children," said Prof Savitri Goonesekere, Board Member of the Global Partnership to End Violence Against Children.
While Sri Lanka has worked on a number of initiatives to protect children from physical and sexual abuse, neglect and exploitation, a new discussion paper titled 'Preventing Violence Against Children in Sri Lanka' and launched by the partnership makes further recommendations to accelerate efforts to end violence against children.
The recommendations include – 
• a study to identify the drivers of violence against children; 
• addressing physical and humiliating punishment in family, school and institutional settings including building the capacity of parents, teachers and caregivers to adopt positive discipline practices; 
• prohibiting corporal punishment by law; and increasing support for them to manage stress and conflict without violence;
• finalization of the Draft National Policy for Child Protection; 
• supporting the necessary amendments to the Children (Judicial Protection) Bill and advocate for its finalization and enactment.
Speaking on behalf of partner organizations, Mr. Tim Sutton, Representative, the United Nations Children's Fund (UNICEF) added "As individuals, parents or family members, we know that violence against children is morally wrong. But we now know that violence affects the physical growth, emotional and mental health and wellbeing of a child. Its impacts are not only devastating now, they can last a life time. In younger children violence damages brain development, hampers their opportunities to learn and therefore negatively impacts their future prospects to grow to their full potential. These impacts can be passed from one generation to the next. It is therefore vital, not only for the children involved but for Sri Lanka, that we all work together to end violence. This partnership is a crucial step to achieve our goal of a country free from violence against children by 2030."
Closing the launch, the representatives of the government and partner organisations signed 'A Declaration Of Commitment to the National Partnership to End Violence against Children in Sri Lanka'.
The launch was followed by a panel discussion with eminent experts – Dr. Harini Amarasuriya, Senior Lecturer at the Department of Social Studies, Open University of Sri Lanka, Ambika Satkunanathan, Commissioner, Human Rights Commission, Dr. Farzana Haniffa, Senior Lecturer at the Sociology Department, University of Colombo. Prof. Piyanjali De Zoysa, Senior Lecturer in Clinical Psychology, University of Colombo, Madu Dissanayake, Director - HIV and Advocacy of Family Planning Association Sri Lanka. 
Speaking on this initiative, National Director of World Vision Lanka Dr. Dhanan Senathirajah said "World Vision Lanka is pleased to be associated with this endeavor.  We also have our very own campaign called 'It Takes a World to End Violence Against Children' which we will roll out in the near future.  Personally, this is a subject close to my heart, being a father of two boys.  Children are precious." 
In terms of the World Vision Lanka's campaign, WVL has identified sexual abuse and physical abuse of children as the main areas of focus. Within the stipulated focus of physical abuse, the emphasis is on the physical (corporal) punishment which is carried out in schools.   
Through the campaign WVL aims to engage at the national level by influencing the government to improve systems and structures and bring in necessary legislations. At the local level, it would build the capacity of service deliveries and empower civil societies to access services effectively.
Among the distinguished gathering were the Secretary for the Ministry of Women and Child Affairs, other Ministry Secretaries, the Attorney General of Sri Lanka, the Deputy Inspector General of Police, representatives of UN agencies, Heads of partnering organizations, Team Leaders of NGOs and INGOs, dignitaries, academia, civil society members, social activists and media.