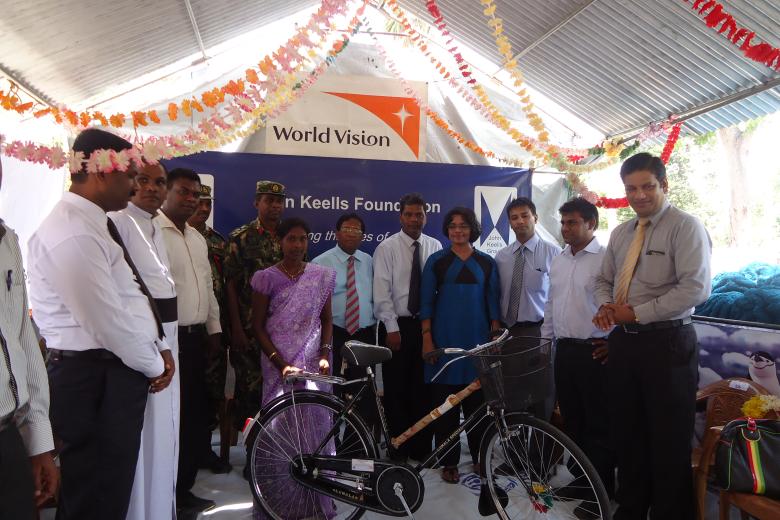 World Vision and John Keells in partnership for development in the North
Friday, November 15, 2013
World Vision Lanka and John Keells Foundation recently launched a partnership to enhance and rehabilitate the livelihoods of communities in Northern Sri Lanka. Through the partnership, several development interventions such as livelihoods assistance programmes and provision of water and sanitation facilities for schools will be implemented in selected villages within the Mullaitivu district.
John Keells Foundation (JKF) is the Corporate Social Responsibility entity of the John Keells Group. One of its focus areas is community and livelihood development under which Village Adoption is a key initiative aimed at poverty alleviation at village level through partnership with relevant stakeholders.
Two villages in the Mullaitivu district - Iranapalai and Puthumathalan, were selected for the first phase of the project. Selected farmers of fisher societies were provided with fish nets and tools while members of Women's Rural Development Societies were assisted to start up a savings scheme and provided with bicycles.
To mark the completion of these activities, a handover ceremony was held earlier in Iranapalai. Speaking on behalf of John Keells Foundation, Ms. Carmeline Jayasuriya, Head of CSR said, "We have been able to engage with the relevant stakeholders in planning preliminary development activities in the two villages, thanks to the collaborative efforts of World Vision, Government Officials, security forces, and community based organizations. We look forward to working closely with all stakeholders in planning and implementing future activities."
The first phase of the project which includes construction of permanent double unit toilets for the two schools in the selected villages and cleaning and renovation of community wells in Puthumathalan have already been completed and handed over to the community.
Commenting on the collaboration WVL National Director Suresh Bartlett said, "This is an important collaboration as we intentionally look to partner with corporates in development. We believe the synergies that this creates will help us maximize opportunities and bring about greater innovation in delivering sustainable development outcomes for the people of Sri Lanka".