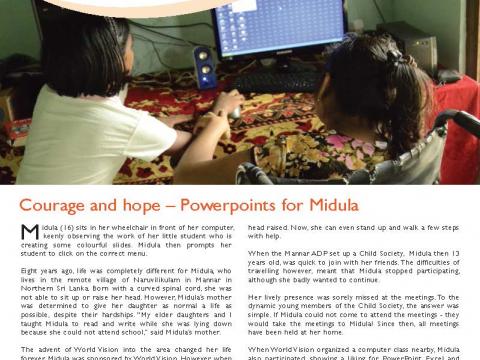 Kathika Newsletter - June 2013
Friday, August 16, 2013
The poignant story of Midula's amazing talents and determination is a worthwhile reminder to all of us of the need to have a special focus on those with special needs. As we now begin to discuss post 2015 development goals it would be good to keep children like Midula in mind that all barriers to inclusion are removed so that those with special needs will enjoy their rights in full measure.
Our story of Ae Ri Chung, the ambassador of love demonstrates the depth of affection she has for her sponsored children – all 261 of them spread around the world – her passion is an inspiration for all those who work with children.
Alcoholism remains a concern in the country – especially in the plantation sector where consumption rates are alarmingly high – as is the incidence of alcohol related violence and abuse. As recorded in this edition, our advocacy efforts in combating alcoholism has had encouraging success in Nuwara Eliya one of the most impoverished districts in the hill country.
Our corporate partnerships continue to flourish and this time we feature the collaborative efforts of two leading banks – HSBC and Standard Chartered – in Kalpitiya and Neluwa.
Access to clean water and sanitary toilet facilities are things we often take for granted but until World Vision began its RIWASH programme most communities in the hill capital lacked these basic facilities as Yogeshwari recounts her move from a city life of luxury to the estate where her husband worked.