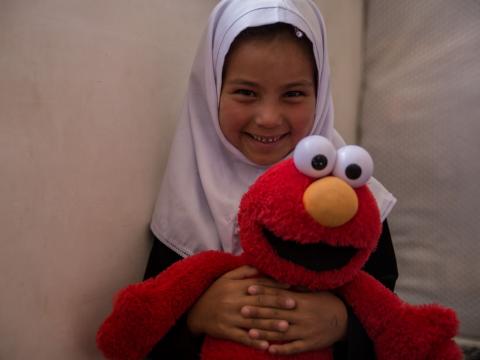 Better late than never: The woman who started to read at age 31
Tuesday, August 27, 2019
There are a few things Fatima would have wanted to do differently in life. First of all, she would have liked to stay in her home village instead of uprooted in a country torn apart by conflict. And secondly, she would have liked to go to school.
At 31, Fatima now lives in Afghanistan's Herat province, and at least one of her wishes has finally come true. A mother of three, Fatima made a conscious choice to send her children - especially her two girls to school. So when one of the community elders announced that a literacy programme would come to her town, she was one of the first ones to sign up.
"I was so excited," Fatima, who just finished her first 7-months-long course recalls. "I brought my daughter along, who was studying in a different class, while 30 of us mothers met to talk about parenting - and to finally learn how to read and write.
World Vision with a fund from Aktion Deutschland Hilft provides meaningful interim education opportunities for children (5-10 years old) living in IDP settlements in Badghis and Herat provinces.
World Vision's early childhood development programme is working with both illiterate mother and their children who have been displaced by Afghanistan's war as well as natural disasters over the last years. The women meet three times a week with a teacher to discuss hygiene and child-raising and eventually start out learning the alphabet and numbers.
"Being illiterate was humiliating to me," Fatima says. "I used to not be able to read street and shop signs and couldn't even dial a number on my phone."
Originally from Maidan Wardak province, Fatima grew up in a rural village and, when married off in her teenage years, moved to the capital Kabul for better job opportunities for her husband. The young family later relocated again to Herat, deeming Kabul both unsafe and Economically difficult.
In Herat, they have purchased a small, two-room house.
Today, Fatima often sits with her daughter Nikbar, helping her with homework while continuously learning more herself. "I read to her and make her repeat the new words she's learned," Fatima explains, adding that she never thought this was possible.
"I also treat Nikbar differently now. I used to beat her often," she admits shyly. "It's common here, but I learned that it is not good and it won't improve our relationship."
Fatima says she is much closer to her daughter now. "She listens to me and we talk to each other. There is no fear."
Yet it's not only the relationship with her daughter that has improved but also her social life. A reserved woman, Fatima tended to stay at home rather than to spend time with others.
"Through the programme, I have made new friends and we still meet regularly. I even started selling home-made embroidery to them, which has improved my income," she explains proudly.
Going forward, Fatima has vowed to give her daughters better opportunities.
"I don't want them to grow up like me," she says, explaining that she now understands more about children's rights. "Girls and boys are equal and this means that all of my children will get an education."