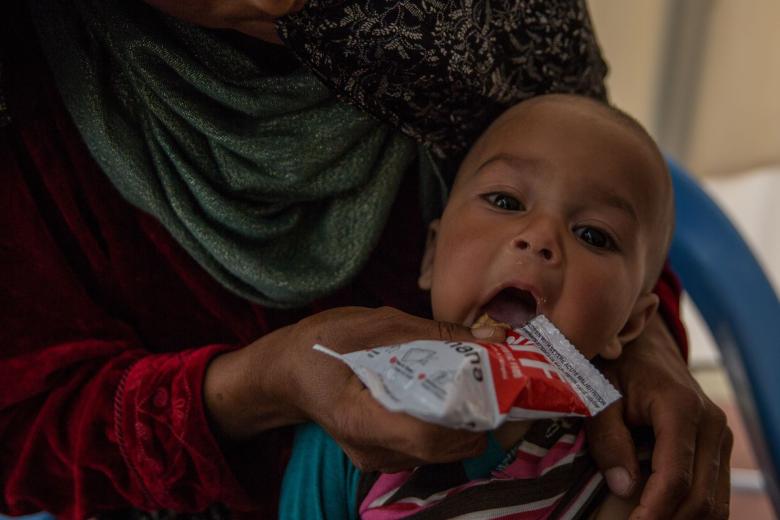 Born in a camp, children receive healthcare at mobile clinics
Monday, August 5, 2019
Mohammed (the picture above) was born in a tent, just weeks before winter fell. His mother Salima, who was pregnant when fleeing both drought and conflict, had no birth attendant and says she was by herself when she gave birth to her sixth child.
It didn't take long for Mohammed to fall sick, with the family having no more than a few blankets and little food to spare. Although breastfeeding, Salima, who is 31, didn't have enough milk for her son and his relentless cries kept her sleepless throughout the cold nights.
After leaving their home village and walking to the capital of Badghis province, the family settled in a camp that already hosts over 9,000 people and the numbers are still growing day by day. While it's close to Qala-e-Naw city, facilities are scarce. There's neither a hospital nor a market around, making most families either depend on assistance or having to venture out far for even the smallest purchases.
When Mohammed's weight dropped, Salima took him to the camp's mobile clinic, funded by Afghanistan Humanitarian Fund (AHF) and run by World Vision.
"He was diagnosed as severely malnourished and I couldn't stop worrying, Salima explains. She's pregnant again, expecting her seventh child later this year. "He was weak and didn't grow much, but I didn't know what to do. If the doctors hadn't helped, I'm not sure my son would have made it."
Over the next months, Mohammed received therapeutic food - a high energy peanut paste, filled with nutrients and vitamins. Several times a day Salima would feed 'plumpy nut' to her son.
Eight months after his birth, she sits once again inside the clinic, a big white tent fitted with a carpet and several treatment areas, sectioned off by walls. Posters decorate each room, giving advice on nutrition and child health. Each patient sits on a plastic chair, with doctors and nurses behind a table, registering each new arrival.
Rahela Rahnani was one of the nurses treating Mohammed. Today, she's checking on him once again, but he's healthy. He's a curious observer as he quietly sits on his mother's lap.
"So far we've treated 163 malnourished children here. Each day, we have about 20 patients. Most of them are mothers bringing their malnourished children, but others also come for vaccinations or general check-ups," the nurse explains.
Samira has come to the clinic for the first time. She's brought her 7-months-old son Farid; her first child.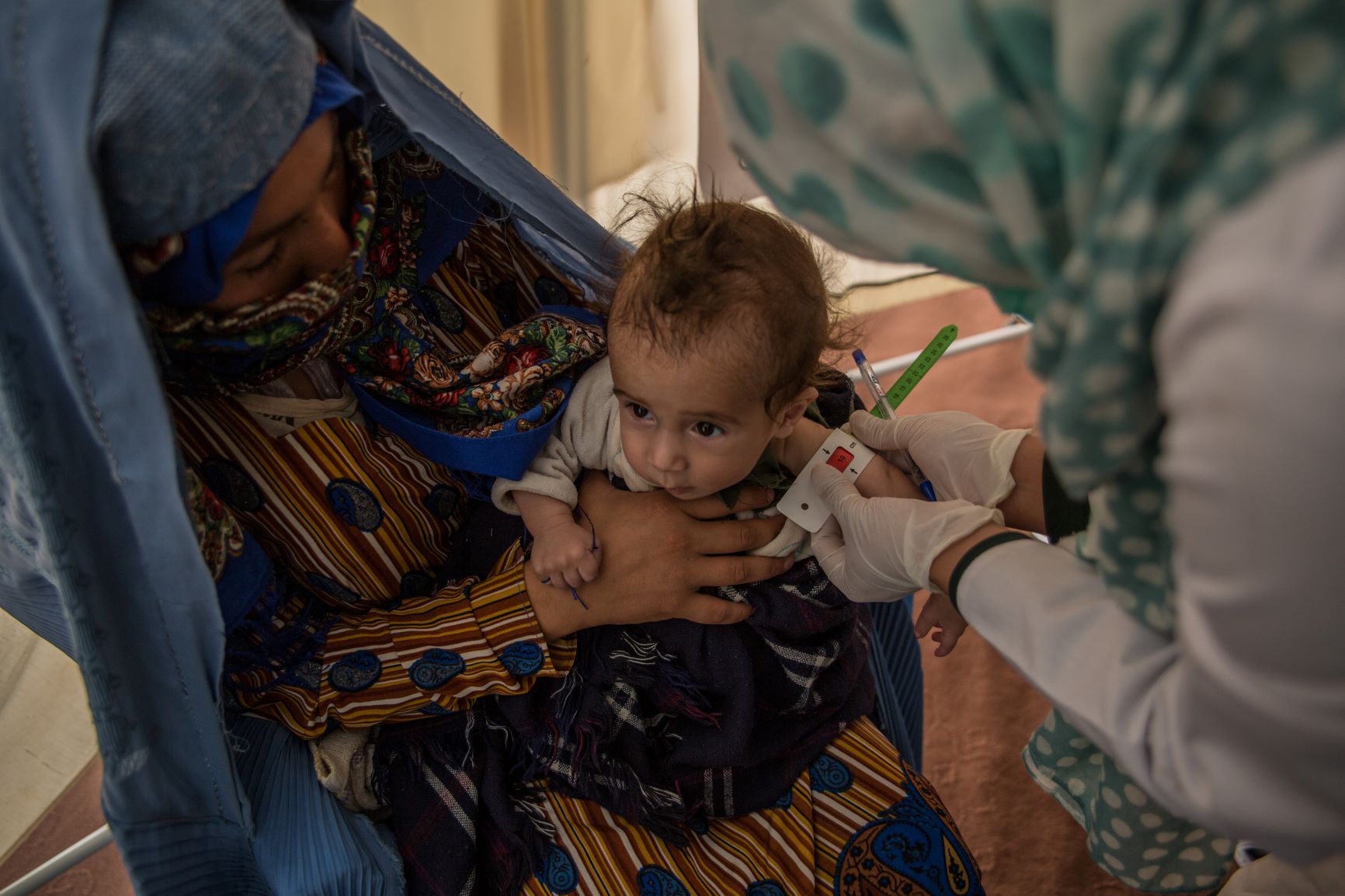 Life in the camp is still new for the 22-year-old mother. "We arrived about seven weeks ago when fighting intensified in our village," the young mother explains.
"We were taken by surprise in the middle of the night. Fighting erupted and a mortar hit near our house. We had no time to drab out belongings and just ran," she remembers. It was difficult for her, carrying her young baby, worrying for her family's life.
"We walked for five hours right then," she says. "We were too afraid to go back, so we decided to come here to Qala-e-Naw."
Farid wasn't born in the camp, but his mother is sure he will grow up here. His little arms are frail and he's barely been keeping food, his mother tells the doctor. He weighs 4.5 kilograms, but, at his age, he should be at least two kilograms heavier.
"It will take several months to get him back to a healthy weight, but that's why we're here," Rahela explains. After examining Farid, she packs a bag full of plumpy nut, explaining to Samira how to best feed her son. "Most children love the taste and eat it while drinking lots of water," she says.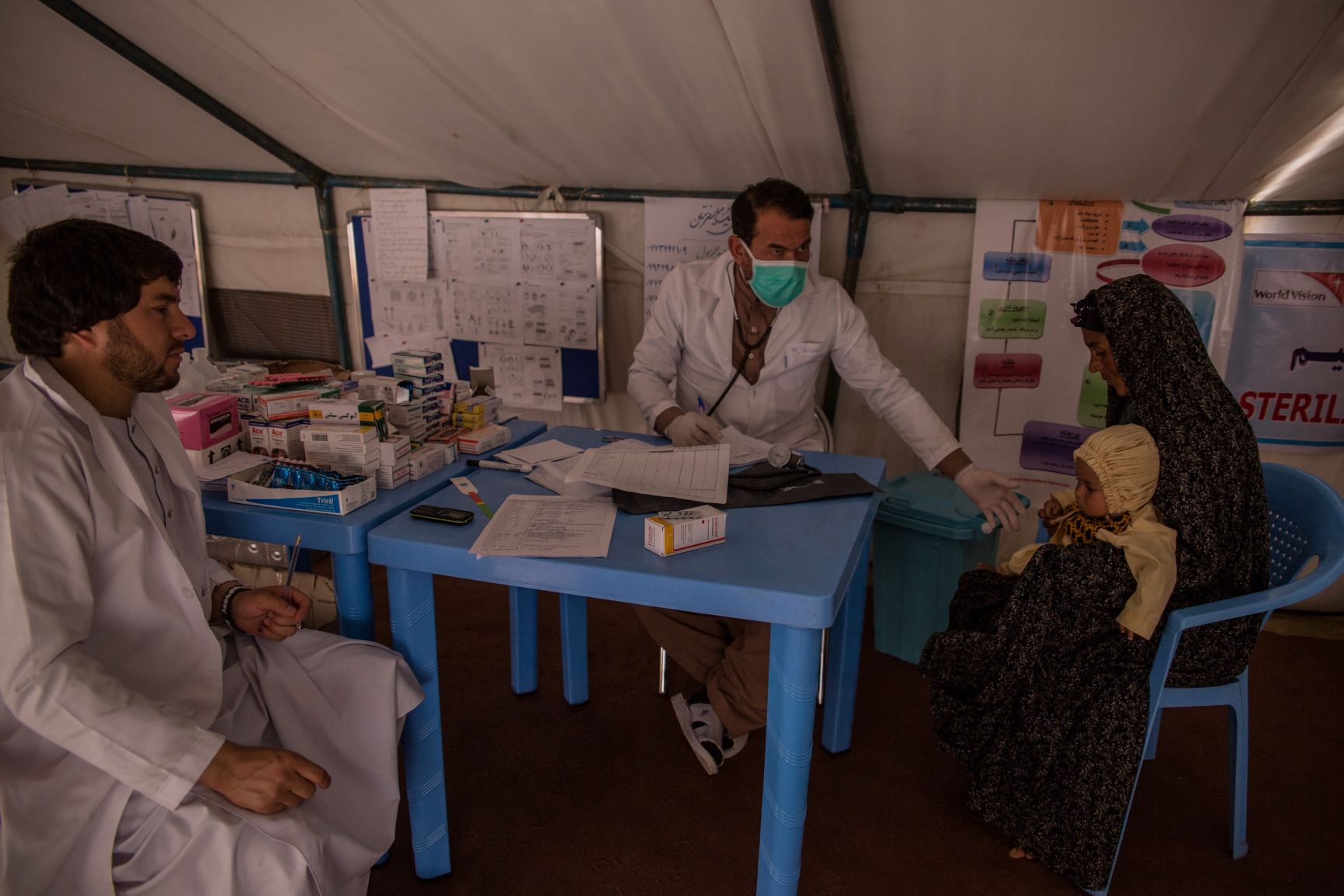 The tented clinic isn't far from the family's house, a small rented mud hut on top of the camp's hill.
"We can come here every day if we have to," Samira says.  As she dresses her son and makes their way out of the tent, a long line of other mothers are already waiting, many covered in colourful sheets or wearing traditional burqas and carrying their children in their arms.
"It's always busy, but we don't close our doors until all patients have been seen," says Rahela, and waves in the next family.