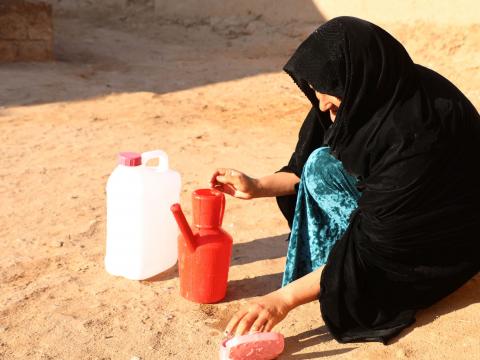 Community learns to stay safe
Monday, January 11, 2021
Bibi Hawa, 25, lives in Bonyad village - one of the most remote villages in Herat province, located near the border between Afghanistan and Iran (direct distance about 750m and road distance of almost 33 KM away from the border). She is a housewife and mother of seven children. Her husband is a farmer, thus the family makes a living by farming.
During COVID-19 outbreak across the globe, Iran was one of the countries listed as a hotspot for the virus. Movement of returnees from Iran led to the transmission of the virus to Herat, while villages at the borderline became more vulnerable.
As part of the Response, World Vision Afghanistan has conducted COVID-19 awareness campaigns among 860 people (409 men, 428 women, 9 boys, and 14 girls) from Bonyad, Tahkham, Goharshad, Joie new, Kham-Molki and other 20 villages located at the borderline. Each participant received one 125gr soap and one soap case to practice handwashing with soap – one of the easiest ways to prevent and limit the spread of COVID-19. Thanks to PATRIP Foundation for the financial support.
Bibi Hawa participated in the campaign. She learnt prevention measures against COVID-19, "we have been informed about Coronavirus, which is a very dangerous disease. We were taught to wash our hands while maintaining cleanliness. Using a mask can prevent this disease. If we get sick, we should stay at home, keep our distance from others, and not go to crowded places," Bibi Hawa says.
The villagers do not have easy access to the city and are less aware of what is happening in the world. In some houses, there is still no television to help them understand the situation. "People take care of themselves when this knowledge has been given to them. Now we understand about symptoms of the virus," says Bibi Hawa.
Due to unemployment in the village, they have to travel to Iran to earn money. Therefore, the situation becomes even worse when the village-dwellers get in touch. Not only does Bibi Hawa consider the importance of hygiene practices these days, she shares her knowledge with other villagers, "I passed on what I learned to my family and even my neighbors so that they might also follow hygiene practices," she says.
Many people think washing hands with water is enough, "I have thought that water per se can kill and remove bacteria from hands but I learnt it is not enough and hands should be washed with soap with the correct way of handwashing," Bibi Hawa added.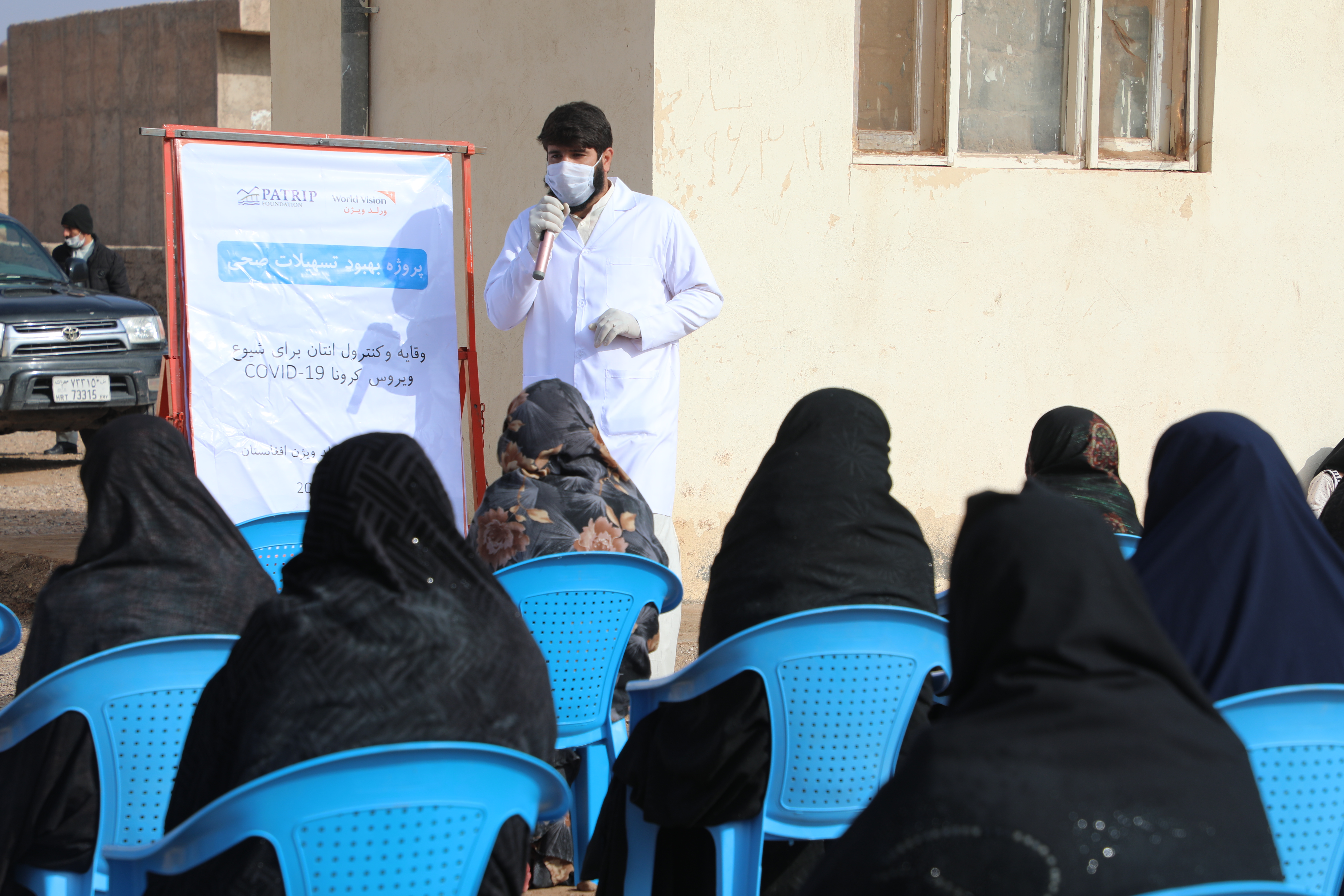 World Vision Afghanistan continues to respond to COVID-19 global pandemic. Focusing on supporting the Government of Afghanistan (GoA) to scale up preventive measures to limit the spread of COVID-19, World Vision Afghanistan supplied much-needed medical and hygiene kits including Personal Protective Equipment (PPE) to the public health institutions and administrations.
Besides, World Vision disseminated behavioral change messages about prevention of coronavirus through faith leaders and existing community networks. A number of preventive actions implemented across three provinces of Afghanistan through three zonal offices reached approximately 310,335 people, including 159,000 the most vulnerable children. Please find more about the response here.
World Vision is committed to COVID-19 Vaccination Campaign – As the rejection rate of routine vaccine is high and communities are suspicious on immunization activities, therefore WV will focus on socializing communities to accept a vaccine when it is rolled out. World Vision would aim to prioritize support with faith leaders, health Shuras and community health workers in doing so.