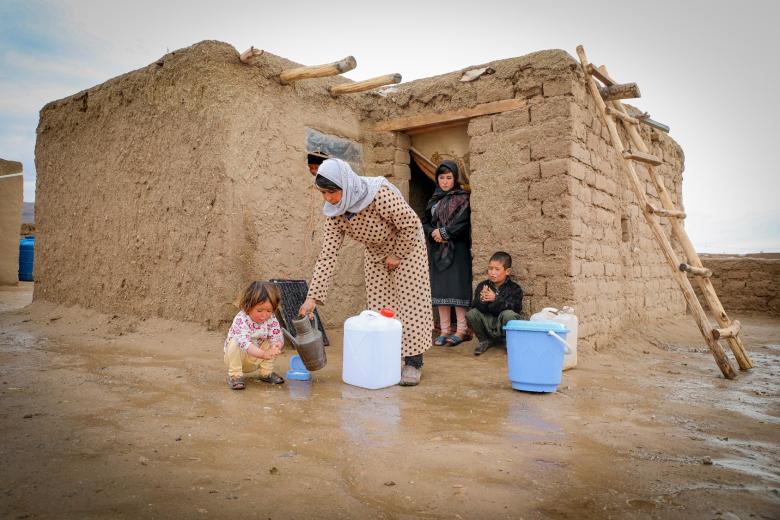 Prevention is better than cure
Thursday, April 2, 2020
Two years ago, in a dark night while there was fierce war between the government and the opposition groups, she left Ghor to Herat. Under a shower of bombs, she grabbed her children and fled the village. On that night her husband was invited to dinner by his relatives; he was not aware that his family fled. Till now she has no idea whether her husband is alive.
Zufonun, 45, has four children. She lives in a mud house in a camp for internally displaced people (IDP) in Herat. She reminisces about her past and the green lands and farming which brought them good income. The war ruined her house and hopes.
Despite her situation, Zufonun ensures hygiene and sanitation in her house. Since the time she entered into the camp, she has been trying to keep her small muddy house clean and take care of her children's hygiene as much as she could. Limited access to hygiene and sanitation facilities, however, has made her life tough. "Although I tried my best to care for my children's hygiene, because of inadequate living space with less facilities, my children got sick," says Zufonun.
Under the "Water, Sanitation and Hygiene Winterization Project", funded by the Afghanistan Humanitarian Fund of UN OCHA, WV Afghanistan has so far distributed 13,673 hygiene kits to the most vulnerable families in IDPs camps in Shahrak e Sabz, Rekreshan, and Kohdestan of Herat province. These kits consist of jerry cans, a bucket, a water pitcher, towels, toothbrushes, toothpaste, soap, a soap case, and sanitary items for women.
The daughter of Zufonun, Sameha, 3, has acquired the habit of washing her hands and she can wash her hands thoroughly. Zufonun is very happy that she has the hygiene items to enable her children to be clean. "As long as we received these hygiene kits, it minimized life burdens from my shoulders. I am very happy that I can keep my children clean. We fetch clean water by carrying a clean jerry can home, and my children can wash their hands and faces with the soap, while they also brush their teeth daily. Maintaining the health and hygiene of myself and the children was a concern for me, which has been fixed with the help of World Vision," says Zufonun. She continues, "From the time these kits were distributed to the families in the IDP camps, diseases have declined dramatically, especially among the children. Teaching us to use hygiene kits helps us a lot. Afterwards we will go to doctor rarely."