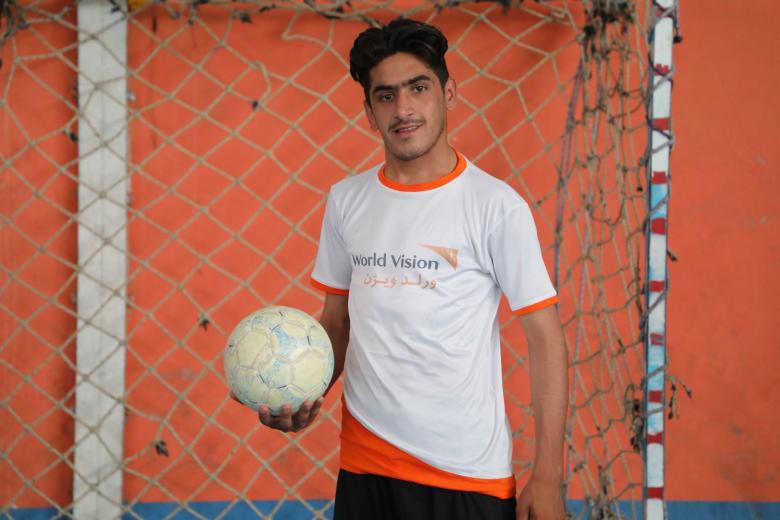 From a street child to a football player
Thursday, May 27, 2021
Jalil Ahmad, 18, lives in Herat. He is a football player. "I play as forward on the football ground," he says.
In his childhood, Jalil was used to sell street food to support his father to feed a large family of nine members. "I sold cooked beans from morning to evening to earn some money." Because of his work, "I left the school," says Jalil.
When Jalil had a time, he played football on the streets with his peers. "Those days were the first step to shape a big dream in my mind," he says.
 "Since my childhood I wished to play on the grass ground of football," says Jalil, watching other boys play on the grass ground.
One day, a team from World Vision's Street Working Enrichment Centre reached Jalil and told him about the centre. "I was 14 by the time," he says. "A man came to me, and he ordered a plate of beans. I [was wearing] a football jacket, and he started to speak. He told me about the centre and its facilities for street working children and how they support children for the sport." With excitement, Jalil registered himself.
The centre helped Jalil to restart his schooling and provided him with educational support. "I am the only member of my family who continues his education," he says. Jalil is in 10th grade.
Not only this, the team consulted with Jalil's father about his dream. "My father did not agree if I play football. After my teacher consultation with him, he allowed me to play football. Now he encourages as well," he says.
Jalil was registered to one of the World Vision street football clubs to learn football professionally. After four years, he is now playing in the Kawsar team – one of the first-class football teams at the provincial level.
Besides football and school, Jalil is learning carpenter skills in a vocational centre in his city. Nevertheless, he has a big dream. "I wish one day I play football at international teams," he says.
Jalil role model player is Messi. "I love Lionel Messi," he says.
If he had a magic wand, "I would use that to play together with Messi," he says smiling.
For Jalil, unemployment is the main cause that affects children's lives. "If there are employment opportunities for the parents and they work, they will allow their children to study instead of working on the streets," says Jalil.