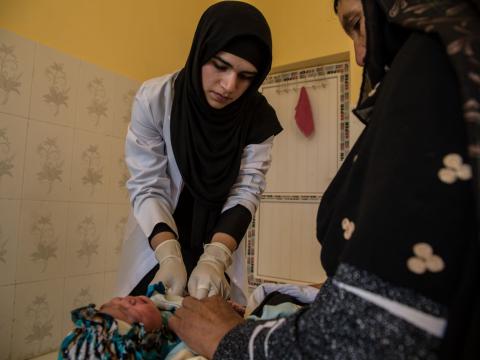 The women who took up a fight against death in childbirth
Thursday, August 15, 2019
A village of about 5,000 people, nestled in the remote hills of Afghanistan's Herat Province, and divided into two parts by a dried-out river bed, has seen both life and death.
While of substantial size, the village has neither had a health facility nor pharmacy and, being too far away from the city, this often meant that if a baby's delivery turned complicated, it came at either the mother's or the child's loss. But while deaths in childbirth increased over the past years, two women have now put a stop to this - with the help of both their communities and World Vision.
Each year the world celebrates, the humanitarian day on 19th August to raise awareness of people on commitment and hard work of frontline aid workers serving to keep communities safe and aware.
As humanitarian workers, Azizeh, 25, and Laila, 22, are both World Vision midwife graduates and, three months ago, started the 'Family Health House', a small clinic with a medical treatment room and delivery section; the first one of its kind in the village.
"Ever since we came back, it's been busy for us," says Laila, who, earlier that day, helped deliver a healthy girl.
"I heard a knock on my door this morning around 4 am," - she recalls. "It was a woman who was about to give birth, accompanied by her relatives." In the dark morning hours, the small group made their way to the delivery center where Laila helped deliver the baby. The girl, who hasn't yet received her name, now lies quietly next to her mother, wrapped in thick cloth. She's already been vaccinated and examined and, once the mother has recovered, will be able to go home.
"We usually work from 8 am to 4 pm, but we're available any time if someone is giving birth," - she explains.
Her two-room clinic, clean and painted in light yellow, is stocked with medicament, medical equipment, as well as a fully functioning delivery room. All treatment is free of charge and the young women are busy providing consultations to pregnant mothers, advice on family planning, as well as the referring of more serious cases to a hospital - a good 30-minute drive away.
"Our clinic is brand new and many people don't know about it yet, but we already delivered six babies this month," - Laila says proudly. Her work is supported by the village's family health action group; a team of seven ladies, who've taken on the responsibility to share hygiene practices with the community.
The ladies - most of them already nearing retirement age - visit each house in the village on a monthly basis, advocating for the new clinic and sharing lessons on food, water and medical hygiene.
Congregating under trees in a lush grassy area with a small stream, the group usually starts by repeating their lessons, a cup of hot green tea in the ladies's hands.
"Last year, we lost a lot of our food and livestock to the drought. Besides that, we've lost neighbours and relatives to diseases and in childbirth. We decided that it needed to stop," - the women say in accord. Each of them has been equipped with a lesson book, soap, and basic medicine to distribute during home visits.
"It's great publicity for us," - says Azizeh, the Family Health House's midwife.
Only about 30 percent of total births throughout Herat is assisted by a professional birth attendant or midwife. This is even more prevalent in poor communities, where access to health facilities continues to be a challenge. While Parwaneh villagers can reach Herat city by car in about 30 minutes, others in more remote rural communities have reported that walking to a health facility can take them up to 14 hours.
"People used to call traditional birth attendants here, but they have never received formal training and were only able to offer basic help. They now get in touch with us," - Azizeh explains.
A mother herself, she started giving advice on pregnancy and child-raising during her studies already. "For two years I commuted to the city every day," - she says. Her husband, who only occasionally works as a daily labourer, was able to take care of their three-year-old son.
When Azizeh graduated three months ago, she was one of 37 new midwives returning to her home village and setting up a 'Family Health House'.
"We want to see healthy mothers and babies, and that's exactly why we're here," she says.