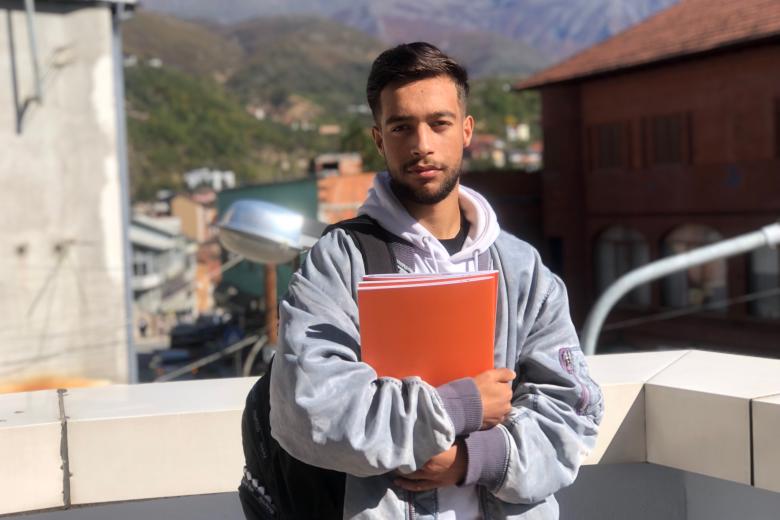 The decision that changed my life
Thursday, February 23, 2023
"When I was a child, education and many things I have today, were not an option for me. My family was very poor and my parents were not working. We were living in a rented dilapidated house. In addition to this, in many cases we would be judged solely for our ethnic routes; we belong to the Egyptian community," Shpëtim starts his story.
He is a 16-year-old boy living in Dibra with his two sisters and his parents.
However, as he notes "God does not leave you on your own forever." Step by step, thanks to his strong will and with the right support, Shpëtim managed to overcome challenges and give a new direction to his and his family's life.
"Since my childhood, I participated in World Vision Albania's programmes in the city of Peshkopia. I participated in every activity, which helped change my perspective to life," says Shpëtim, although he encountered numerous challenges early on.
When he was in seventh grade, the economic hardships were so heavy that Shpëtim and his sister had to stop attending school because their family was unable to provide the bare necessities.
"We had no money for rent, food, or clothing. Therefore, it was a luxury for me and my sister to go to school for our poor family''.
The support came from World Vision, in collaboration with the "Alpha Omega" center. "They provided us with the necessary means to return to school. In addition to the support with school supplies and clothing, their greatest contribution was changing our mindset about the importance of education. Since that day we have never skipped school. Education is the key that will open future doors," the boy says with an excitement.
Today, Shpëtim is aware and promotes the importance of education. He is Through his part of IMPACT groups and through this involvement, he has participated in several community initiatives to empower and support children and teenagers.
It appears that he might have a promising future as a musician.
"After returning to school, the time I used to spend roaming the streets got occupied with educational, social, and recreational activities. I was appointed to several lead roles in the activities carried out in schools and in the community. as soon as I was back to school, I took up English and started studying it in the courses delivered by the "Alpha Omega" center.  This is a multifunctional center where I had a chance to reveal my skills as a musician. Now I am part of a band as the drummer. World Vision has provided us with musical instruments, in order to enable all students to express their talents and their full potential," the teenager states.
Although he still feels uncomfortable to be seen as different by others, Shpëtim has managed to overcome the prejudice. He is an active citizen that contributes to the quality of life of his local community. The skills and competencies he has acquired have empowered him to actively participate in social life, as well as to develop strong values and positive attitudes.
"If there would be no intervention in my life, I would be a young man roaming the streets, powerless and without the necessary skills to live independently. However, despite the challenges, I am now a capable person. I attend high school, I am a member of school groups, I undertake community initiatives and I am developing my talents," he concludes.
World Vision Albania works with about 300 youth in the Dibra region, helping them to develop and enhance their core life skills, to grow as individuals, establish constructive relationships, and to develop their critical thinking.