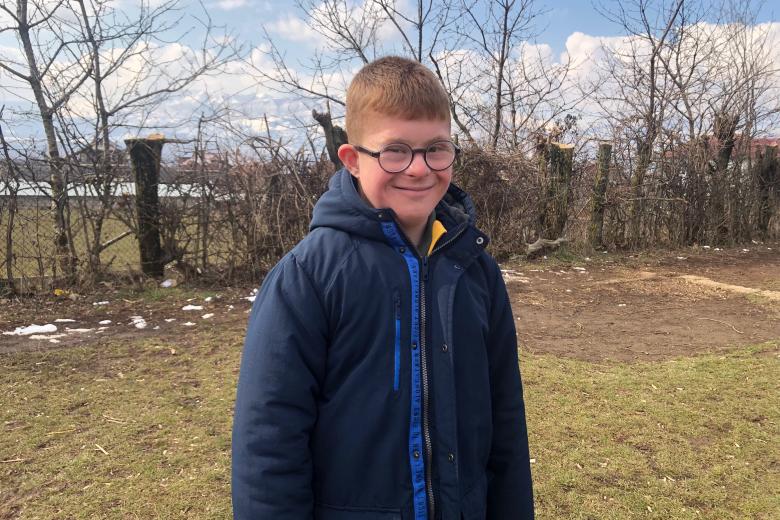 For Erden Down syndrome is not a barrier to success
Thursday, November 10, 2022
Twelve years before, a family from Dibër was impatiently waiting for the birth of a son. The boy was going to born after four girls. But the first contact of the parents with their child was not an easy one. Erden was born with Down Syndrome.
"He is the youngest child of the family. The birth of a son after four sisters was extraordinary even for a Dibër family. All the family was rejoicing. I remember we had a very big party at home because the boy we all were waiting for was born. That he was born with Down Syndrome was diognosed right after the birth but the difficulties with his movements we noticed only when he turned one year old. My parents reacted very badly because we were unprepared for such a situation," tells Dafina, remembering the details of the day when her only brother was born.
Now Erden has grown up  and is very much loved by his community people. He has a special smile and is very friendly. Care and adequate therapeutic support given to him since early childhood has helped Erden to become an active member of his community, to demonstrate his potential, and increase his independence.
In the first years, Erden had difficulties in articulating but today he speaks beautifully and writes correctly. He had difficulties walking, but today he runs all the time and practices sports. Football is his favorite sport and for two years he has been participating in every training of the Korabi football junior team in Peshkopi. Professor Sali, who teaches Physical Education and at the same time is the team's coach, takes special care of him. The change he experiences is inspiring.
"We have created space for Erden to play with his friends even in important club matches. In official matches with other teams, he has played in the field for 5-10 minutes, so that he can feel equal to the others. His progress has been remarkable," tells the professor.
Erden is a boy full of energy and dreams for the future. Besides football he also likes mathematics. He is in the sixth grade but continues to have a strong relationship with his primary school teacher, Anila, who has had a significant impact on his life.
"I am pleased that all the teachers and my school love me. It is different now that I have a lot of teachers. I love teacher Anila very much, but I love the other teachers as well. When I grow up I wish to become a football player and a police officer. I wish all the children in the world to be in peace and have no problems, that's why I wish to become a police officer," says Erden.
Kudrete, the boy's mother, says that the beginning was very difficult for her family. The greatest challenge for her and her husband was to accept the new reality.
"I remember when we first sent him to kindergarten, where I accompanied him all day as he could not sit in a chair. I forever indebted to the educators and teachers who worked with him as if he was their son. His father sends him to football training, of course part-time, so that he won't feel excluded. His sisters are older and they care for Erden all the time. For us as parents, the boy is the reason we live," says Kudrete, not hiding her joy for the boy's progress.
Erden has become part of World Vision programmes since kindergarten and has participated in almost every activity and initiative in the Dibër area. Recently, he is getting involved with the IMPACT CLUB groups organised in his school.
"When Erden came to the first grade it was a bit difficult for me. it is common knowledge that the children with Down Syndrome are very lovely but they need extra efforts. When I see Erden articulating, writing, running, and not behind other children, it seems a dream to me," tells teacher Anila, who has worked with Erden daily for five years on his education and social integration.
Erden's example is inspiring. He proves that with efforts, dedication, and the right support, we can all succeed in life.