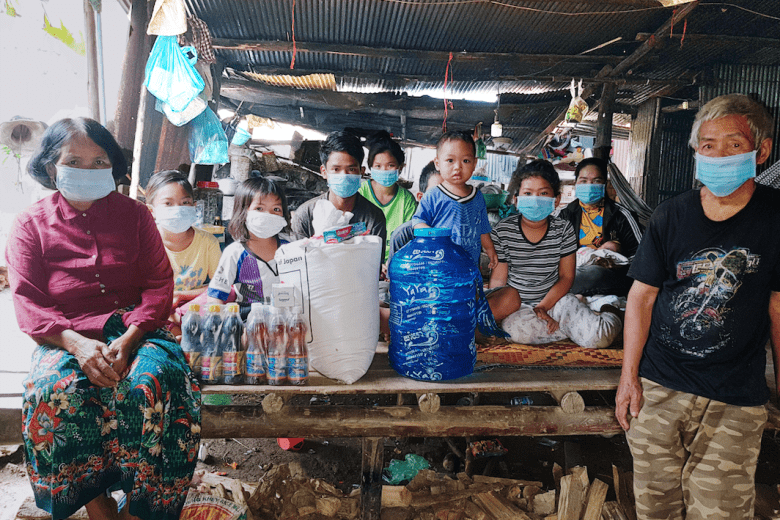 Cash aid during the COVID-19 pandemic
Monday, August 23, 2021
The global pandemic continues to have a lasting ripple effect on families. In Cambodia, grandparents taking care of their grandchildren while their children work abroad are feeling the pinch.
Living in Banteay Neang Commune, Mongkol Borei District of Banteay Meanchey, a province close to the Cambodia-Thai border, Tith Serey, 63, and her husband, Nhes Eng, 70, depend on monthly remittances from their migrated children who barely earn a living. Serey has seven children, but only one of them is able to provide financial support.   
She also cannot work due to her weak physical condition, so the remittance from one of her children and spouse who migrated to work in Thailand is the only source of income.  Her children, who used to earn around 10000 baht (US$250) monthly now earn less because the pandemic is hurting the demand for low-skilled migrant labor. With the Thai's government COVID-19 containment measures ranging from lockdown, business closures, and stricter border check, tourist figures and the economy as a whole is disrupted according to the ILO briefing note on "COVID-19: Impact on migrant workers and country response in Thailand". As migrant workers face unemployment, the hand-sewing job of Serey's children is also at an inevitable risk.   
This spills over to how much remittance can be sent to Serey and Eng who are living with seven grandchildren and great-grandchildren at home. They started receiving less money or none at some points, making them even more vulnerable than they already were before the pandemic. There are two newborn great-grandchildren, one of whom is a sponsored child, who are still in their first 1000 days under Serey's care. The vulnerability of the family also affects the growth and early development of the children who are in dire need of sufficient nutrition to grow strong. 
To ease Serey's family living conditions during this hard time, World Vision International Cambodia, via its Cash Transfer Programme, supports the household because it fits the principle and additional criteria of the Cash Transfer Programme's beneficiary assessment. According to Mr. Sou Sam Ang, Area Programme Manager from World Vision International Cambodia, the local authority had requested the World Vision Area Programme to support the family, and after the review from the cash transfer committee, the family was selected as they met most criteria.
Sam Ang states, "Serey's family is very poor, she is old and has no job, thus her family face food shortage. Many children live under her care while their parents migrated to work in Thailand, one of the children is also World Vision International Cambodia's Registered Child." He adds further "On top of that, the local authority requested for our help so the cash transfer committee reviewed and selected them."
Serey says that before the pandemic, she normally received about $125 every month, half of what her children earned in Thailand, to support a family of ten. Serey says that the family needs up to $12.50 a day to fulfill their daily needs, but it became even harder to sustain the basics during the pandemic. 
Serey says that she could not buy anything to feed the family so she resorted to borrowing money. "In the past months, we have no money to buy food so I just decided to borrow [from] others because I want my grandchildren to have three meals a day," she says. "Even if I have to cut short on other things, I make sure they at least have a bowl of rice"
She's also paying off her loans. "When I got send some money from my children, I paid back my lender bit by bit but I still owe them some," she says. "What can I do? I need to feed my grandchildren."   
Serey, who is living in Banteay Meanchey Province, says that the timely intervention of World Vision did help her family a lot. Serey's family received US$40 in cash for their basic well-being. Serey says that the fund helps ease her spending as she can manage to buy 50kg of rice and have some left for daily food expenses.
"I felt like a drowning animal that does not know how to swim," she says, "but because the of the cash transfer from [World Vision International Cambodia], I immediately bought a bag of rice so as to feed my grandchildren, I just cannot let them starve, and the funds help us." Serey says the aid can cover her and family's basic needs for roughly two weeks.
World Vision International Cambodia has worked to reach out to more vulnerable families and build stronger communities nationwide. Serey's is among the 3,154 families who received cash from WVI-C's Cash Transfer Programme. By August 10, 2021, World Vision International Cambodia has reported total expenditure of $ 2,145,193 for its COVID-19 response and recovery efforts which have reached over 1,186,000 people, including over 144,000 most vulnerable children.
Serey thanks World Vision, donors, and all related entities that have provided much needed support. She feels so grateful for the help that it almost brings her to tears. 
By: Ratha Virak Tepy, World Vision's Communicator