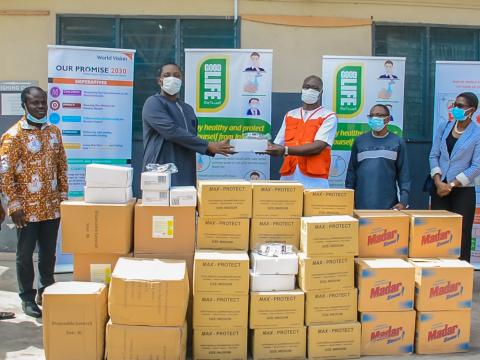 COVID-19 Response: World Vision donates PPE to Christian Health Association of Ghana
Thursday, April 23, 2020
One of the most disturbing aspects of the COVID-19 pandemic is news of frontline health workers risking their lives and continually caring for the sick without proper protective equipment. While the Government of Ghana continues to work to ensure health workers across the nation are properly equipped, World Vision supports the efforts of the Government by working with the Ministry of Health and its facilities across the nation as well as organisations such as the Christian Health Association of Ghana (CHAG). 
At a handing over ceremony on 21 April 2020, World Vision presented CHAG with Personal Protective Equipment (PPE) valued at 60,000 GHS (equivalent to over $10,000). This equipment included gloves, hand sanitisers, and masks among others. 
The National Director of World Vision in Ghana, board members, senior leadership and World Vision staff, CHAG leadership, the staff of Salvation Army Clinic and the media, attended the ceremony held at Salvation Army Clinic in Accra.
In his address, Dr. Desmond Alex Akpabli, a World Vision Ghana board member, emphasised the commitment of World Vision to support the Government of Ghana in the fight against the spread of the virus. He further said,
"With new coronavirus cases emerging daily, World Vision experts envisage that the coronavirus will have a huge impact on the poorest and most vulnerable, thus posing a major risk to the efforts and progress made to fight poverty and hunger globally. World Vision International is urging governments to support a united global effort to protect the most vulnerable especially children who sometimes become orphans as a result of pandemics."
The National Director of World Vision in Ghana, Mr. Dickens Thunde explained the importance of providing PPE by saying it is expedient that we avoid the further spread of the disease and ensure the protection of frontline health workers from the disease. The director of CHAG and the team of health workers at the Salvation Army expressed their gratitude to World Vision and promised to ensure health workers in Accra and other parts of the nation benefit from the donation.
World Vision International has declared COVID-19 a Global Health Emergency Response. Consequently, World Vision in Ghana has stepped up its collaboration with the Ghana Health Service/ Ministry of Health, and some of the Christian Health Association of Ghana's health facilities to halt the spread of the disease. World Vision staff in Ghana will continue to pray, advocate and give to ensure that the most vulnerable are protected during these difficult times.