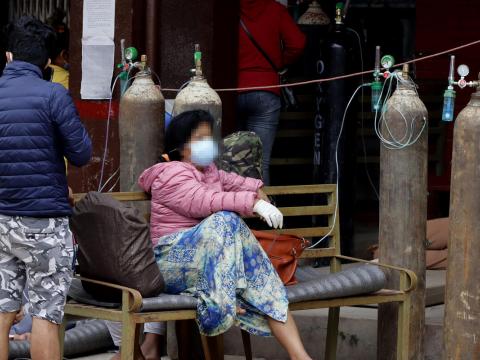 The COVID effect being felt in Nepal
Friday, May 14, 2021
There are moments in life when we can decide what we want for ourselves. But there are also times when decisions are thrust upon us and we have no choice but to just accept them.
Currently, Kathmandu valley along with some other districts is under prohibitory orders. A majority of businesses have been asked to shut down for 15 days and vehicular movement has been restricted.
The number of infections has been rising on a daily basis and the situation is quite dire, yet there are some who feel that the prohibitory order imposed by the government is not the right decision. However, is this feeling the same for those who have had a very near and personal encounter with the virus?
For instance, Deepesh Paul Thakur, who works as a Director for Local to Global Advocacy and impact at World Vision International, has his own story to share. "My mother is 78 years old and we had taken all the necessary precautionary measures at home to keep her safe from being infected with the coronavirus," he says, adding she started developing fever on Wednesday and we had to take her to the hospital.
However, all hospitals require a PCR report before they admit a patient. "We called up Alka Hospital and waited for 24 hours for somebody to arrive from the hospital and conduct the necessary procedures," shares Thakur. Those 24 hours seemed like years as the fever was not subsiding and my mother started vomiting and complaining of severe body ache.
Unfortunately, the PCR test was positive and we decided to admit my mother to a hospital so that there would not be any further complications. "Her breathing was fine but I did not want to take any chances so I called up a number of hospitals but there were no beds available," he adds. Thakur relates that there was a bed at B&B Hospital but they were charging 22,000 rupees (approximately US$188) per day. "I wonder who can afford such a cost."
It was after many phone calls and requests and using connections, Thakur was finally able to admit his mother at Teaching Hospital in Maharajgunj. "She was admitted on Saturday," he says. Getting admitted was one part but after reaching the hospital Thakur realised that the situation there too was not very comforting.
"I realised that the hospital was facing shortage of staff as there are not enough doctors and nurses," he shares. "Since there is not enough staff to look after all the patients I have been looking after my mother personally," he says. Thakur adds that there is one senior doctor, two junior doctors and three nurses at the COVID ward at Teaching Hospital but there are over 30 patients.
The one question that keeps flooding Thakur's mind is how did things get so bad and why did the government not take any proactive steps before things got worse?
The Guardian, on April 30, had published a report stating, "Doctors in Nepal have warned that the country is facing a similar devastating wave of COVID-19 as neighbouring India, with border districts already reporting an alarming spike in cases and shortage of hospital beds and oxygen. In the Banke district of Nepal, bordering India, doctors at Bheri Hospital said it was turning into a 'mini India', with the coronavirus spreading out of control."
It is not about Nepal not having qualified doctors and nurses to take care of the patients. It is about not having the required numbers to deal with the situation.
Sharing his experience, Thakur says, "Now my mother is doing fine but the trouble we had to go through just to get her admitted to a hospital was emotionally and physically traumatising. I know I am at risk of being exposed to and infected with coronavirus at the hospital but I cannot leave my mother alone with no one to tend for her." He adds that he does not blame the staff for the situation that he has been put into because they are doing the best they can to look after all the patients.
With the number of infections rising, he says that it is up to us individually to stay safe. "One minor lapse and not only could we get infected ourselves but also infect our loved ones with COVID-19."
Thakur mentions that it is high time that the government takes the responsibility and pulls up its socks in earnest to deal with this grave situation. "I am fortunate enough to know some people in the right places so I could get my mother admitted to a hospital but what about those unfortunate people who neither have the connections nor the resources," he says. "What option do they have other than to just wait and watch," Thakur adds.
Access to proper health facilities and services is a fundamental right of all the citizens and the government should guarantee that, he states. "Instead of always being embroiled in party politics the so-called leaders should be working on such basic social needs."
Does the government have any concrete plan to deal with the situation or are the political leaders just crossing their fingers and hoping for the situation to get back to normal on its own? "I have personally been through a tormenting situation, so I would request everyone to take the situation seriously," says Thakur. "It's not only about you but your near and dear ones too."
Originally shared on Nepal News.