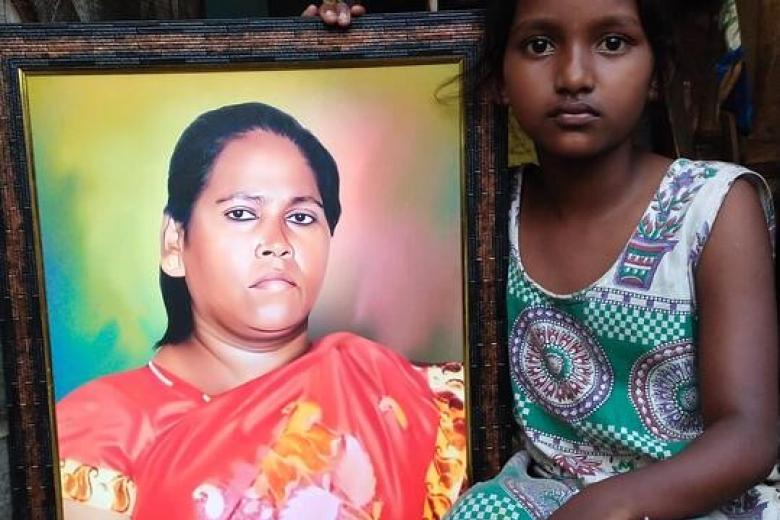 Little Buwana's world torn apart
Wednesday, May 12, 2021
Alamelu and Buwana were each other's worlds. They lived alone in a small one-room house in Chennai, India. "Wait for me in the house, I will come soon," Alamelu told her 10-year-old granddaughter, Buwana, as she left for a hospital in Chennai.
She never came back. 
A few weeks ago, Alamelu began having a fever and coughing. Though it seemed to subside with self-medication, it gradually became severe, making her feel breathless. So she was rushed to a nearby hospital by one of her sons, leaving Buwana alone in the house. Alamelu's lungs were completely affected and her oxygen saturation levels were dropping. The doctors urged them to immediately seek treatment at another hospital where COVID-19 patients were being treated. 
Pained by not being able to see Alamelu for two days, Buwana cried and asked everyone in her community to take her to the hospital so she could see 'Amma', her nickname for her grandmother. 'Amma' means 'mother' in Tamil. But no one could take little Buwana to visit her as hospital protocol would not to allow entrance to anyone except COVID-19 patients. Alamelu couldn't even say 'hello' to Buwana on the phone because she was breathing with oxygen support. 
Buwana kept hoping and praying that Amma would come back soon. On the third day, Buwana learned the worst: Alamelu had passed away in the morning. She was informed the news of her grandmother's death only a few minutes before Alamelu's body was brought home for the final rituals. 
"When I shared the terrible news with Buwana, her face shattered. She sat down with fear and anxiety without speaking a word," said Dhanalaxmi, Alamelu's younger sister. Dhanalaxmi has been caring for her grandniece since Alamelu's passing. In tears, Buwana recalls, "My Amma wouldn't let me go out during the pandemic. Even when she wasn't feeling well, she would walk alone to the market and buy whatever I asked for. She cared for me and never let me cry or feel sad." 
Little Buwana's life has been tarnished by tragedy. Her parents abandoned her when they divorced when she was an infant. Alamelu, Buwana's paternal grandmother, raised Buwana from the time she was 6 months old. She supported her by selling snacks in the evening in a small cart. She paid special attention to Buwana's special needs, a speech impediment, and her education, as she wanted her granddaughter to have a good future. Sindhuja, World Vision India's community volunteer from Buwana's community remembers, "Alamelu used to say that she wanted to see Buwana's bright future before she closed her eyes."
Buwana is in Class 5 and dreams of becoming a lawyer. World Vision is assisting her and her caregivers during these tough times. She remembers the words of her Amma that now make her weep: "Who will take care of you when I am no more?" 
  
Sadly, these same words are resounding in the minds of many parents affected by COVID-19 as they are being admitted into hospitals and their loved ones who fear the worst: "Who will look after our children if we are no more?" 

The second wave of COVID-19 has severely affected the lives of the poor and has brought unbearable pain amongst families in India. Children are being orphaned. Daily wage labourers are unable to find work. It has shattered many children's hopes for the future. Amidst this country's turmoil, World Vision India is working hard to support such families. Learn more about World Vision efforts to fight against the second wave of COVID-19 in India and bring change to children's lives.