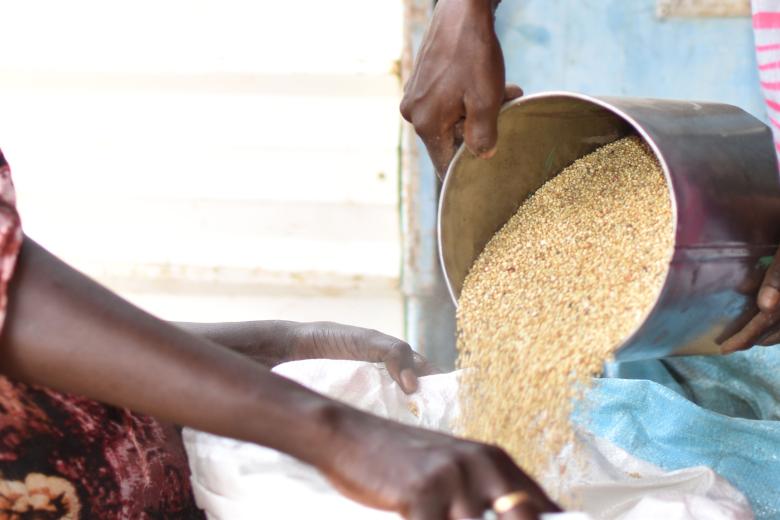 World Vision and World Food Programme have adjusted food distributions to minimise the risk of COVID-19 infection
Monday, April 27, 2020
Safety measures put in place to support efforts to contain the spread of the coronavirus in Sudan such as restrictions on movements and gatherings have presented unique challenges for humanitarian operations.
It is particularly challenging for those community interventions that necessitate field travel and mass gatherings, such as our food distribution activities which are characterised by a large gathering of beneficiaries often seated or lining up in close proximity to each other, as seen in the picture below.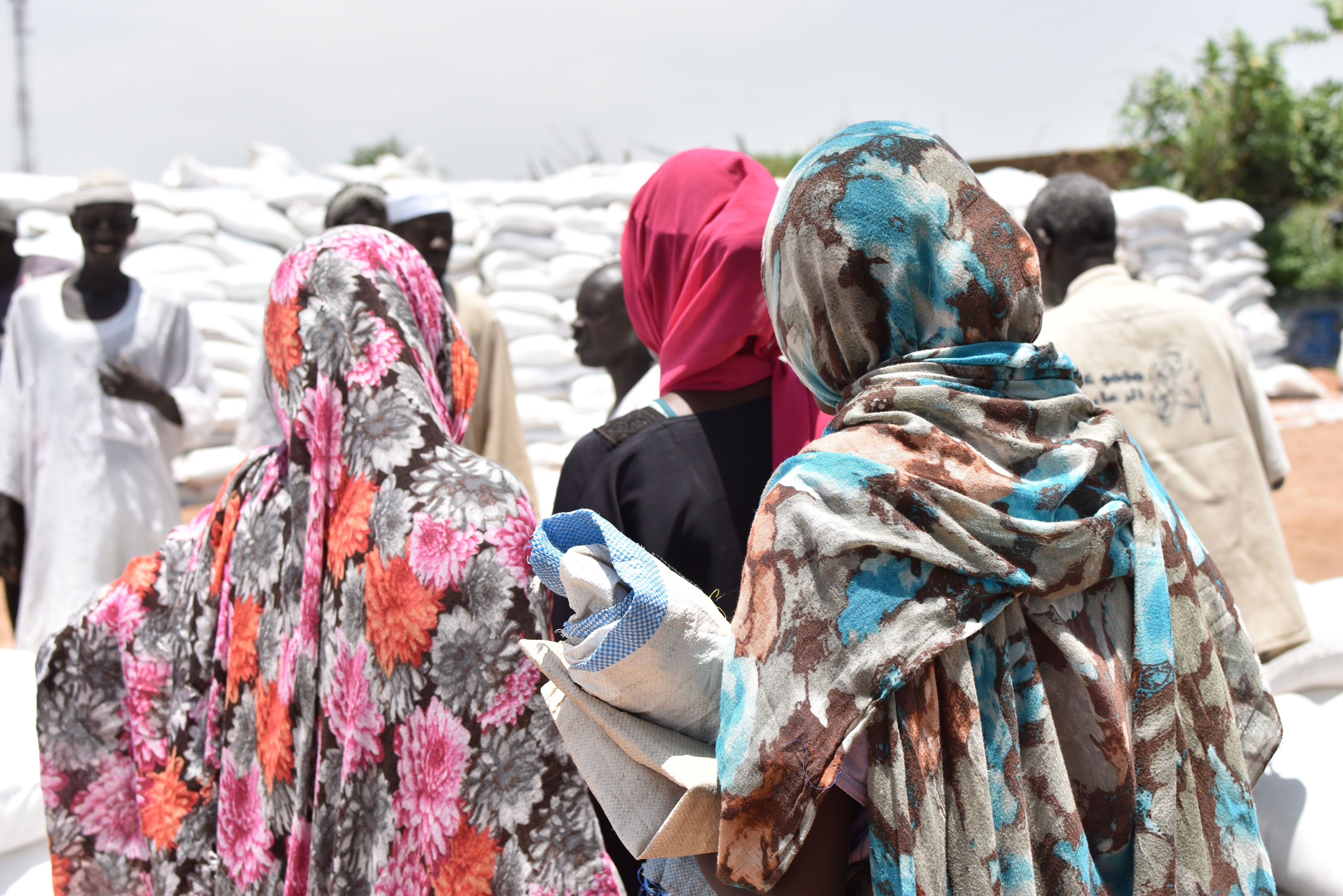 Yet these safety measures are very much necessary to prevent the spread of the virus given its contagious nature. In coordination with the World Food Programme, World Vision has adjusted its food distributions approach, which usually attracts mass gatherings, in an effort to minimise the risk of COVID-19 transmission, while ensuring continued critical assistance to the most vulnerable populations.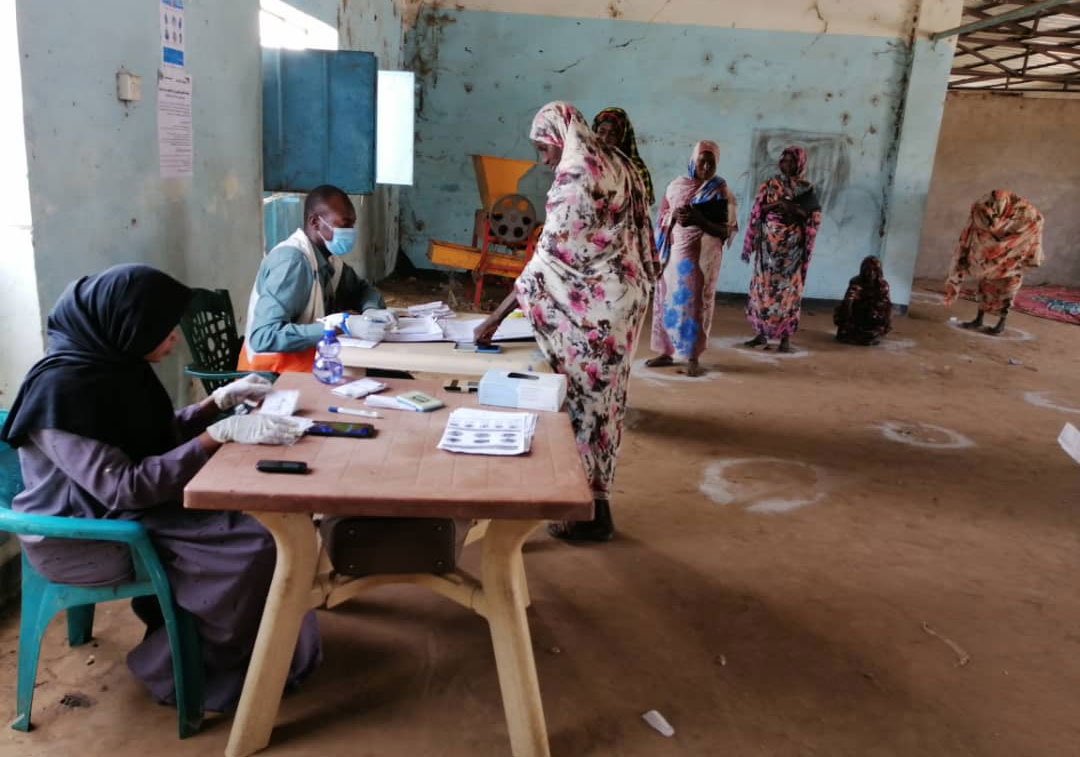 "We have started distributing double-rations to cover beneficiaries for two months, this is aimed at reducing the number of times beneficiaries have to visit our distribution sites, and by that minimising their risk of exposure," World Vision in Sudan, Food Assistance Program Manager, Brian Mashingaidze explains.
"By the third week of April, 45,690 refugee and IDPs families in several locations in South Darfur state had been reached with food assistance consisting of cereals, pulses, vegetable oil and salt, to last them for the months of April and May. 411 metric tons (411,000 kilograms) worth of food supplies were distributed.
Mashingaidze confirms that another 185,000 people have been earmarked to receive double-rations distribution in East and South Darfur, this time including beneficiaries targeted in the cash assistance programme (in South Darfur). The arrangement also covers 165,000 people targeted in the food for assets (FFA) program.
"We have enhanced the protection of our frontline staff and volunteers in an effort to minimise risk of transmission to the communities, and also intensified the dissemination of COVID-19 prevention messages and promotion of behaviour change practices such as handwashing and physical distancing in our distribution sites."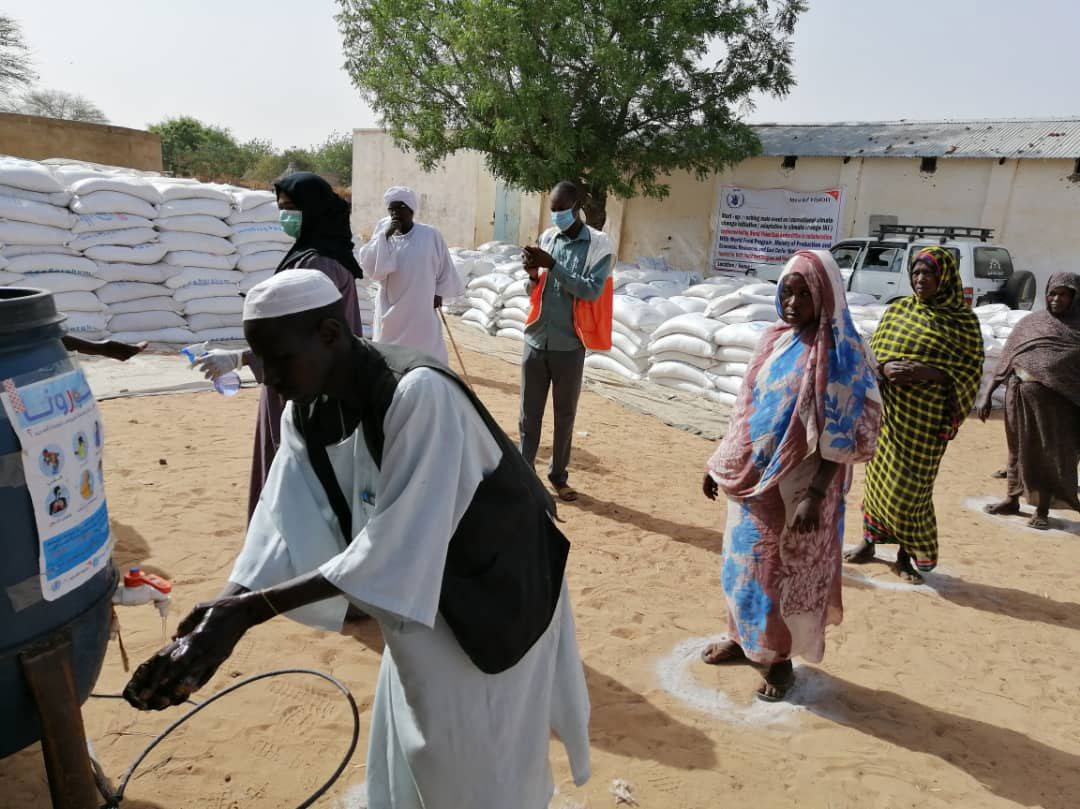 Mashingaidze points out that while these measures have presented significant challenges, they are necessary to prevent the transmission of the virus. "I think there's an accrued public health benefit if we all play our part in the fight against this virus," he adds.
But it is not just the direct threat of coronavirus that worries the food assistance team. There's a lot more.
For example, frequent fuel shortages in the country have a direct effect on the food supply chain. This could result in significant delays in the delivery of the food consignment to the warehouse, as well as delay the distribution of the food to people in need. "This means that at times, the double distribution may not be possible," Mashingaidze elaborates.

The threat to frontline staff is greatest. Therefore, we need more personal protective equipment (PPEs) to protect our frontline staff and by that minimise the risk to the community. For now, there is a reprieve as a boost from our partner, WFP. However, the additional funding and support will enable the team to procure PPEs that include face masks, gloves and boots for use by the frontline staff and volunteers facilitating activities at the distribution points.

With support from WFP, World Vision also provides school feeding for nearly 77,000 school-going kids in 86 schools across South Darfur state. All schools have been shut to contain further spread of the virus. This programme has in turn been temporarily suspended, meaning reduced meals for the children who entirely depended on it. Additionally, these children, and many others across the country, are missing out on learning.
World Vision continues to closely monitor the COVID-19 pandemic as it evolves in Sudan. We are in regular consultation with the World Food Programme, other humanitarian agencies and the Government of Sudan through the different line ministries and community leaders, to find solutions to the current and evolving challenges.
More about our food assistance programme
Food Assistance is World Vision's largest portfolio in Sudan. In 2019, with the support of the World Food Programme, we reached 387,203 people through our food and cash-based assistance programmes. In 2020, we have targeted 499,278 internally displaced persons and refugees across East and South Darfur states.
Learn more about our COVID-19 response in Sudan here. 
Additionally, learn more about and/or support World Vision's global work to limit the spread of COVID-19 and support the children impacted by it on our COVID-19 Emergency Response Page. 
Article by Lucy Murunga, Communications Manager for World Vision in Sudan