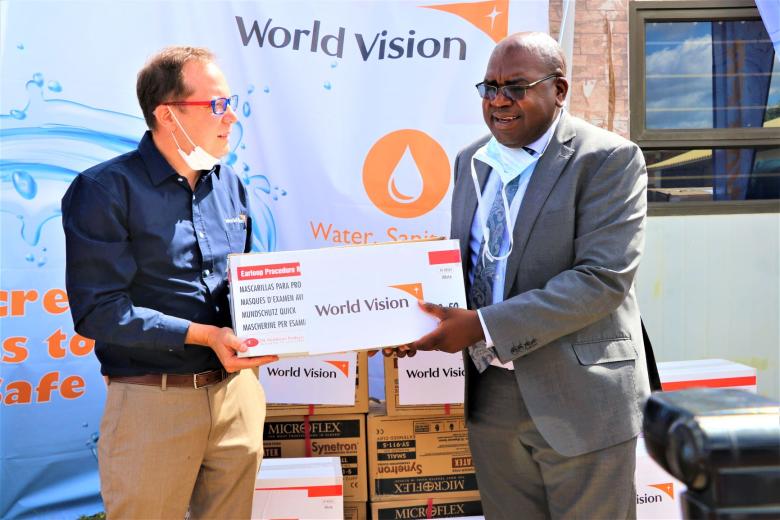 World Vision donates to government to combat COVID-19 in Zambia
Friday, April 3, 2020
World Vision in Zambia has joined government efforts to combat the COVID-19 disease in Zambia by spending over 5.1 Million Zambian Kwacha (ZMW) to equip health facilities and isolation centres and building prevention measures across Zambia.
Further, World Vision has partnered with UNICEF to strengthen Infections, Prevention and Control measures in all the isolation centres by providing online chlorinators, hygiene supplies and clean safe water in these isolation centres at a total cost of 1.8 million Kwacha.
World Vision will support 134 health facilities with K2.3 Million in areas where it operates across the country by enhancing water, sanitation and hygiene Strengthen Infection, Prevention and Control measures during this period.
Speaking when receiving the donations, Minister of Health Honorable Chitalu Chilufya expressed happiness with the commitment from World Vision Zambia in helping improve the health sector.
"We have come long, I remember we were together in Mpemba and Kaomas Districts together where you built a clinic and not only that but in many communities across the country where you have helped improve the Maternal health and improve the health systems," Said Hon. Chilufya. "We thank you for that."
And speaking during donation World Vision Zambia National Director John Hasse said,
"Today we have donated 40,000 face masks and 20,000 pairs of gloves worth 1 Million Kwacha for the health personnel and other essential workers who are in the frontline of fighting this pandemic."
"This is a crucial time in the history of humanity, and here in Zambia, we have not been spared from the effects of this pandemic. We all need to do whatever it takes to ensure we overcome this battle. The coronavirus, if not stemmed, will have a huge negative impact on the most vulnerable communities, and poses a risk to efforts and progress to defeat poverty".
"Coronavirus is having a devastating impact on people living all over the world, but it could be catastrophic for families living in war-torn and poverty-stricken countries. Those living in places with poor medical facilities, and where children are already at risk of things like malnutrition and exploitation, will pay the highest price in this crisis.
"As an organisation are working in collaboration with local authorities, hospitals, academic institutions and NGOs, to prevent the spread of the virus, and lessen its effects on the most vulnerable".
It is important to note that World Vision Zambia's interventions in education, livelihood, Water, Sanitation and Hygiene, primary healthcare, nutrition and child protection, complements government's efforts in building resilience in vulnerable communities thereby reducing the impact of crises such as COVID-19.