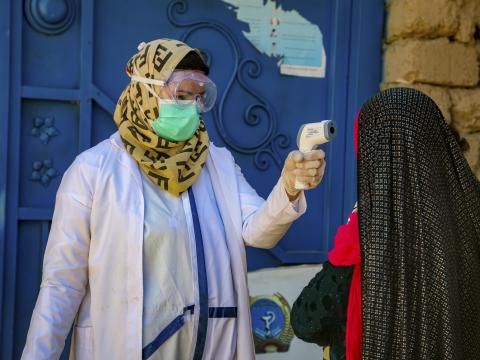 World Vision responds to the impact of COVID-19 in IDP settlements
Tuesday, July 14, 2020
Severe conflict and drought in Western Afghanistan have created a large number of Internally Displaced People (IDP) who have been forced to flee their homes for large cities. Conditions in IDP settlements are challenging, with sub-standard living conditions. As a vulnerable group with limited coping mechanisms, IDPs have been disproportionately affected by the COVID-19 pandemic. Food insecurity, malnutrition and lack of access to hygiene and sanitation facilities in camps raises concerns not only about susceptibility to the virus but also about potential economic impacts due to virus response measures.
WASH – Water, Sanitation, and Hygiene
Mohammad Zaher, 37, lives in the Shahrak Sabz IDP settlement in Herat. His family was internally displaced two years ago and have experienced problems relating to hygiene and sanitation facilities both prior to and during the pandemic. "I was only able to save my family and I could not bring anything from my home. [We have been in constant] need of hygiene facilities, particularly now that [COVID-19] has been spreading," Zaher explains.
Under the Water, Sanitation and Hygiene (WASH) Winterisation Project, funded by UN OCHA's Afghanistan Humanitarian Fund, World Vision Afghanistan (WVA) has conducted hygiene awareness sessions and distributed 39,998 hygiene kits to IDPs and returnees.
Mohammad Zaher says that WVA hygiene promoters have been training people on the importance of hygiene practices and COVID safety measures. "Male and female facilitators came to our house [and advised] us on hygiene and washing our hands regularly." Mohammad and his family have made a point to consistently practice good hygiene. "This is a good opportunity for us. I am 100 per cent sure that hand washing will be 100 per cent useful." Regular hand-washing - requiring access to water and soap – has been proven to drastically reduce the transmission of communicable diseases. Mohammad feels a great sense of relief now that he is able to access hygiene items. "Thanks to World Vision for making it available to me and my family," he says.
Life begins with healthy nutrition
Naqeeb is two years old and has been struggling with chronic malnutrition since birth. "We were happy with the gift of Almighty Allah," says Naqeeb's father, Habibullah, "but to save [Naqeeb's] life was a challenge for [everyone]."
Similar to Mohammad Zaher, insecurity and conflict drove Habibullah's family from their home in Badghis to Shahrak Sabz IDP settlement in Herat. They immediately experienced reduced access to sufficient and healthful foods, and saw a decline in basic living conditions. Mahbibi, 18, is Naqeeb's mother. "When I was pregnant," she explains, "it was really tough to get enough vitamins and energy from the food that was available to us." She was married at 13 years old, a traditional practice in rural Afghanistan. Giving birth at such a young age often results in abnormal pregnancies and can harm both mother and child.
In response to these challenging conditions, WVA, through a Gift-in-Kind programme initiated by World Vision Canada, is assisting malnourished children in IDP settlements. A Mobile Health and Nutrition Team provides checkups and administers crucial aid on-site where all IDP families can access it. In Shahrak Sabz the team has assisted 625 children experiencing acute malnutrition. Aid comes in the form of Ready to Use Therapeutic Food (RUTF) sachets manufactured by MANA. The treatment period is case-by-case, but, on average, one malnourished child receives 150 sachets for a period of 47 days. World Vision's healthcare professionals monitor a child's progress and adjust treatment accordingly.
Before receiving RUTF supplements Naqeeb weighed only 7.5 Kilograms. "The family was very upset about whether their child would survive or not," says Mansoora Nazari, a Nutrition Nurse with the WVA mobile team. "[Naqeeb] has been undergoing treatment for 49 days. We also provided medical advice to the family [around crucial childcare issues]." At the end of his last day of treatment, Naqeeb weighed over 9 Kilograms and his health continues to improve.
According to Habibulla, Naqeeb is now a normal child. "We are very happy that [our son] is back to health with the support of World Vision", he says. "We could not afford to buy nutritious food or provide the necessary medical care for our children, so I greatly appreciate WV's help in treating my child and providing him with RUTF supplements."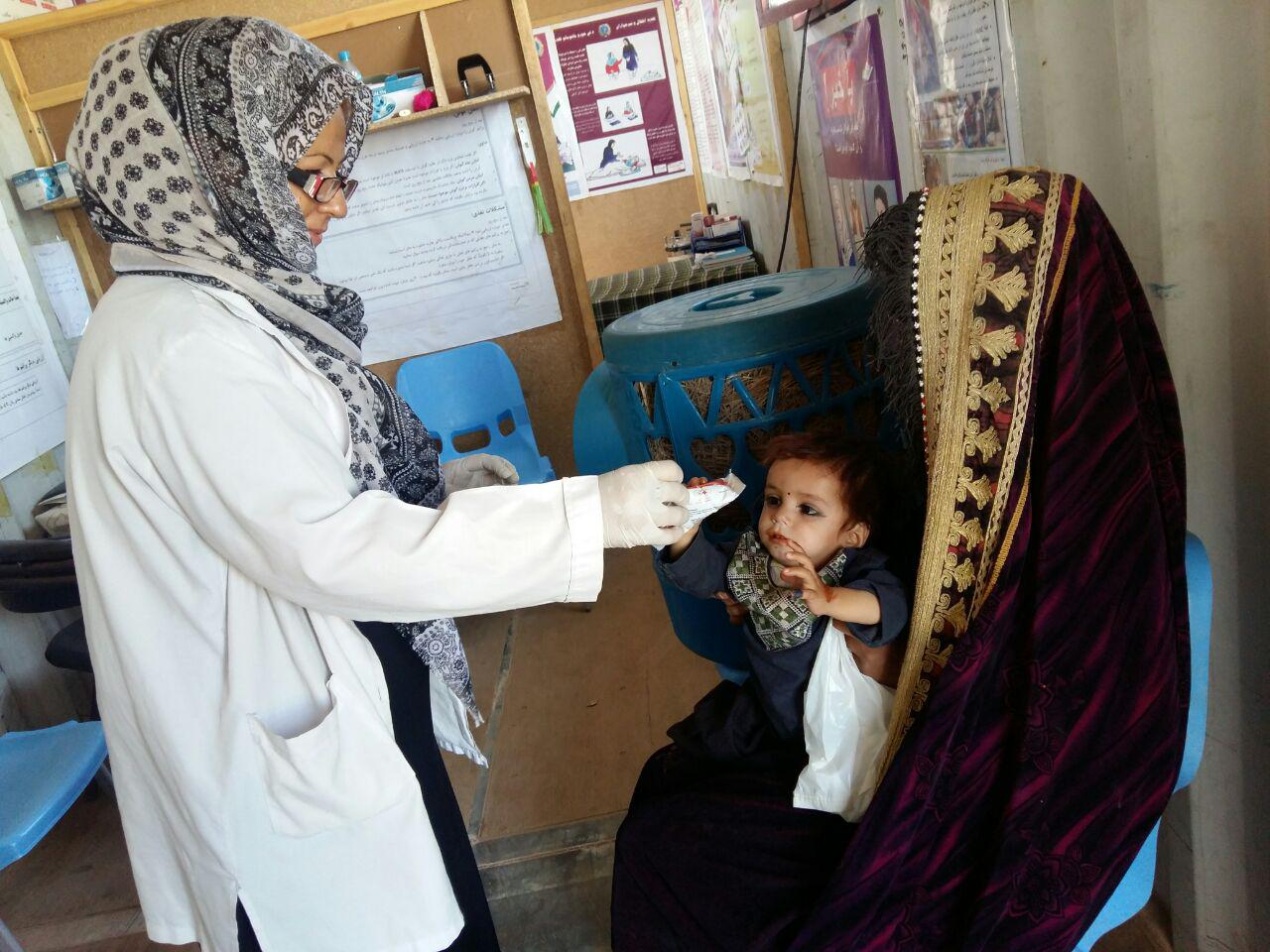 Provision of PPE kits
World Vision Afghanistan Mobile Health and Nutrition teams have been providing care to thousands of IDPs for a wide range of communicable and non-communicable diseases including COVID-19, as well as treatment and counselling for undernourishment and its underlying causes. A cohort of 110 health workers, educators, and promoters provide COVID-19 risk education and promote the message of hygiene practice to minimise effects of the virus among IDPs. So far, WVA has provided 3,418 Personal Protection Equipment (PPE) kits to these essential health workers.
As part of the COVID-19 pandemic response, WVA, under the Fragile Context Programming Approach (FCPA) project, donated 150 PPE Kits, 15,000 pairs of gloves and 15,000 surgical masks to the Covid-19 Central Stock of the Herat Department of Public Health. The kits will be distributed to frontline health personnel working in hospitals. The Fragile Context Programming Approach is a multi-sector emergency project funded by several World Vision Support Offices and led by World Vision Canada.
Learn more about and/or support World Vision's global work to limit the spread of COVID-19 and support the children impacted by it on our COVID-19 Emergency Response Page.