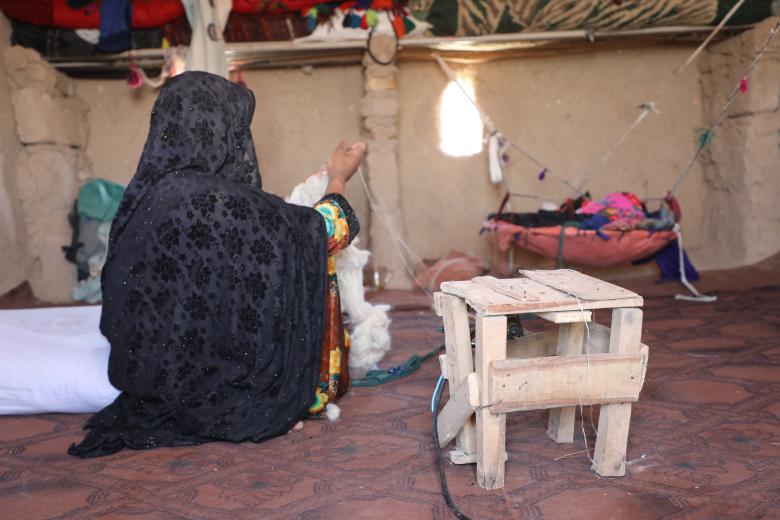 Sell a kidney, or let your children die of hunger!
Thursday, August 11, 2022
We sit in a mud-made room with only two-meter-high walls. The wall in front of us has two holes that allow a little sunlight into the room. A little boy who looks about 7 years old, peeks through the holes and then hides himself. There is no window or curtain or even plastic to prevent a strong wind from blowing dust coming into the room.
An old brown carpet is spread on the floor but doesn't cover the room from one end to the other. There is also a purple bucket full of water. Almost in the middle of the room there sits a machine of wood used to make yarn from wool.
The last piece of furniture is a local type of cradle composed of two ropes and a piece of cloth. The two sides of each rope are tightened to the roof and the cloth between is where the child rests. The mother pushes the cradle by hand so that the child feels comfortable and falls asleep.
Zarghona's husband has mental problems and she couldn't rely on him to earn bread for her children. "My brother-in-law, Almas, gave us food for two years. Then he forced me sell my kidney so that he could look after us with that money," says Zarghona.
Her children suffered from hunger. "I could not bear watching my children crying for food anymore, so I agreed to sell my kidney to save my children from dying of hunger," Zarghona explains while crying.
Almas told her that he has sold her kidney for 100,000 Afs (US$ 1,120). He allowed Zarghona and her children to live in his house and gave them food for one year. Soon after, he told her that nothing was left from her money. Almas asked Zarghona to give him her 4-year-old daughter so that he can sell her to support them for one more year.
Zarghona did not agree and moved to her father's house, which is in Herat City in an IDP (Internally Displaced Persons) camp. Zarghona has left her home, husband, and everything behind in her native province Badghis with one purpose—to save her five children from dying of starvation or being sold to marriage to feed the rest of the family.
Now she earns money by tailoring and making yarn from wool. But she can rarely earn 100 Afs (US$ 1.1) per day. With this meager amount of money she buys food for her children. Her father's economic condition is also not good and he can't provide much support.
Working all day without any break causes her pain, especially the wounds from her kidney surgery. "When I take medicine, my pain is relieved but most of the time I cannot buy medicine. Instead of buying medicine for myself I prefer buying food for my children," Zarghona continues after a pause with trembling voice, "I can bear my pain, but cannot see my children crying for food."
After a while Zarghona went back to Badghis to visit her husband. Almas asked her again if she would agree to give him one 10-year-old daughter, thinking that Zarghona would give up this time. When her daughter heard about this talk she cried and said to her mother, "I prefer dying from hunger rather than getting married. Let us die."
When asked about her dreams Zarghona answered, "My only dream is to be able to manage fight the huger and have enough food. I dream my children get some education and support me when they grow up enough." 
Like Zarghona, millions of Afghans suffer as they hear their children crying for food but are unable to provide. An estimated 18.9 million Afghans—45% of population—face high levels of acute food insecurity between  June and November 2022[1].
World Vision in Afghanistan provides health services through mobile health clinics for the families living in this IDP camp. Zarghona says when her children get sick, she takes them to this clinic because they cannot afford medication in the city.
So far in 2022, World Vision Afghanistan has been able to provide food, health services or cash assistance to over one million vulnerable people however, this is not enough. World Vision has been working for more than 21 years in Afghanistan, and with support from generous donors, remains committed and determined to stay and deliver in Afghanistan and make a difference for children, their families, and their communities.
[1] https://reliefweb.int/report/afghanistan/afghanistan-ipc-acute-food-insecurity-analysis-march-november-2022-issued-may