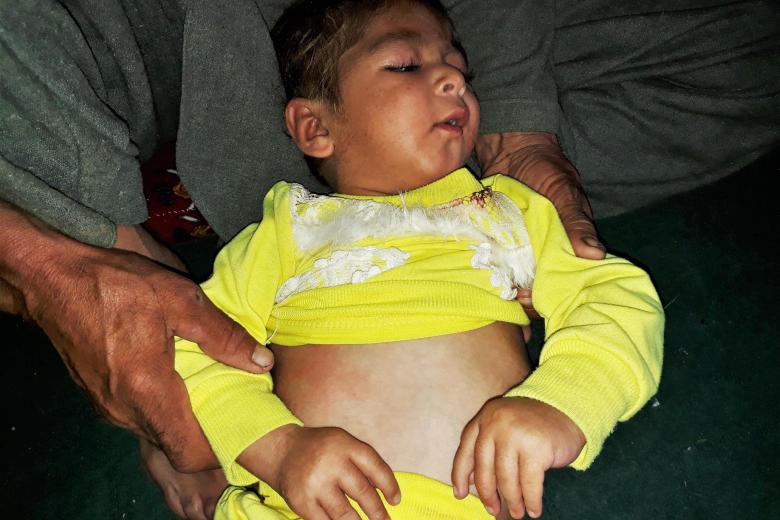 A hope is restored!
Wednesday, June 1, 2022
In a far district of Herat province, in the west part of Afghanistan, a family lives in a mud-made house with no wall around it. There are two rooms, each room has three holes with the size of 60cmx60cm on the walls that serve as the windows to allow the light in. The rooms do not have doors, only a heavy curtain is hanged and a stove to keep the room warm, there is an old red-colour carpet on the floor too.
"Haibatullah was born in this room. He was healthy and well at first, but later his health condition started to worsen day by day," said Ziaudin, Haibatullah's father. The four-years-old Haibatullah was severely malnourished and paralyzed.
There is no clinic in the village where Ziaudin and his family live. He took Haibatullah to a clinic in Herat city, which is around eight hours way, but could not treat him because Ziaudin could not afford treatment and medication. "They told me that my son's poor health is because of hunger and not getting enough food," Ziaudin told us. He and his family had lost hope for Haibatullah's life.
He has four goats which are the only source of food and income for their 12-member family. Ziaudin, the only breadwinner of the family, hardly ever finds a daily labour in the farms of their villagers. "My poor income is making us suffer; I cannot afford providing food to my family; I cannot afford buying cloths for them," he added with deep sorrow in his eyes. "My son, who could work and help me, died a few years ago."
One day the Arbab, this is how we call the head of their village, reached out Ziaudin and told him, "A mobile health and nutrition team of on organisation came and provides free treatment and food packages for malnourished children." After hearing this, Ziaudin immediately took his son to the World Vision mobile health clinic.
Just like Haibatullah, according to WFP report, 1.1 million children are acutely malnourished in 2022. World Health Organization (WHO) has reported a concern that the health sector of Afghanistan is on the verge of collapse.
So far, World Vision Afghanistan have been able to provide services in health sector in four provinces of Afghanistan. World Vision, under Disaster Emergency Committee Project (DEC) donated by World Vision UK, reached to 35,000 people in two districts of Herat Province through OPD (Out Patient Disease) services; nutrition screening, registering and treatments of malnourished children; and giving hygiene kits to severely malnourished children. Through this project health and nutrition awareness sessions for CHWs (Community Health Workers), Shura (council) members, Mullah Imams; delivery & PNC (Post Natal Care) services and distributing super cereals for pregnant/lactating women; and psychosocial treatment were also provided.
After Ziaudin brought his son to World Vision Mobile Health & Nutrition Team, they started his treatment and give him approperiat medicine and food packages for malnourished children on regularly basis for two months. After receiving vital support, Haibatullah is not a malnourished child anymore. "As this team started providing services and giving him medicine and food packages, his health is getting better day by day and sometimes we cannot even believe that this is the same Haibatullah," said Ziaudin happily and with a hopeful smile on his face. "We are truly grateful and thankful to World Vision and its staff for helping us not to worry for Haibatullah's life."