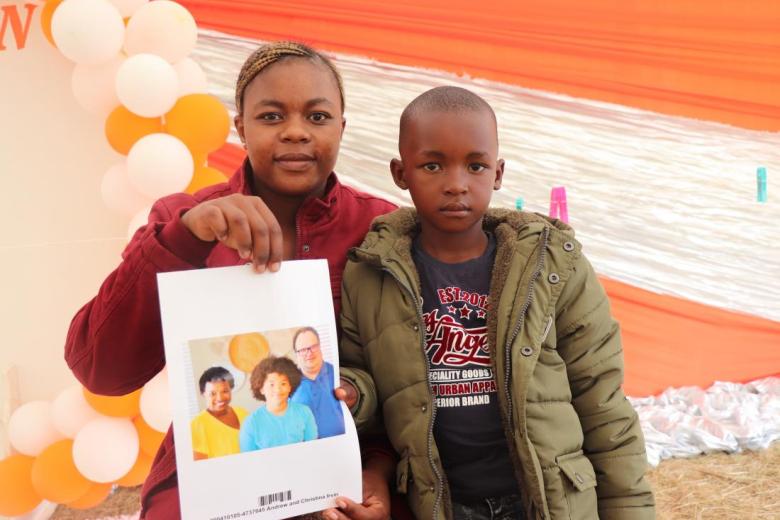 Eswatini children get to choose sponsors through World Vision's Chosen™ initiative
Tuesday, May 11, 2021
A colourful World Vision event that handed 24 children in Eswatini an opportunity to choose sponsors from the United States of America, is the second ever to be held in the nation.
The Chosen™ event hosted by World Vision's Maseyisini Area Programme (AP) and funded by the US-based Backersfield Church through World Vision's USA Office, had children scrutinise photographs to choose their sponsors. This approach reversed the role, differing from the previous child sponsorship approach where photos of a child were sent abroad to sponsors.
"The Eswatini child now has the choice to choose their sponsor", noted Francis Dube, World Vision's National Director for Eswatini. "We value the voice and right of the child".
Zandile Ntshangase, one excited mother, said: "As a parent, I am excited my son Mphilwenhle got a chance to be part of the Chosen™ event, where many other children were fortunate to choose their own sponsors. I am excited for my son chose a pastor. As a parent, my wish is that he completes school and fulfils his dreams."
Musa Mkhumane Shiselweni, World Vision's West Cluster Manager based in Maseyisini Inkhundla, said the organisation will provide the necessary support to ensure that the Chosen™ initiative succeeds in the country.
---
(Story edited by Michael Arunga, World Vision Eswatini Communications Consultant)