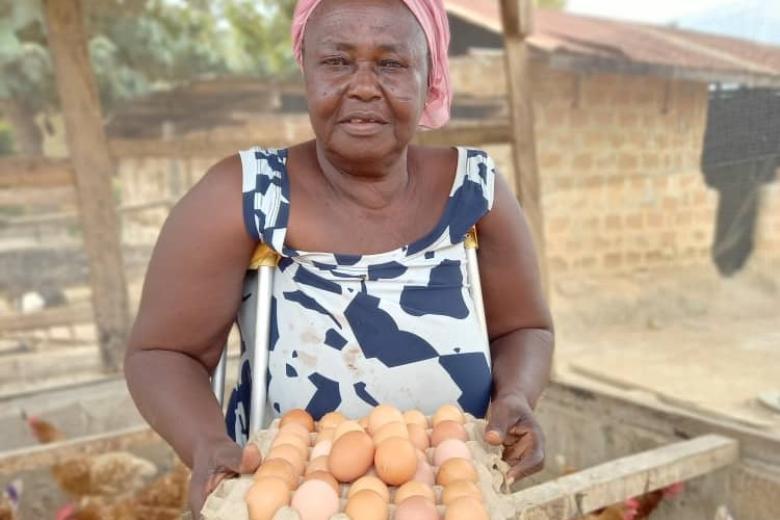 "I'm now in a better position to take care of my needs" – Akua Shares
Tuesday, September 13, 2022
My name is Akua from Ahensan Community in the Sekyere East District. Living with an infirmity, I was fortunate to be selected in my community to benefit from poultry bird distribution by World Vision Ghana. Before I was selected, I had always been interested in keeping birds at home but there wasn't any support.
I received 30 birds from World Vision but unfortunately lost 6 birds. Later, I received training on how to care for the birds to avoid losing more. World Vision also supported me with poultry feed and medication for the birds.  
The training has helped me to take good care of the birds. Now I pick over 6 crates of eggs at least every week and I sell a crate for 25 Ghana cedis. So, in a month, I can make over GH¢600.00  (USD58.54). From this amount, I spend GH¢400.00 (USD 39.03) to buy feed for the birds and I make a profit of GH¢200.00. (USD 19.51)
The birds have helped me a lot. I feed my grandchildren with birds' eggs and donate 2 crates of eggs every month to the health facility during child welfare clinic sessions.
I am now in a better position to take care of my needs and that of my family. I can regularly save in the Savings for Transformation (S4T) group. When my daughter needed money for her rent, I was able to support her with some funds.
World Vision has been a blessing to me and my family.