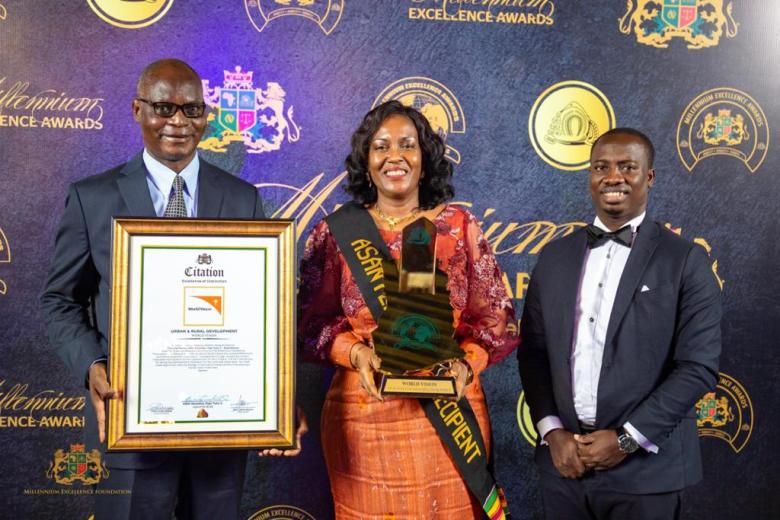 World Vision Ghana wins Millennium Excellence Award
Tuesday, July 27, 2021
The Millennium Excellence Foundation (MEF) on Saturday, July 17, 2021 conferred on World Vision the coveted Millennium Excellence Award for Urban and Rural Development at the Millennium Excellence Awards ceremony held at the Manhyia Palace, Kumasi in the Ashanti Region of Ghana.
His Royal Highness Otumfuo Osei Tutu II who is the life patron of the Foundation was joined by His Excellency Nana Addo Dankwa Akufo-Addo, the President of the Republic of Ghana to preside over the colourful and prestigious ceremony.
World Vision was the only international non-governmental organisation (INGO) among the over 60 distinguished personalities and corporate bodies honoured. Mrs. Efua Ghartey (Board Chair), assisted by Dickens Thunde (National Director), and Richard Okai Okai, (Integrated Programmes Director), received the award on behalf of World Vision.
A citation accompanying the award reads: "Congratulations! Congratulations! Congratulations! The Life Patron, HRM Otumfuo Osei Tutu ll – Asantehene and the illustrious Board of Governors of the Millennium Excellence Awards, are pleased to confer on World Vision Ghana the coveted Millennium Excellence Award for Urban/Rural Development in high recognition of your invaluable contribution to the improvement of life in Ghana. The MEF salutes you for being the development champion for the rural and urban poor. You have made significant positive change in the lives of many communities playing a frontal role in their lives. Ayekoo!"
In her response, Mrs. Ghartey said, "We thank the Lord for favouring us this way. We are deeply humbled and we dedicate this award to all the children of Ghana."
According to Dickens Thunde, "We are deeply inspired by this award to go further and do more; and we will leave no stone unturned to do so as we soar even higher like eagles: Isaiah 40:31."
The MEF is an independent body that carries out periodic rigorous surveys from the public on who has impacted the people most in various categories, to promote and celebrate excellent achievers in Ghana. It awards distinguished personalities and corporate institutions in Ghana that have affected the nation positively in one way or another.