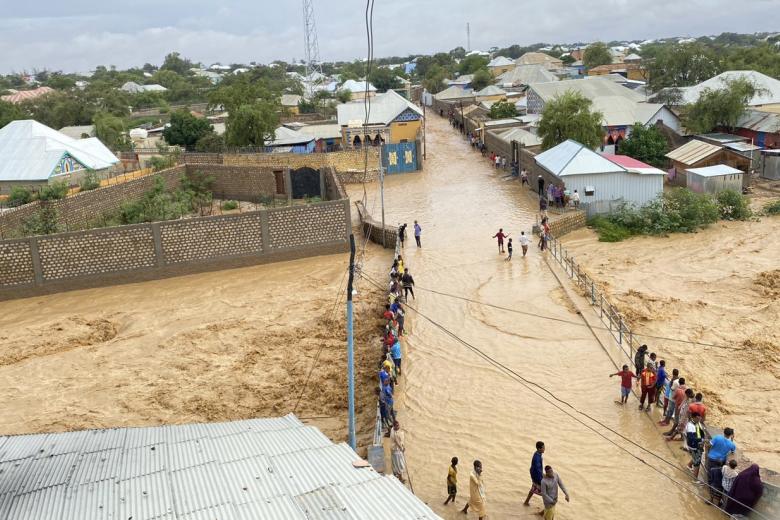 After a historic drought, Somalia now braces for El Niño rains: At least a million people at high risk of flooding
Monday, October 9, 2023
Sunday 8 October 2023--- After a brutal and historic drought in 2022, Somalia now braces for the El Niño rains. Forecasts warn that the El Niño rains, expected to start in October and last until October would trigger severe flooding in southern and central Somalia.
On Thursday of last week, Baidoa, the capital city of South West State, south central Somalia was the epicentre of heavy rains that lasted at least 12 hours. The rains that started the evening of Wednesday continued through the night into Thursday morning, causing flash floods in the aftermath, with significant damage to infrastructure.
"What we witnessed in Baidoa in the last 12 hours is a clear indication of what is to come," says Ahmed Isaack, the Area Manager for World Vision programs in South West State in southern Somalia.
"The heavy rains flooded buildings, the main bridge and roads in Baidoa town making them impassable as well as disrupting movement of people. "In fact, that day, our staff could not access the office because the main bridge and road to the office was flooded," Ahmed says.
Above-average rains have been forecast 
It is feared that the excessive rains, which also mark the beginning of the Deyr season in Somalia, usually recorded between October to December, will trigger a surge in people requiring humanitarian assistance, not just in Baidoa, but in parts of the country that are flood-prone.
Zubeir Abubakar Ahmed, Supervisor at a clinic run by World Vision in the middle of one of the IDP settlements since 2016, says, the way it rained on Wednesday, we knew the El Niño is here with us. "We've not seen such a heavy downpour since 1997," he says.
"On Thursday, some staff working at the clinic could not report to duty because of inaccessible roads, forcing the clinic to halt some operations. 
If this continues it will negatively affect our service delivery, Zubeir says. Already we are receiving concerns from the community members of increase in mosquitoes. Also coughing among children brought to the clinic is on the rise," he says.
In Somalia, El Niño has been associated with flooding and heavy rains, particularly in the southern parts of the country and droughts in the northern part
The rains killed at least two people, affected nearly 18,000 families living across 136 settlements for internally displaced persons, damaged at least 300 sanitation facilities in the settlements. This is according to the Flash Update prepared by the office for coordination of humanitarian affairs (OCHA) in Somalia, in coordination with humanitarian partners and authorities including Camp Coordination and  Camp Management, covering the situation as of 7 October 2023.
The rains have so far displaced at least 86,000 people within Baidoa. These numbers are likely to be higher because they don't include other districts of South West State, which also received rains though not to the extent of what was witnessed in Baidoa. 
The most affected locations were villages in low-lying areas of Baidoa and those on the path of the flood waters. Settlements for the internally displaced persons (IDPs) were also hard-hit.
"IDP families are once again bearing the greatest brunt, after suffering the drought not too long ago, they now face yet another threat of their lives and whatever little assets they have. "Baidoa has the second highest IDP caseloads in the country, after Mogadishu. The rains will only further exacerbate their situation," says Ahmed.
World Vision is coordinating with other humanitarian partners, is participating in emergency inter-agency coordination meetings and activating our response plans to address the urgent needs of those affected.
"We are receiving reports that the Shabelle river (which begins in the Ethiopia highlands and then flows southeast into Somalia)  levels, are rising and this will spell devastation for people living on its path" Alec Ziuku Response Director for for World Vision Somalia says.
We are preparing to respond appropriately, particularly in the areas we operate. We've identified 256 floods hotspot locations in the Gedo and Hirshabelle region, and in preparation, we have positioned nutrition, health, and WASH emergency supplies for initial response in these flood-prone locations. For the difficult-to-access locations, we are coordinating with partners in the logistics cluster to airlift supplies from Mogadishu and Kismayo our main hubs," Alec says. 
What is El Niño?
El Nino is characteriesd by abnormal warming  of temperatures on the surface of the sea over the central and eastern equatorial Pacific Ocean due to weakening of trade winds. In Eastern Africa this warming effect often presents in the form of enhanced rainfall during the rains that come in the period October to December.
This enhanced rainfall often results in river flooding and surface water as well as flash flood resulting in the loss of cropland, outbreak of disease and displacement of households in flood risk zones.
Article by Lucy Murunga, with Patrick Gwayi- World Vision Somalia communications.