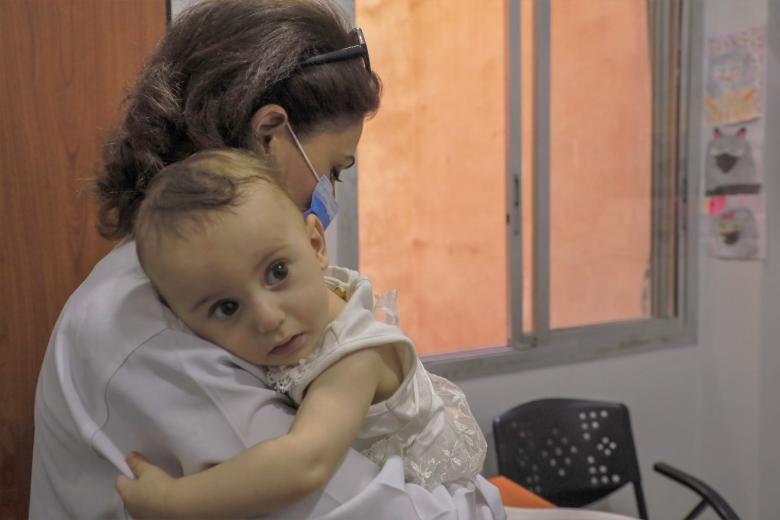 The Domino Effect: How Conflicts Worldwide Affect Children in Different Areas
Sunday, February 5, 2023

Crises worldwide are part of a domino effect; war in one region can affect people in another. This has become noticeable in Syria after the Ukrainian war began back in February 2022, causing a ripple effect and rising food insecurity. It contributed to an already spiking inflation rate increasing the prices of essential food items and making them less accessible, especially in Syria. All of this amplified 45 million people's and left them on the verge of life-threatening starvation, including 2.5 million Syrians .
Knowing the extent Syrian people are affected by the lack of basic food items and rising prices in Syria, World Vision International has declared its commitment towards serving those most at risk. As a result, it is currently implementing a Global Hunger Response programme in multiple areas supporting them in displacement camps with basics like food and water.
Ten-month- old twins Laura* and Yazeed* experienced severe malnutrition due to intense food insecurity which almost cost them their lives.
This is the unfortunate reality for millions of displaced Syrians. For many of them, it began when they had no choice but to seek safety leaving their homes, lives, and even the crops and harvest they had nurtured behind.
Before the twins were born, Noora*, her husband and their two other children [at that time] had to evacuate their home in Southern Syria after their village was shelled multiple times in 2012. The family began their displacement journey having no choice but to survive on scrapes of food in every camp they stayed in. After a long and relentless search for safety, they managed to rent a humble house in Southwestern Syria for seven years. Just when they thought life had become peaceful, a bomb fell on their home completely destroying it and leaving them yet again, with nowhere to go. But the father refused to give up hope, so the family packed again and moved to a village in Northern Syria where they have been ever since. Noora and her family are hopeful about the area they settled in; at the end of the day, it is where she learned she was pregnant and expecting twins! 
Although Noora tried her best to maintain a healthy pregnancy, even frequently visiting our partner's medical centre to conduct the necessary checkups and tests, the effects of the malnutrition she suffered from began impacting her twins. According to the ultrasounds, she knew they would be underdeveloped when born and their frail bone structure would cause them to be smaller in size. This broke Noora's heart because she was aware that her diet as a pregnant woman should be different, consisting of vitamins, supplements, fibers and protein but it was difficult for her husband to provide the needed food and supplements as his work as a labourer did not pay much, barely covering daily needs. Unfortunately, Noora's malnourishment is one of the unimaginable costs of the recurring displacements and difficult food choices she had to make while on the move. She is not the only pregnant woman who is unable to sustain a balanced diet due to soaring food prices in Syria, 12.95 per cent of pregnant women face a similar fate to Noora's as a result of the prolonged effects of food shortage in Syria, ultimately causing malnutrition. 
Sadly, when they were born, as the tests predicted, they were underweight. Upon seeing them for the first time, their mother was alarmed "I was very worried when I saw my children's extremely small size [for the first time]," she recalls. As a result, the nutritionist at our partner's centre provided her with tips on proper nutrition hoping it would improve their situation. Soon, the mother came in for another consultation, that is when she realized, "my natural milk wasn't enough for breastfeeding them". Her body was too frail to care for her twins. So, the nutritionist introduced supportive formula milk. "I was alarmed every time I took their measurements," she mentioned. Noora was lucky to get timely access to milk formula, however, this isn't the case for less fortunate mothers around the world. Globally, the majority of parents are unable to provide formula especially after COVID-19's financial repercussions, and the impact of the Ukraine war on supply chains around the world. That is why most nutritionists encourage mothers to breastfeed their babies for the first six months to avoid malnutrition.
Luckily, just as the twins reached six months old, the nutritionist began introducing solid foods like boiled vegetables, peanut butter, dates, and biscuits hoping it would radically improve their situation.
Almost two weeks later, the twins arrived at the medical center looking healthier than ever. The nutritionist was quick to take their measurements to make sure everything was going well. To everyone's surprise, Yazeed now weighs 7 KG and Laura weighs 6.2 KG, finally reaching the healthy weight range for their age. Noora feels her children are healthier now "thanks to the help and advice of the nutritionist, Laura and Yazeed improved significantly and they overcame the stage of malnutrition," she gratefully mentions.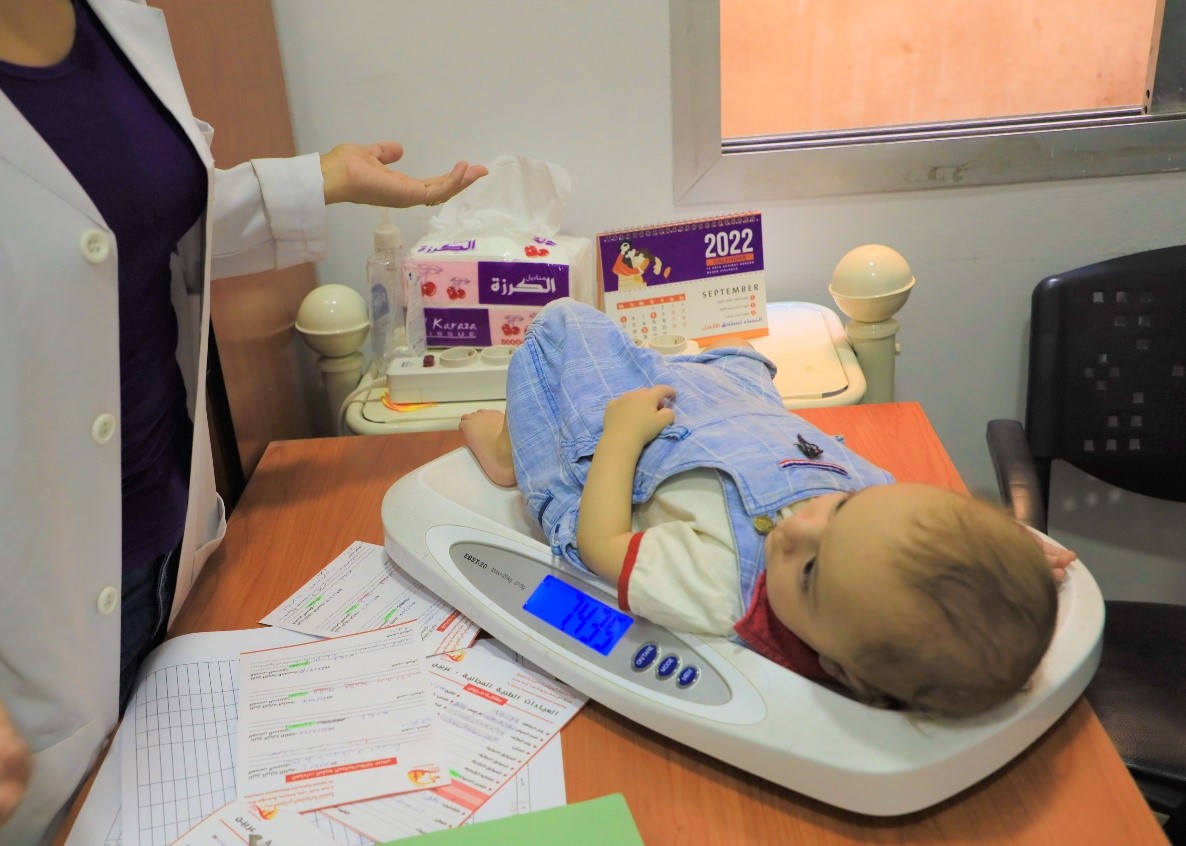 In Syria today, more than half of the population is on the verge of humanitarian crises and the recent Cholera outbreak is only adding to malnutrition risks faced by children with one in four suspected cases. That is why it is crucial to implement nutrition and health projects in areas affected by conflict such as Syria, so that children can have a chance at leading healthy and fulfilled lives.
To address this issue, World Vision has recently implemented a health project in Northern Syria. The medical centre has five clinics including a nutrition clinic where many Syrian adults and children are provided with free consultations adapted to their needs. It also distributes nutrition kits for children diagnosed with malnutrition such as Laura and Yazeed.
*Names are changed to protect identity.