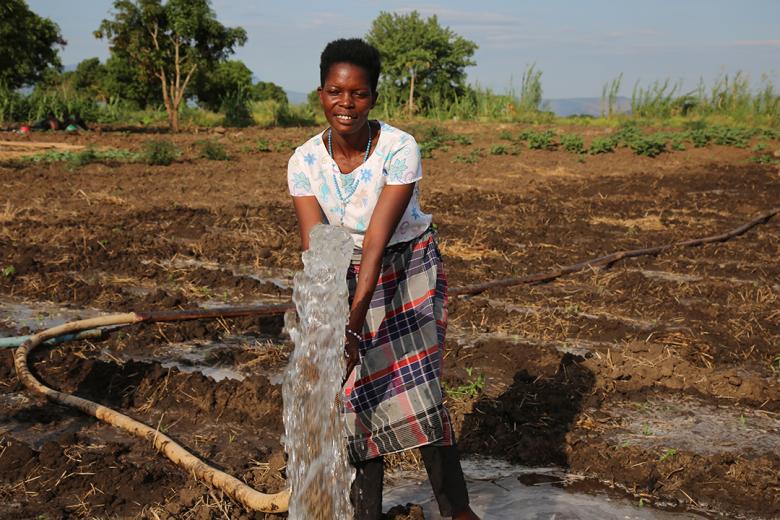 Malawi Farmers Embrace Irrigation and Crop Diversification to Counter Climate Change
Wednesday, October 18, 2023
Malawi's main exports are tobacco, raw sugar and tea; all agricultural products.  
The wrath of climate change is evident through droughts, storms and erratic rainfall, among others. For a country whose economy is mainly dependent on agriculture, this is a huge blow to the economy and the farmers as well as the whole population who continue to feel the sting of Mother Nature.  
However, some farmers understand that the only way to counter these effects is to utilise modern farming technologies by moving away from rain-fed agriculture to ensure food security and for commercial farming to be profitable in the face of climate change.
However, some farmers understand that the only way to counter these effects is to utilize modern farming technologies by moving away from rain-fed agriculture to ensure food security and for commercial farming to be profitable in the face of climate change."
Josephine Salimu, a commercial farmer in Ngaiyaye Village in Neno district is one of the farmers making strides through irrigation farming and crop diversification. 
For some farmers, irrigation is an expensive technology and they can hardly afford to pump water from their nearest water source to their respective farms. 
Luckily for Salimu, she is one of the 381 farmers benefitting from Chifide Irrigation Scheme where World Vision Malawi constructed three canals which channel water from Shire River to the farmers' plots. 
A mother to three, Salimu ventured into commercial farming in 2018 after she noticed how other farmers were utilising the irrigation scheme.  
"I grow periperi chillies, maize, okra and beans but my main cash crop is the periperi chillies, I made over 3.5 Million Kwacha from the chillies sales only in the last season," explains Salimu.  
She adds: "I bought a car from the sales, this season I am expecting more yields and the plan is to buy a 2-tonne truck because it is difficult to transport the farm products using the car I bought in 2021." 
In 2020 Salimu built a house from the sales she made from the farm products.  
Just a stone-throw away from Salimu's plot, there is Isaac Tambula's plot.  
34-year-old Tambula is also thriving in irrigation farming. He attributes his success to Chifide Irrigation Scheme which enables him to grow various crops on his one hectare plot throughout the year without worrying about erratic rainfall.  
"I have been a farmer since 2008 but my life started transforming economically in 2017. My family graduated from being food insecure to having extra food and now we are not just subsistence farmers, we take this as a business," says the father of four.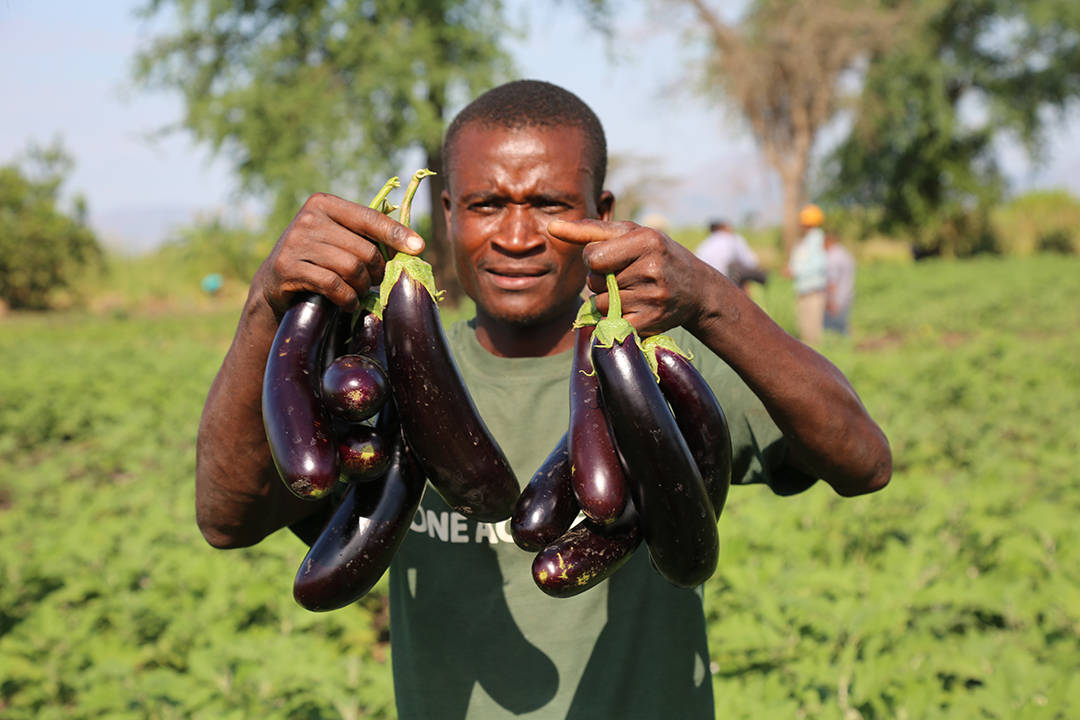 He adds: "From my small plot of land, I have managed to build a house, buy a motorbike and livestock, and improve my children's welfare from the sales I make from Periperi chillies, eggplants, okra and tomatoes." 
Diversifying agricultural production does not only improve soil quality but the farmers themselves also benefit through improved nutrition as they have readily available diverse foodstuffs and it is a sure way of income generation as it is impossible for all crops to perform badly in a growing season.  
Farmers at Chifide Irrigation Scheme have embraced the idea and they are reaping the fruits of crop diversification and irrigation.  
According to World Vision's Irrigation Specialist Chimango Mlowoka, Chifide is one of the 46 Irrigation Schemes that the humanitarian organization established across the country and the schemes are benefitting 5,241 smallholder farmers with a total hectarage of 783.4 hectares.  
Fifteen of the irrigation schemes were handed over to Malawi government, benefitting1,809 smallholder farmers while the remaining 31 irrigation schemes are currently managed by World Vision and benefitting 3,432 smallholder farmers.  
Mlowoka adds that World Vision Malawi established the schemes to contribute to food and income security in the areas of its jurisdiction, but the impact spanned beyond the targeted areas because most farmers have been able to attract buyers from outside their communities. 
"We also empower our farmers through messages on mind-set change to ensure they move from being subsistence farmers to commercially minded farmers, we train them in aspects that will equip them to operate and maintain their irrigation schemes sustainably and connect them to partners that will help them to grow to the next level in their endeavours, for instance, bodies that can help them form cooperatives for better marketing of their produce," she explains.  
The United Nations Sustainable Development Goal (SDG) 2 aims to end hunger, achieve food security and improved nutrition and promote sustainable agriculture by 2030. 
The goal is closely knitted together with other goals like SDG 3 which aims to ensure healthy lives and promote well-being for all at all ages. Achieving this can be difficult without food security as children will be exposed to malnutrition. 
In addition, ending hunger would also assist in fostering sustained, inclusive and sustainable economic growth for the farmers, which is part of the target for SDG 8. 
Reserve Bank of Malawi's Monthly Economic Report published in March 2022, indicated the difference between exports and imports has widened to minus US$204.6 million (K168.9 billion) in March 2022 from minus US$140.4 million (minus K115.9 billion) in February 2022 and minus US$175.2 million (K138.7 billion) recorded in a corresponding month in 2021.  
"This out-turn was on account of a decrease in exports by 45.2 percent (US$18.0 million) to US$39.9 million (K32.8 billion), mainly attributed to a decrease in exports of tobacco. Specifically, tobacco exports declined to US$8.4 million in March 2022 from US$27.5 million in February 2022, due to seasonal factors in the lean period," reads the report. 
National Working Group on Trade and Policy chairperson Frederick Changaya told The Nation that Malawi needs economic policies and policy instruments which would diversify the economy away from rain-fed agriculture to economic activities that have increasing returns, rising wage rates and growing output. 
Meanwhile, a recent study by World Health Organisation 165 countries found that tobacco usage is significantly declining with 75 percent of countries worldwide have at least one effective tobacco reduction measure in place as of 2021. This means Tobacco sales are likely to decrease further, for a country like Malawi, it is time to find other crops that can also bring in forex.