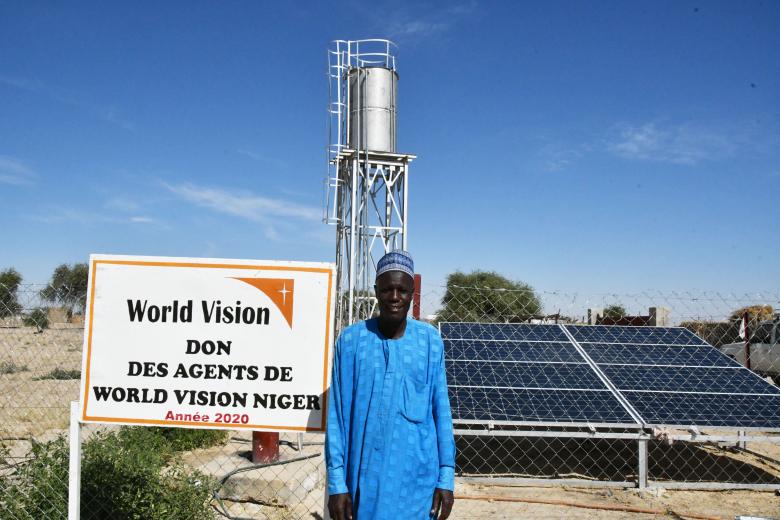 Boulama's family no longer has to drink water from the floods
Wednesday, May 5, 2021
In early October 2019, Komadougou river in Diffa region (Niger) broke its banks, forcing over 23,000 people to flee their villages. This phenomenon caused the loss of crops, farmland and homes in the region; a disaster that worsened the existing insecurity situation in the region due to presence of radical armed groups in the region since 2015.
On 18 October, the United Nations Office for the Coordination of Humanitarian Affairs (UNOCHA) in Niger announce that the levels of the Komadougou River were more than 60cm above alert stage. This situation caused some villages on the outskirts of Diffa town to be completely submerged.
Boulama, a 50-year-old village chief from Gueskerou narrates his experience: "When the flooding started, small boats from the Government helped us to leave the village with what we could save. I remember that 3,000 families in the village were displaced due to the disaster. When I left, I lost my possessions, including my house, food, clothes, and farmland. All was washed away", he says with a sad look.
Unfortunately, this is not new for him and the members of his old village. "In 2019, we had a flood and in 2020 the water returned and this time submerged the entire village. I do not even have hope to return, because I now understand that the floods are more recurrent", adds the chief with a concerned look on his face.
Soon after Boulama left the village, his children fell sick. "When we left, my children became very sick from diarrhoea, and used to vomit because of drinking water from the river", he says. 
In their new settlement place (called Gueskerou site of victims of flooding) chief Boulama, and his family faced numerous difficulties. "When we first settled here, the women used to walk hundreds of metres to fetch drinking water. This situation affected my family, because it was difficult to find drinking water, medicines and with the displacement, my children were force to drop out of school. Back in my village, we used to drink water from a borehole built with support from an NGO", shares Boulama.
The chief recalls when World Vision's Niger Emergency Response WASH (water, sanitation and hygiene) programme responded to the call to rescue him and his people on the new site. "World Vision staff came to help us by building a water point, 150 latrines and led the distribution of hand-washing kits composed of soap, hand sanitiser gel and plastic buckets.  It is incredible; this support has changed the lives of my people including of my family, particularly my children, because they are now clean all the time", he says with a smile.  
This story clearly illustrates the struggles of a father and a leader, faced in a region deeply affected by insecurity and hit by natural disasters. This is also a story of hope and transformation, and a demonstration that World Vision is present where there is need.
"I am thankful for the change that World Vision has brought us; they participated in improving the life of village members with this initiative", concludes Boulama.