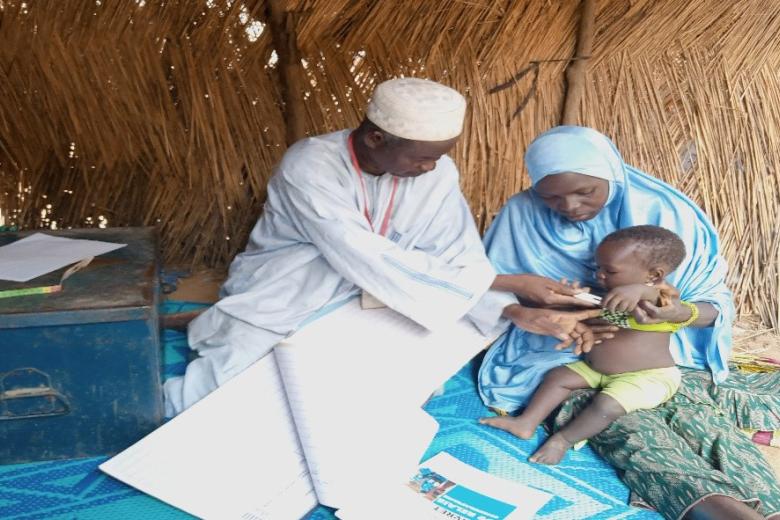 Hamadou the agent of change in Zindarou village
Thursday, November 5, 2020
With a population of 1,017 inhabitants, the village of Zindarou is located six kilometres from the Safa Integrated Health Centre, hence its low attendance by villagers. Given the long distance, home births and irregularity in vaccination for children were previously the most recurring challenges for community members from the village. There were often cases of complications during childbirth and even maternal and neonatal deaths.
It is in this context that World Vision's Maternal and Child Health (MCH) work provides care at the community level for the three most deadly illnesses, namely malaria, pneumonia and diarrhoea for children aged two months to 59 months. Since 2018, this project has initiated the promotion of MCH through awareness sessions and home visits on the 16 Key Family Practices.
Through his preventive and promotional activities in the community, Hamadou Garba greatly contributed to convincing several women like Dommo to give birth at the health centre with the support of a skilled birth assistant. His awareness-raising actions helped improve the indicator of assisted deliveries at the integrated health centre.
"I gave birth three times at home with a lot of health problems during the first 40 days after the delivery. I faced challenges such as repetitive fevers and abdominal pain. But through Hamadou's advice and support, I gave birth to my fourth child at Safa integrated health centre. Unlike my other deliveries, so far I have had no fever or abdominal pain and I have bled less than other times." Confided Dommo Seyni, an inhabitant of Zindarou.
Today, Dommo is also campaigning for assisted childbirth. "Birthing in a health facility is much better than giving birth at home. Now not only will I no longer give birth at home, but I will also educate other women about the benefits of giving birth in a health centre" she testifies.
From September 2019, Hamadou pleaded and obtained from the integrated health centre chief, support in the organisation of fairground activities each month in the village of Zindarou. For the maximum success of those fairground outings, the integrated health centre chief helped Hamadou go door to door looking for and supporting mothers and guardians who have missed their children's vaccination appointments.
Together with Hamadou, Dommo and several other mothers have become agents of change in Zindarou, and thanks to their dynamism and dedication, the inhabitants of their villages who require medical support attend the health centre as often as needed. The entire population is pleased and pleads for the sustainability of the project.