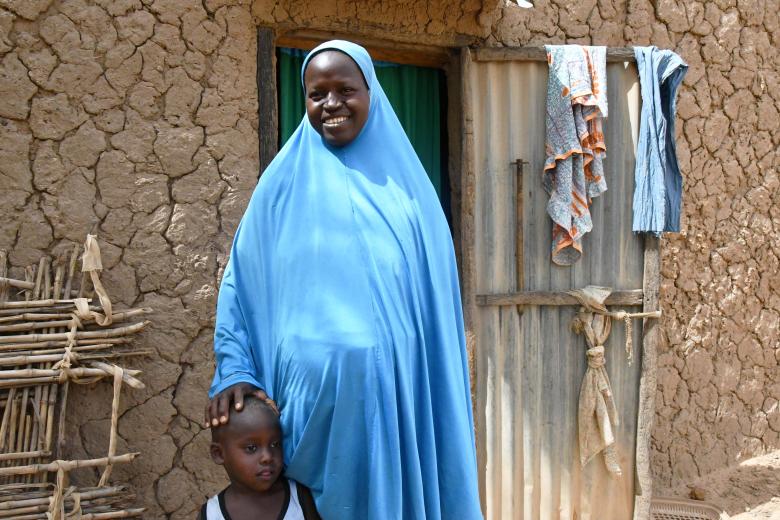 Pregnancy during COVID-19: Salamatou shares her experience
Monday, August 17, 2020
According to the National Institute of Statistics' 2015 report, the maternal mortality rate in Niger is 520 per 100,000 births and infant mortality is 51 per 1,000 births; which makes prenatal care important so that women benefit from vital services for their health and that of their future children.
It is in this context that World Vision's Maternal & Child Health (MCH) project works to reduce the rate of deaths and diseases among children aged two to 59 months. In addition to the integrated care of children with malaria, pneumonia and diarrhoea, community health workers also sensitise women to attend prenatal consultations in project intervention areas within the health districts of Dosso and Tahoua in Niger.
With the advent of COVID-19, community health workers have noticed that many women, like Salamatou, no longer visit health centres because they are afraid of being infected. According to the situation report from Niger's Ministry of Health, 10.68% of COVID-19 cases are among health workers, leading to a significant drop in health centre attendance. Thus, to reach communities with COVID-19 awareness messages, World Vision Niger, through its partnership with Viamo (a global social enterprise that specialises in mobile engagement and Information and Communication Technology for Development - ICT4D), has launched calls to community actors –including community health workers– to raise awareness on COVID-19 in their communities.
Salamatou Moussa is a 27-year-old mother. She is currently raising one child; unfortunately, her second one did not survive. Now currently pregnant with her third baby, she narrates her experience of pregnancy during a global pandemic:
"I sew baby clothes and sheets that I sell to support my family, because my husband is a migrant worker. This year, he left almost nine months ago. In the past, I would sell 4 baby clothes in a month at 2,000 FCFA ($4) per unit and a sheet at 12,000 FCFA ($24) but this pregnancy has been different. I stopped sewing because I feel tired and stressed. I live in fear of being infected, I can't even eat well. Sometimes I get so afraid for my baby, and wonder if he will be born healthy."
"Our health center is located approximately 6 kilometres from our village. Whenever I had to go there during the pregnancy of my eldest son Abdoul-Malik, it was exhausting to wait all the day because women were many. I would come back without seeing the doctor. But during this pregnancy, besides being potentially inconvenienced by finding a long queue of women there, I am afraid to go because I don't want to be infected. However, our community health worker Abdou, talked to me about the importance of protecting myself from COVID-19. He encourages me to continue consultations for my health and that of my child and stay safe by keeping a distance of one meter between me and others. Above all, he has taught me that I should wash my hands regularly using soap and water and avoid public places, especially because of my condition."
"In the past, the health centre used to be a place of gathering where we meet new friends but now it is almost empty because women don't come; they are afraid of being infected. There were not many women and the midwife took her time to attend to me and give me advice so that I eat well during the pregnancy.
During my former pregnancies, I did not receive as much knowledge about well-being as I do now. For example in the past I didnn't use soap to wash my hands but now I make sure that everyone always uses soap to wash hands at home. Now with the sensitisations, I pay more attention to myself, I make sure to be clean regularly. I am really grateful!!! ''
As the world continues to grapple with the effects of COVID-19, expectant mothers like Salamatou face increased challenges. World Vision supports communities covered by its programmes across Niger to prevent the spread COVID-19 through a multi-sectoral approach, in collaboration with local authorities, frontline health workers, academic institutions, faith leaders and communities, and local NGOs.. 
Learn more about World Vision's global work to limit the spread of COVID-19 and support the children impacted by it on our COVID-19 Emergency Response Page.