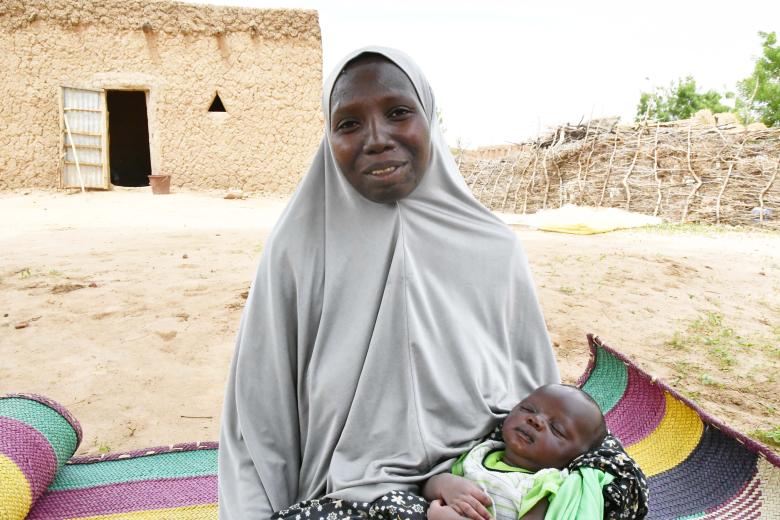 Motherhood during COVID-19: Zeinabou shares her experience
Friday, July 17, 2020
COVID-19 has affected the lives of several women such as Zeinabou Hima; a 30-year-old mother who has just given birth to her fourth child in the village of Kide (22 kilometers from Dosso region). As the world continues to grapple with effects of the pandemic, Zeinabou shares with us her experience of motherhood in the current times.
''My name is Zeinabou Hima. I have 3 children but unfortunately the third one did not survive. I just gave birth 3 weeks ago to my fourth child. In our culture after the seventh day of the birth of a child, we do a ceremony to name the child. Locally the ceremony is called naming ceremony. The naming ceremony of my son Imrane was very different. People did not come because of the pandemic. The only people present were seven family members and 11 neighbours.
My husband Yacouba is a health community worker. He received calls that taught him how to protect himself from COVID-19; he also teaches us to stay at home, wash our hands and wear our masks when there are guests. At my son's naming ceremony my husband made sure that all the guests had worn their masks.
During the naming ceremony of my three other children, there were more than 200 people! I remember that people really enjoy the event. In the past, in previous naming ceremonies people used to bring millet, soap and even money. At the end of the day, I could get about two to three bags of 100kg of millet, 1 carton of soaps and 5,000 FCFA ($9). These donations helped to reduce family expenses for quite a while because millet is the staple food in our village. But this time we had hardly a quarter of a sack of millet. My family or that of my husband usually send a relative who can help you for months with the baby and household chores.
Unfortunately because of COVID-19 social distancing rules, I did not receive that social support and help from my relatives as per cultural norms after giving birth. At Imrane's naming ceremony, we hardly had a quarter of a millet sack. Since I gave birth, I have had to do my own housework and it always gives me body aches.''
Towards the last weeks of gestation, Zeinabou will usually get really sick and need to seek medical support. "During my previous pregnancies I would find a long queue of women at the health centre. The midwives consulted us very quickly because there were a lot of patients. Sometimes I would spend whole day and ended up going home without being able to see the midwife, so during all my previous deliveries I had tears".
During Imrane's pregnancy, she noticed a big change, because pregnant women were afraid to go to the health centre due to the fear of being quarantined or catch COVID-19. As a result, when Zeinabou, turned up for a regular check up at the centre, there were hardly any queues.
 "The midwife took time to talk with me, she asked me a lot of questions, and gave me advice on pregnancy, this time I gave birth without any problem, I had no tears." She says. "With COVID-19, since children don't go to school they spend more time with me and play. I also take this opportunity when I do not go out, to rest as much as I can.''
World Vision supports communities covered by its programmes across Niger to prevent the spread COVID-19 through disseminating prevention measures promoted by the Ministry of public health in local languages. World Vision has also disseminated messages through mobile telephone companies and local radios. From the beginning of the outbreak in the country, calls were made to community members via Viamo's* platform to 1,727 community actors. Several community health workers such as Yacouba received calls which taught them how to protect themselves from the virus. 
Learn more about World Vision's global work to limit the spread of COVID-19 and support the children impacted by it on our COVID-19 Emergency Response Page.
----
*Viamo is a global social enterprise that specialises in mobile engagement and Information and Communication Technology for Development (ICT4D)