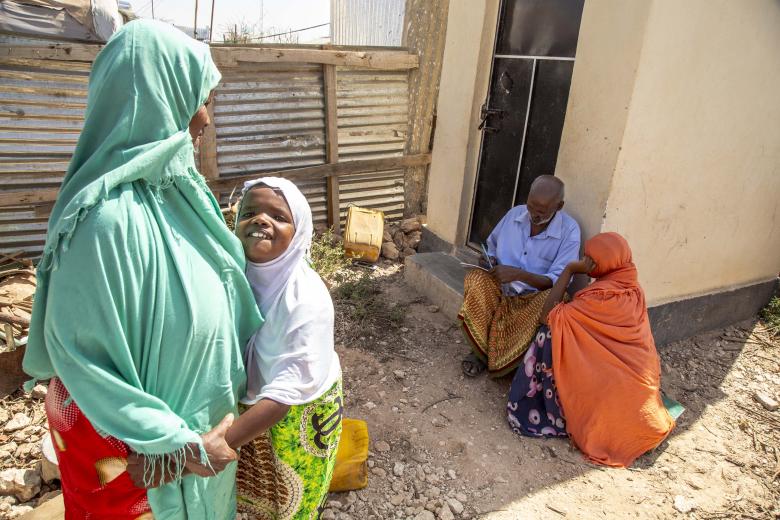 A WASH intervention changing the lives of displaced persons in Qalah
Thursday, April 14, 2022
By Gwayi Patrick
Ibo, a 40-year-old mother of five children, is one of the residents of Qalah who were unexpectedly evicted from state-owned land in Hargeisa. Ibo and her children have had to cope with the change since settling in Qalah Internally Displaced Persons (IDP) Camp, describing their settling as often being a nightmare. Life in Qalah camp is bleak, remote, deserted and dry with a melting sun, not even a bird could be seen flying.
"Life was good in Hargeisa, and we were settled, and caring for our children", Ibo narrates. "One day, the government asked us to leave, and our lives were turned upside down."
Ibo who has been married for over 20 years now, says that her children love going to school and would not willingly accept missing school even for a single day. This is however not possible for Ayan, one of her children who has a mental disability.
Eighteen-year-old Ayan was born with a mental developmental disability and needed her mother's whole attention because she could not do anything on her own. Ayan's father admitted that raising her in Qalah's environment was difficult, especially given her disability, but they had no choice.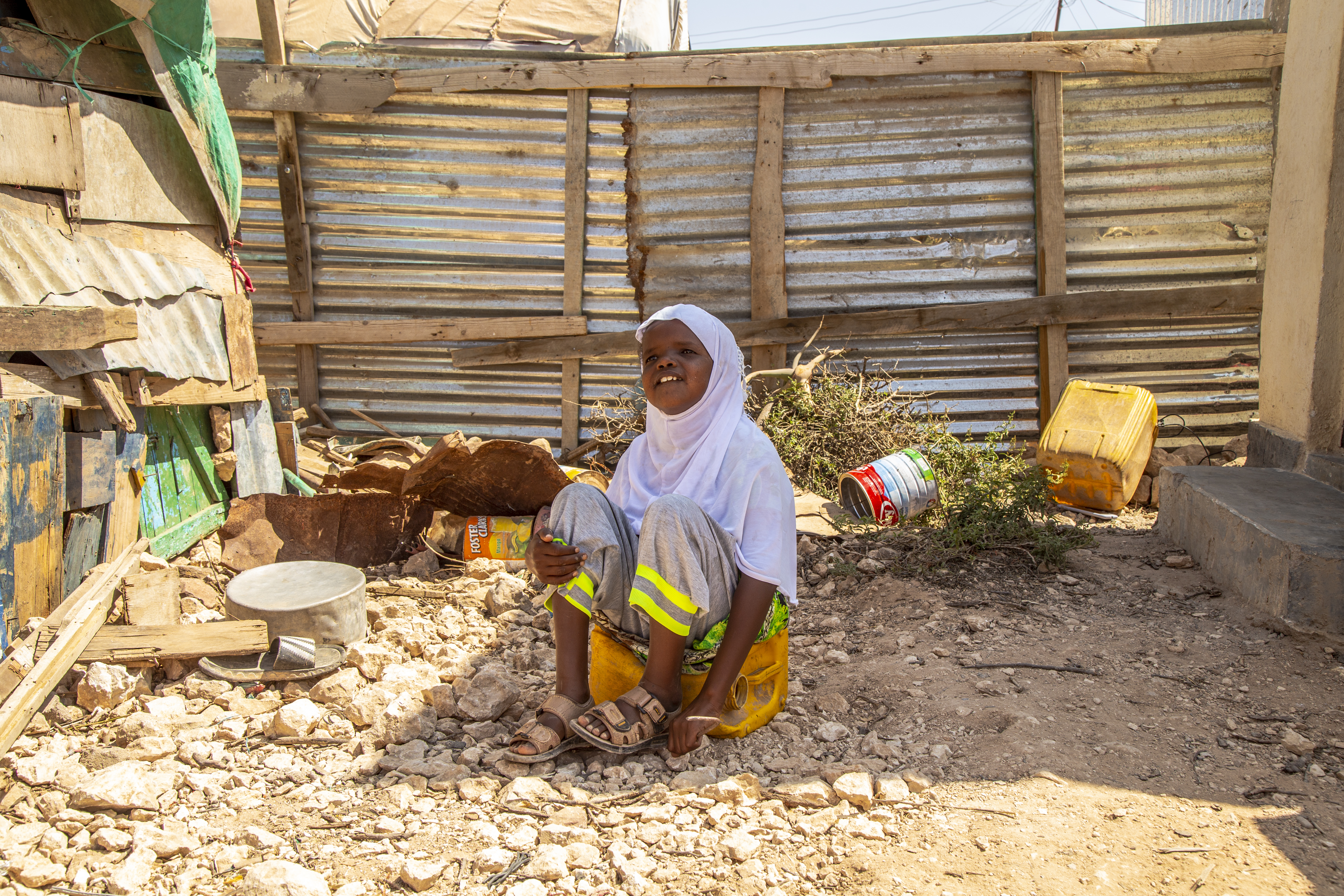 "Worried and confused, we had children who depended on us for protection, shelter and food. We had nothing to give them. It was the darkest time of our lives as parents, not being able to provide for our children. With a makeshift shelter over our heads, we desperately needed, water, food, proper sanitation and medication", Ibo tells us.
Water is essential, and for Ibo's family and the residents in the IDP camp, even getting drinking water proved difficult. A 200-litre barrel of water was selling for US$2, but they could not afford it due to their financial predicament. They had to borrow water from people who could afford it because they had no money or income.
Ibo found it difficult to ask for water, despite the fact that sharing is considered a wonderful and generous gesture in Islam. She and others turned to businesspeople to buy water on credit when they were desperate.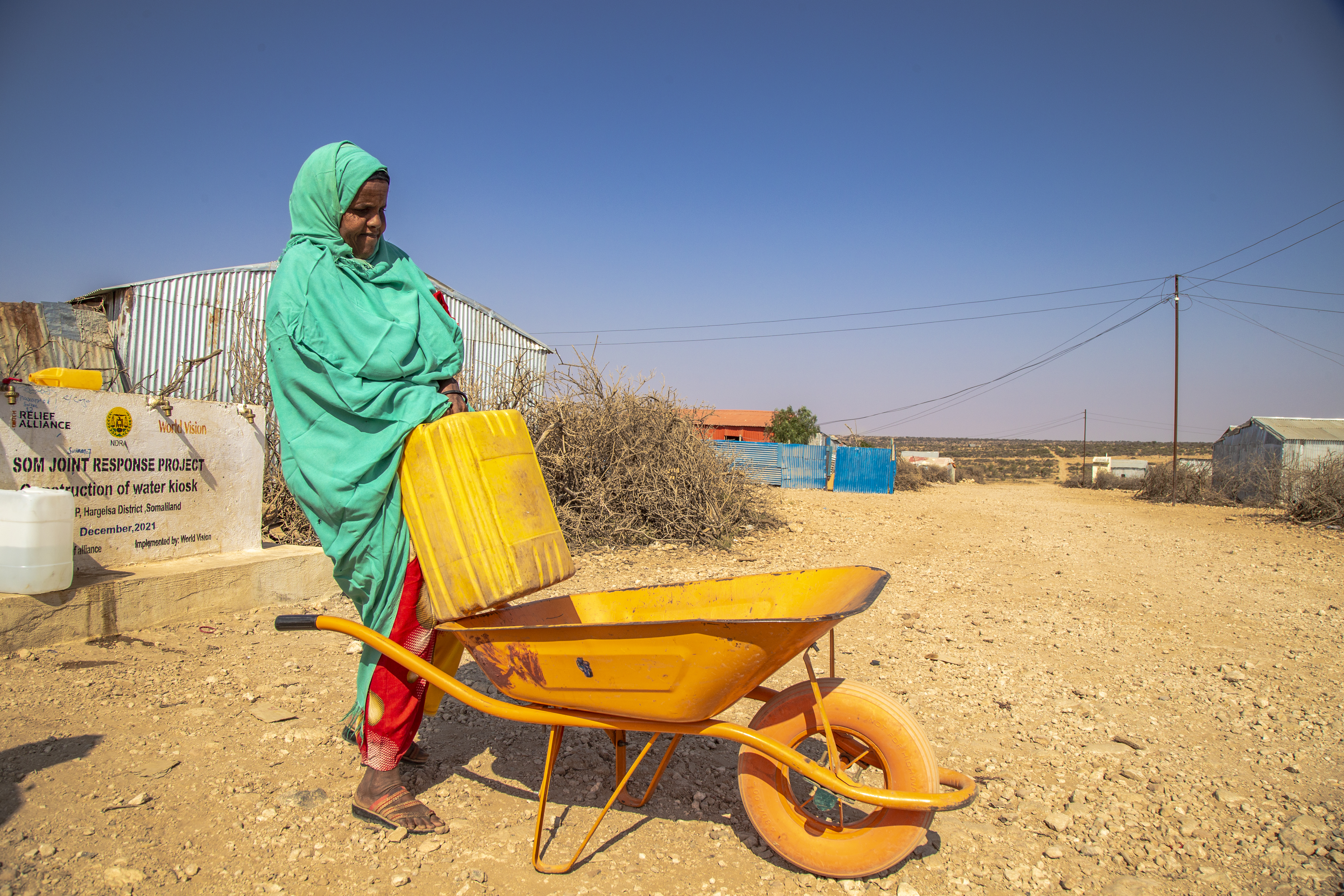 In 2020, World Vision came in and offered great help. It was a long-awaited relief. With funding support from the Dutch Relief Alliance (DRA) through the Somali Joint Responses Project (SOMJR), this intervention provided the IDP population with water daily. Their Water, sanitation and hygiene (WASH) activities soon returned to normal. 
"Everyone at Qalah IDP Camp benefitted from the World Vision intervention. Before, we bought water from a far distance, and because of that I still have pelvic pains" Ibo shares. World Vision also built 159 latrines and provided 210 water tanks and 528 hand-washing taps.
Additionally, World Vision distributed, body soap, liquid hand wash, bar soap and sanitary pads to 800 families in Qalah IDP Camp.
Ayan's condition has also improved since World Vision began assisting her to get medical attention. Previously unable to walk, she now able to do so. World Vision's National Director for Somalia came to see her personally and committed that the organisation would help take care of her. Since their first meeting, he has come more often to check on her.
Even though they did not know the name of the person who was directly helping them out initially, Ayan's family says his face and generosity remain forever in their hearts.