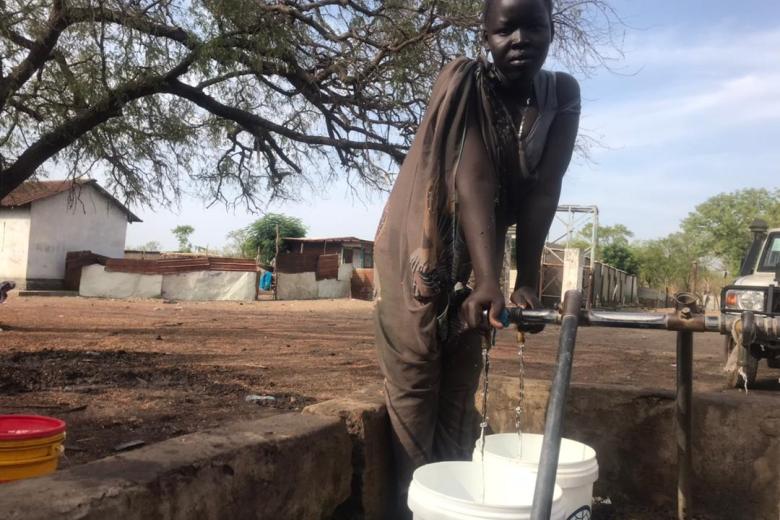 Cholera outbreak response: World Vision ramps up WASH efforts in Malakal, Upper Nile State
Wednesday, April 19, 2023
Over the past eight weeks, following the declaration of a Cholera outbreak in Malakal County in South Sudan's Northeastern region, Upper Nile State, World Vision has been doubling efforts to ramp up water, sanitation, and hygiene (WASH) efforts to curb the spread of the disease. 
Cholera is a bacterial infection caused by ingesting food or water contaminated with the bacterium Vibrio cholerae. It causes severe diarrhea and dehydration. If not treated, it can be fatal. Therefore, access to safe water and sanitation is critical to preventing Cholera and other water-borne diseases.
World Vision provides 755,000 liters of safe water daily to the vulnerable population in Malakal, including four health facilities and seven schools, through management and maintenance of water systems, including trenching and laying of water pipelines, construction and maintenance of tap stands, replacements of broken taps, and opening drainage channels around water collection points.
World Vision's WASH team also ramped up water quality monitoring to ensure that water flowing from the water treatment stations to the tap stands in the water collection points has maintained sufficient free-residual chlorine (FRC). An adequate amount of FRC in the water kills or deactivates germs that cause diarrheal diseases. As a result, the water is 'protected from contamination during transportation to home and storage in the households.' Maintaining this helps to ensure that water is potable and safe for household consumption. In addition, World Vision also provides water purification tablets to people who access water directly from the river and track, usually using donkeys to help ensure that the water is safe for drinking and cooking. 
Among the beneficiaries reached with clean water supply is Martha Nyakuach, a 21-year-old mother. "I thank World Vision for providing clean, sufficient, quality water for the whole town. This has helped us a lot, and the water source is nearby.  Without quality water, the medicines we received from the health centers would not have worked alone." Martha is one of the residents of Malakal Town whose child recently recovered from Cholera.
The team also conducts mass sensitization on Cholera transmission and prevention measures, including house-to-house visits for hygiene promotional activities in three payams (districts) in Malakal Town. 
"Until now, 1,024 cases have been registered in various health facilities in Malakal Town and Protection of Civilian (PoC). However, most of the cases were not tested. Of those tested, only 24 were confirmed using the rapid test," says Buyu Stephen Odongkara, World Vision National WASH Manager.
According to Buyu, member agencies of the Cholera Taskforce recommend more accurate and reliable results. They also recommend providing test results weekly to help monitor the trend of infection and transmission. World Vision is an active member of the Taskforce and the WASH Cluster.
"Poor hygiene practices coupled with poor access to sanitation facilities is leading to mass open defecation and providing a fertile environment for cholera transmission. The population of Malakal town is increasingly growing due to the presence of internally displaced people (IDPs) who fled their homes due to conflicts and hunger. In addition, the poor black cotton soil does not support pit latrine construction, which adds more pressure to sanitation intervention. World Vision WASH team is considering the distribution of hand-hoes with handles to households to use for digging and covering their feces. The hoes can also help in kitchen gardening so families can grow vegetables to supplement their diets," adds Buyu Stephen Odongkara.
World Vision is committed to continuing to support the needs of the people in Malakal. In addition to water supply, World Vision's trained sanitation committees will continue to take the lead in organizing environmental cleaning exercises, including collecting human wastes in open defecation areas for safe disposal.