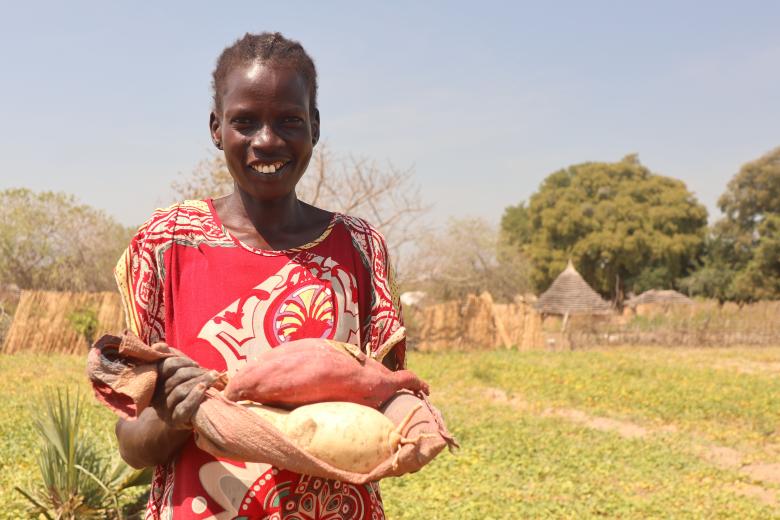 Hungry no more! Sweet potatoes boost children's nutrition, farmers' income
Tuesday, December 20, 2022
Food security is often, if not always, threatened by climate change. For several communities in Warrap State in South Sudan, who are enduring prolonged and large amounts of rain during rainy season, finding ways to adapt and survive must become their new normal. This includes learning to try new farming techniques and plant non-traditional crops. Their efforts prove to be worthwhile as they untap the health and nutrition benefits and income potential of growing climate-resilient crops, such as sweet potatoes.
In South Sudan's Warrap State, farmers typically grow sorghum, maize, simsim and groundnuts. These are dry weather crops that thrive well on soils with little moisture. These are the villagers' staple food and source of income. Unfortunately, these crops often get destroyed and washed out when there is too much rain and flood. Losing crops to flood compounds the problems farmers and their families face every rainy season. Not only are families forced to flee their homes due to rising floodwaters, but the damages floods cause to their crops and fields often leave them hungry for months. This vicious cycle occurs every year, resulting in higher prevalence of malnutrition in the communities.
To help farmers sustain their livelihoods especially during the rainy season, World Vision South Sudan, in partnership with the South Sudan State Ministry of Agriculture and with funding support from the World Food Programme (WFP), introduced pest and disease-resistant, white-fleshed sweet potatoes to farmers in Warrap State in 2022 as part of the Food for Assets (FFA) project.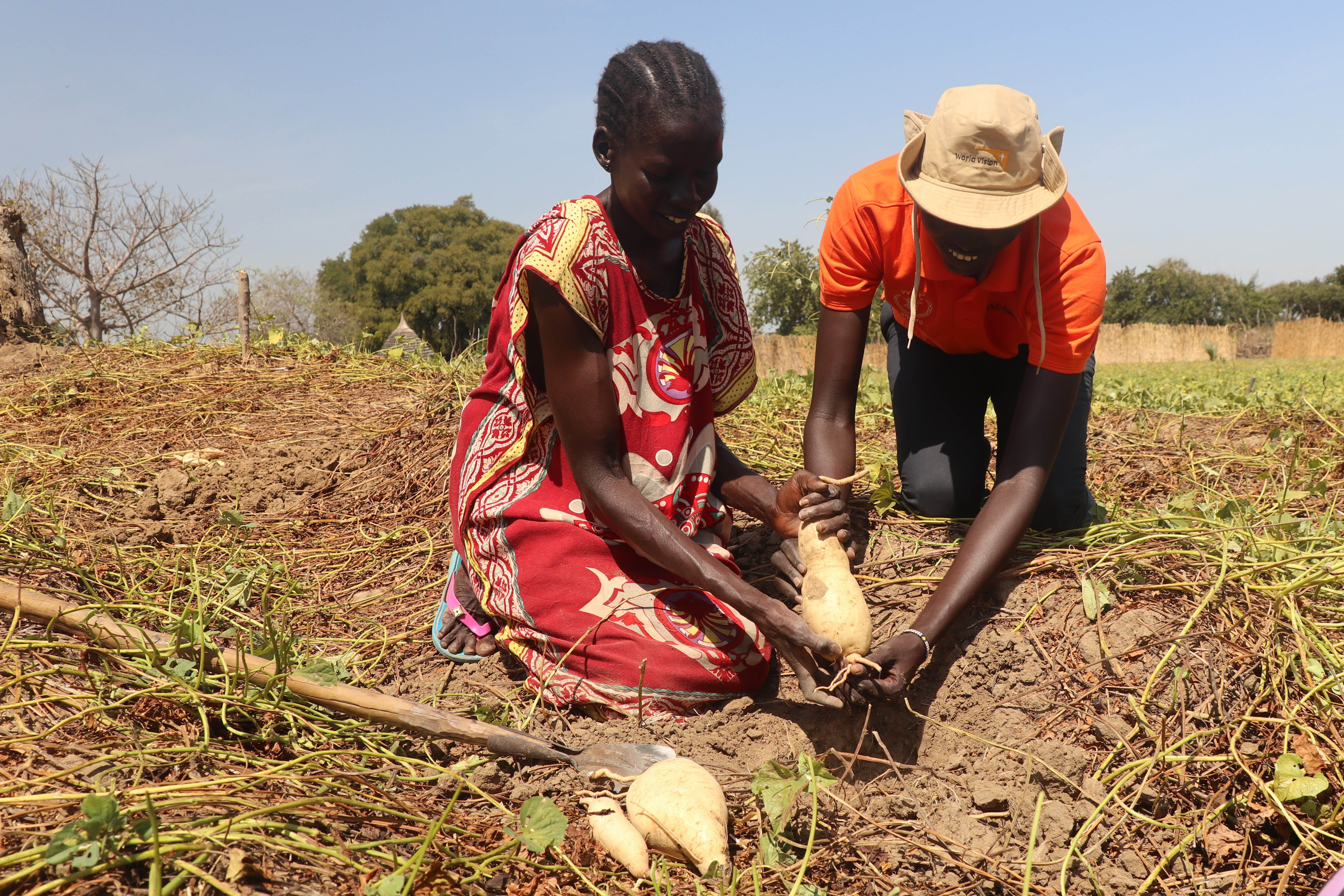 "This sweet potato variety is tolerant to the area's harsh climatic conditions. Growers can also use the crop to improve their household income," says Chengetai Jiri, World Vision South Sudan's Food Assistance Manager. 
World Vision and partners provided the farmers with technical assistance, using demonstration plots to teach them how to plant, make soil ridges, weed, and irrigate their white-fleshed sweet potato crops most effectively.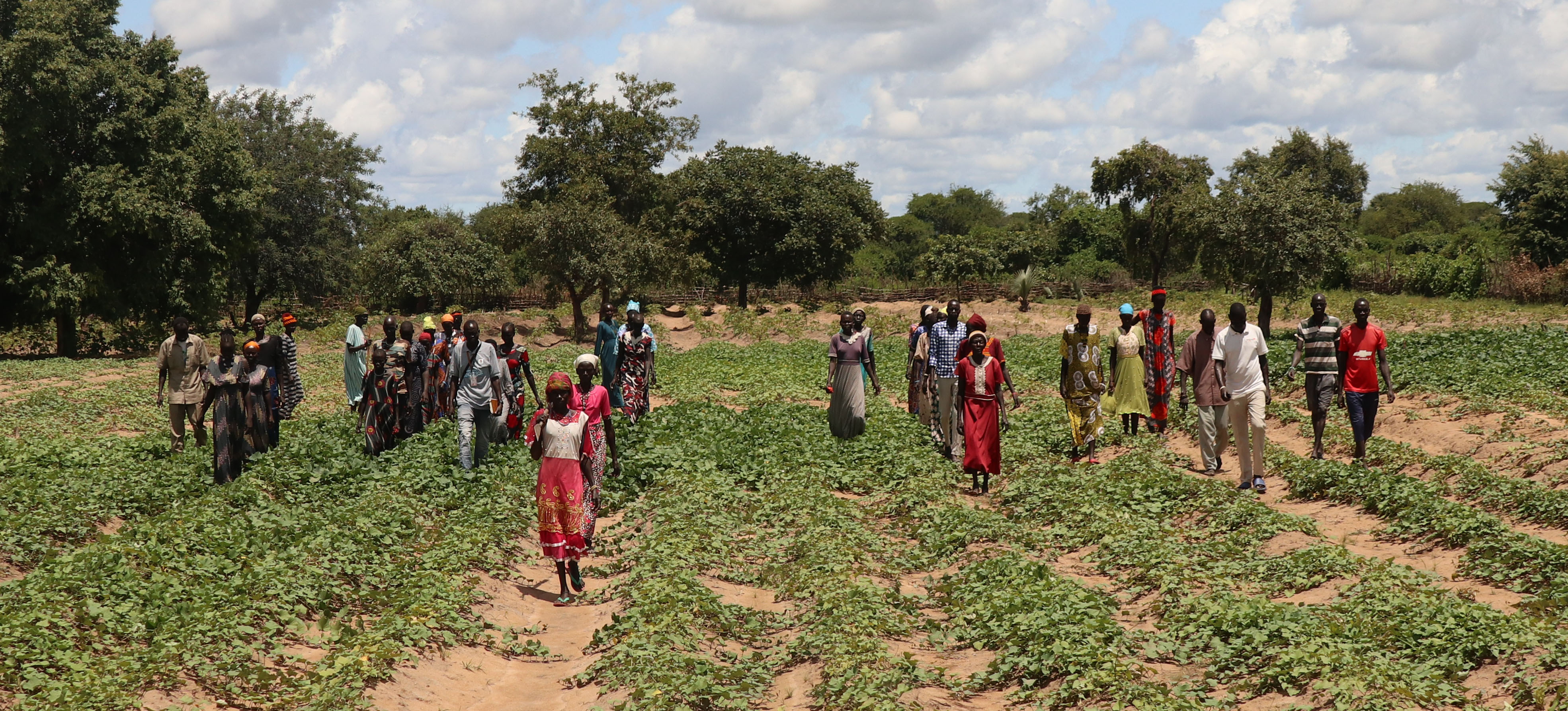 About 100 farmers tried growing sweet potatoes in Gogrial East, Tonj North and Tonj East counties. About half of them were women and mothers like Asunta and Awan.
Before joining the project, Asunta found it very hard to meet her family's basic needs even at normal times. The meager income she gets from growing sorghum, maize, and groundnuts were barely enough to feed her three children. She dreaded the wet season as this usually meant having almost nothing to harvest because crops often fail to survive.
After a year of growing sweet potatoes and learning new ways of planting such as staggered planting – a planting technique where seeds are planted at different times, normally, after several weeks, to extend, increase, and ensure continuous harvest throughout the year – Asunta can barely contain her happiness. In her first year, she was able to double her crop planting to two acres of land.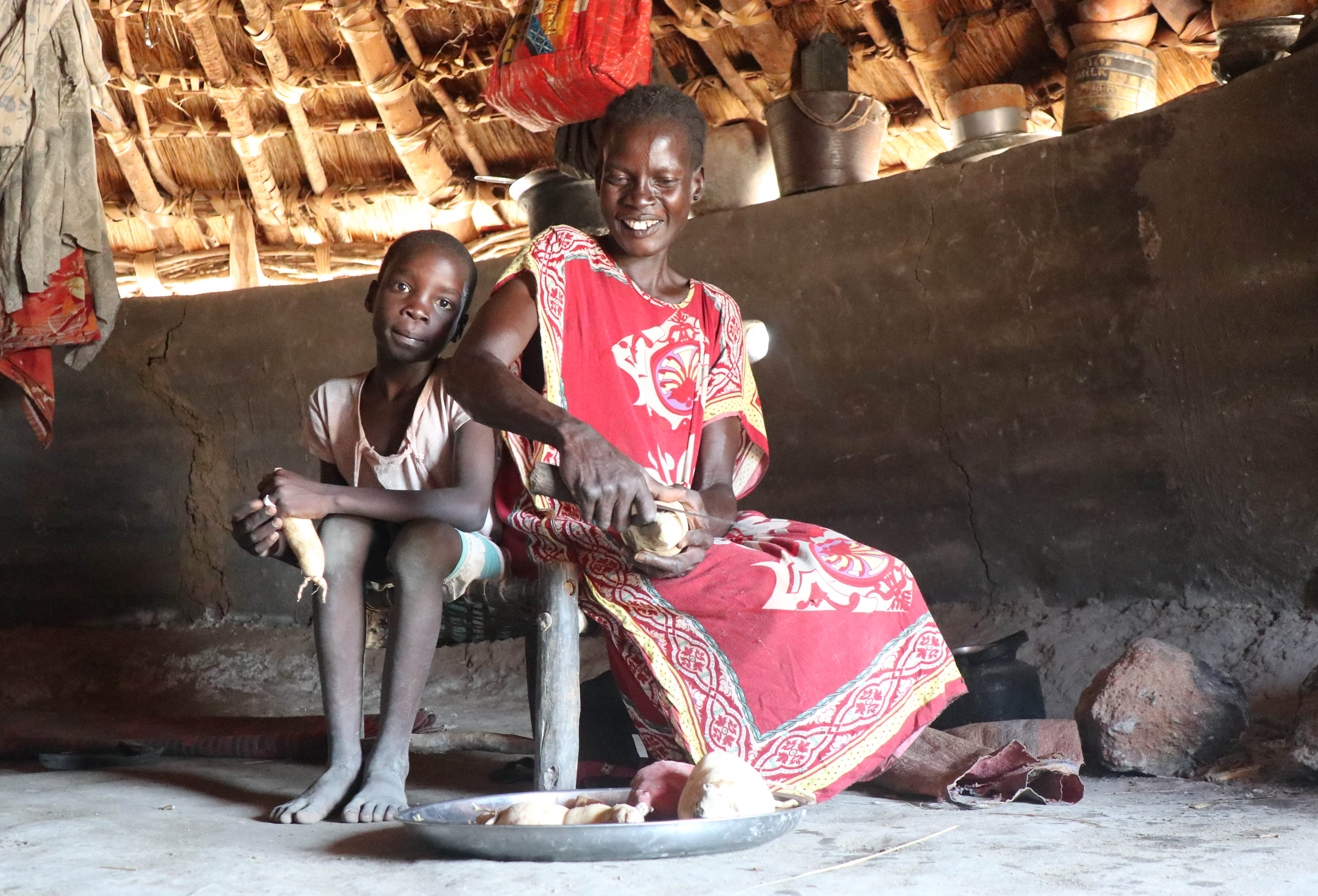 "The sweet potatoes are my children's favorite! I will harvest, process, and preserve them for my family to eat, as well as sell some to earn an income. Our children are healthier. They no longer get sick often because of the nutritious sweet potatoes. I am less stressed," she said. 
Awan, 39, is also benefiting from the project. "The biggest thing I've got from the project is knowledge, which I plan to share with other widowed farmers like myself to enable them to feed and provide for their children," said the mother of five.
"I am now able to buy clothes for my children and more nutritious food. I can also buy soap and even sugar. Most importantly, I'm able to pay the school fees for my children," Awan added.
Mothers in their village also benefited from the cooking demonstration activity conducted by World Vision South Sudan. They learned how to prepare balanced meals for their children. 
"The cooking demonstration was much needed. Food preparation is easy! Even my 10-year-old child can prepare the sweet potato for the family. Unlike the sorghum that needs sauce, the sweet potato doesn't, and two pieces of large, sweet potatoes are enough to feed our whole family," Awan happily expressed.
Story and photos by Scovia Faida Charles Duku, Communications Coordinator