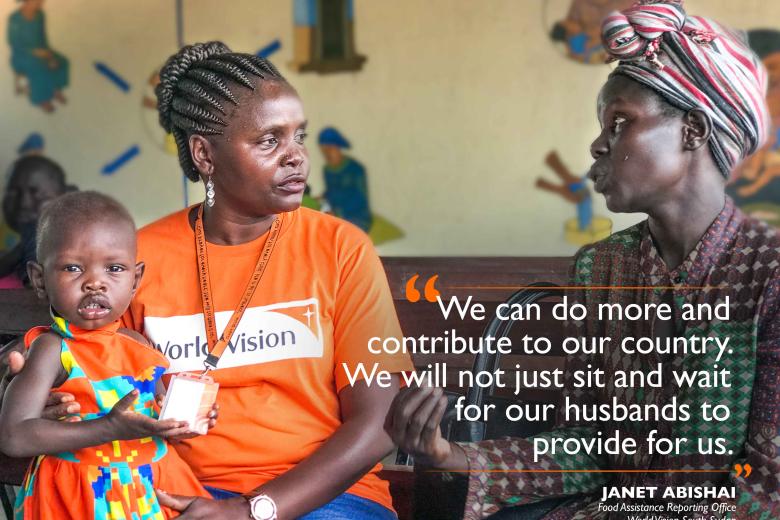 #RealLifeHeroes: South Sudan's women humanitarians share why they do what they do to serve others
Saturday, August 15, 2020
On World Humanitarian Day, we look back at the quiet heroism of the South Sudanese women humanitarians workers serving their own people with a lot of hope that one day, long-lasting peace will be achieved and the children will focus on achieving their bright future.
Janet Abishai: janet's story as a humanitarian and a mother shows how the South Sudanese women are coming of age, taking on more proactive roles in nation-building. Last year, she represented South Sudan at the annual 30-day famine campaign to raise awareness on the debilitating food insecurity endured by over seven million people. She was proud to have represented her country and stand up for the South Sudanese women.
Annet Kabang: Annet's job in the field puts her in the frontline of World Vision's food distribution in Juba. Imagine how will that be faced with life-threatening risks during a COVID-19 pandemic? He keeps doing her job because she believes this is a strategic way she can help her own people, especially mothers and children.
Nyanchop Monychol: Poverty and violence did not stop Nyamchop from finding a way to help people. Growing up in a refugee camp outside of South Sudan did not even diminish her love for her own country, finding away to be of service. Now an advocate against gender-based violence, her passion is more stronger at the face of the COVID-19 pandemic.
Mary Kiden: Mary worried a lot when the coronavirus pandemic descended in South Sudan. Her work in cash assistance means a lot of frontline work. Apart from the risks she can possibly face, she also fears for her children's safety. But her courage got strengthened knowing she is helping her fellow mothers who are dependent on the assistance.
 
Scovia Faida Charles Duku: Scovia's work finding and sharing stories of fellow South Sudanese gave her a broader and wider view of her countrymen's needs and suffering. This gives her a front seat not just on her people's needs and misery but also their immense hope and courage to keep pursuing for a bright future.