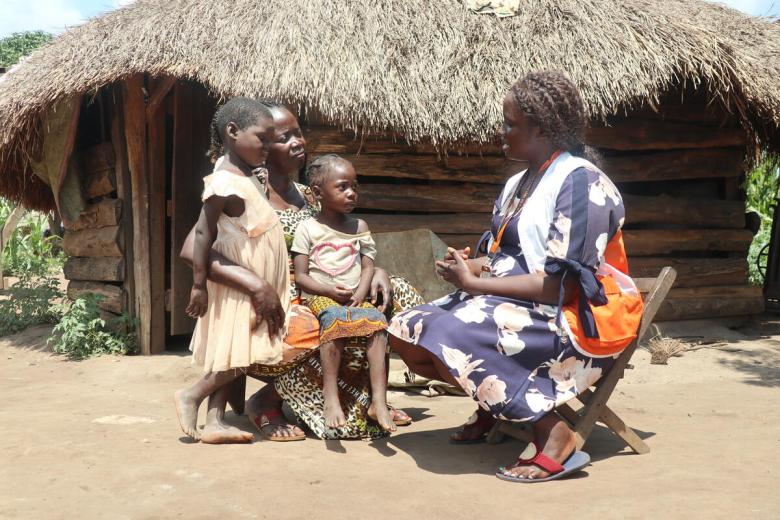 Refugees in South Sudan are holding onto hope amid hunger crisis 
Friday, August 26, 2022
Tubi Aniboti Felister is a 45-year-old mother of 11 children and a Congolese refugee. She came to South Sudan 12 years ago and settled in Nzara County, then later in Makpandu refugee camp, in Western Equatoria State. 
Tubi and her children fled the Congo when an armed group stormed into her village. The violence turned what was once a peaceful place into a nightmare for the other villagers.  
"We spent most of our days hiding in the bush until we finally decided to leave for good," Tubi recalls. 
Adding to the chaos Tubi found herself alone with her children as her husband decided to abandon them. He was afraid of the added pressure to provide for the family in a foreign country.  
"I have never set my eyes on him ever since he left us," Tubi says.  
South Sudan hosts some 330,000 refugees and asylum-seekers, according to UNHCR.
Over 8.3 million people across South Sudan face food insecurity, according to a World Food Programme (WFP) report. A growing number of children (2M) are malnourished. Over the past few years, after harvest, mothers like Tubi sell some of the crops they produce to supplement their diet. 
"On arrival, we were allocated portions of land, maize and cassava seeds and agricultural tools to supplement the food assistance support. However, as the economy toughened so did the needs," Tubi says. 
In previous years, refugees like her received food and cash assistance from World Vision with funds from World Food Programme (WFP) and United Nations High Commissioner for Refugees (UNHCR). In 2016, she was also trained in tailoring by World Vision staff. 
"I was able to use the sewing machine provided by World Vision to sew and mend clothes in the camp that even when the food ratio was reduced due to [the] funding gap as we were told, it was still manageable," she shares. 
However, the food assistance was converted from general food distribution to a cash transfer to give refugees options to decide what they wish to purchase to aid their well-being. 
Tubi receives SSP 21,900 (USD $44.25) for five in her family, money she uses to buy food that include beans, meat and other dietary essentials. 
In the camp, Tubi takes it upon herself to train more mothers in sewing and shares her tailoring skills.  
"I take time to train other mothers on tailoring and tablecloth making to help them raise something to supplement the support we are getting from World Vision, WFP and UNHCR," she says. 
As South Sudan faces a hunger crisis due to complex issues throughout the region, including but not limited to floods, intercommunal fighting, cattle raids, and disease outbreaks, the refugees in South Sudan are left to compete for scarce resources on the global stage.  
"The Ukraine and Russian war is affecting refugees' livelihood activities. There are limited funding opportunities to support buying livelihood inputs and providing services to refugees. Prices of staple food and basic goods have risen due to the appreciation of the dollar against South Sudanese Pounds," explains Justin Elia, World Vision's project manager. 
Humanitarian efforts throughout South Sudan provide basic necessities such as food and shelter, safety and security, first-aid and trauma response assistance. World Vision's fundraising efforts translate to life saving emergency support for over 2 million people in the country.  
Thanks to World Vision and its partner organisations for keeping hope alive with humanitarian staff on the ground and supply chains operating across the world since 1950.