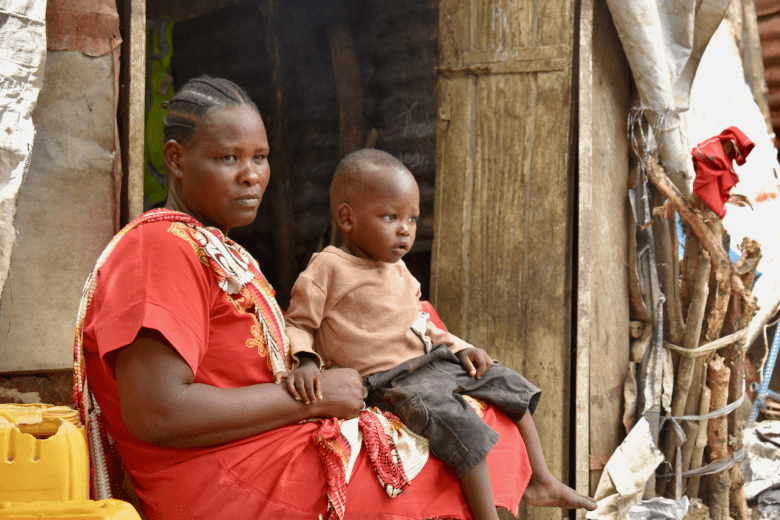 South Sudanese mothers struggle with mental health issues due to worsening hunger situation
Monday, August 22, 2022
It was the darkest night of Angelina's life.
The 36-year-old mother of six, who takes care of five other children as well, had not eaten in four days. Neither had the children in her care. 
Inside her hut made of corrugated steel, she couldn't sleep. Her mind raced, she felt a deep sense of hopelessness.
"I decided to commit suicide to lessen the worry and not see my children sleeping hungry. As a mother, I was guilty and sad that I couldn't provide for them," she admits.
She left her children asleep and walked out of her hut to end it all.
"I was rescued by a friend on my way to the forest and this changed my mind and life forever," she says.
Angelina's life has not been easy. 
Born and raised in Sudan, Angelina's parents died too early from a cholera outbreak in the '90s. 
Angelina was left with the responsibility to take care of her younger siblings and dropped out of school while in Primary eight.  She says, "Fees were expensive and I could not prioritize my studies over our feeding." 

Angelina married at 17 and came to South Sudan in 2011. "My children were all in school and we both had jobs."

She sold local perfume and clothes to make ends meet. "I lived with my husband and siblings, we lacked nothing with his support," Angelina says.

While in Malakal, they bought a house and established businesses selling clothes and local perfumes. However, the peace and prosperity was short lived. 

When violence started in their community, Angelina and her family were driven to the bush to hide.
She remembers, "It started as a rumor but escalated gradually. Corpses and blood stains colored the streets within a month and this was the worst scene to see."

Eventually, the family sought refuge at the Malakal Protection of Civilians (POC) during the 2013 crisis.
It's no secret that factors associated with day to day living such as lack of basic needs in addition to previous potentially traumatic events, negatively impact the mental health of displaced individuals.
According to a 2022 World Health Organization report, one in five of people who have experienced war or other conflict in the previous ten years will have depression, anxiety, post-traumatic stress disorder, bipolar disorder or schizophrenia.

Though she struggles to eat, the food assistance from World Vision with support from the World Food Programme has saved them from death. She shares, "We are lucky that we are alive but worried because many are dying from hunger and suicide."
She adds, "Some women have gone further to exchange their bodies for money just to provide a meal for their children. The cases of domestic violence have increased in families as parents blame each other for not providing."
Angelina also worries that children are not in school and coupled with hunger, cases of early child marriages, forced marriages and child abuses cannot be ruled out. 
"We live hopeless lives. Without the food assistance, we might all die in a month. Our situation needs an intervention as parents are running out of options to fend for their families," she concludes.
The 2022 Integrated Phase Classification on hunger report says that the number of people facing emergency food insecurity and famine will increase, and so will global acute malnutrition. Due to climate change, people are not able to cultivate their fields to grow food due to the floods and prolonged dry session. This has worsened the food insecurity and decreased the amount of food available to feed the hungry.

Dr. Emmanuel Zingorani, World Vision South Sudan's Maternal, Newborn and Child Health Coordinator, says, "Conflict and displacement is associated with significant psychological distress to individuals. This is because many events during or after conflict are known factors associated with development of mental health conditions, such as exposure to violence and injury, loss of loved ones, lack of basic needs, exploitation and others."

He adds, "Reduction in post displacement living difficulties is associated with lower levels of depression and anxiety among displaced populations. Therefore, providing basic needs to people displaced as a result of war contributes to lowering levels of depression, thus mitigating immediate and long-term harmful consequences on mental health."