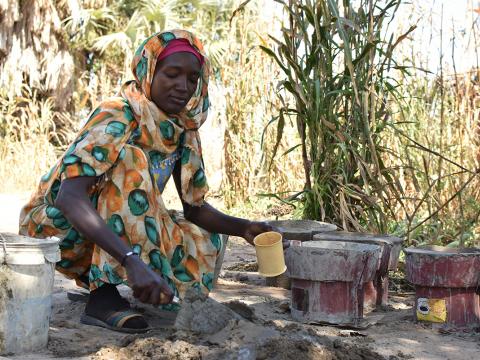 Social Protection Programmes Create Income Opportunities for the Most Vulnerable in South Darfur
Monday, January 6, 2020
By Lucy Murunga, with contributions from Gamal Ghallab, World Vision staff
South Darfur, November, 2019: We met Ehlam and her husband, 32-year-old Hassan, at their home in Otash village, Biliel locality, 70 kilometres outside of Nyala, the capital of South Darfur state. Ehlam, 25, was mixing cement into a paste that she and Hassan would later use to build charcoal stoves.
It was a very hot day, over 35 degrees in fact, thankfully, a medium-sized acacia tree offered a perfect canopy, for Ehlam to work on her stoves without additional stress from the brutal heat. We sat and watched as Ehlam built one stove after another, it was a sight to behold.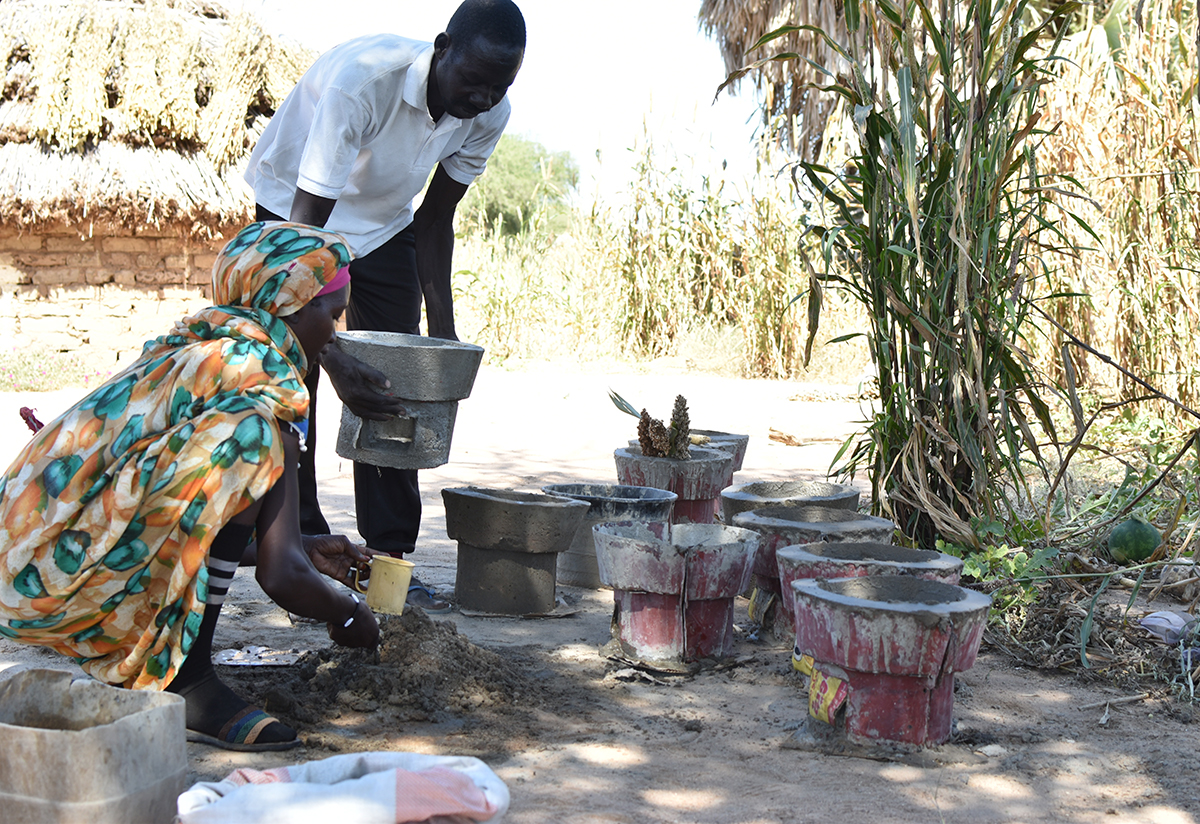 The couple met in 2011 at an Internally Displaced Persons camp. They had both been married before but lost their spouses in the chaos of conflict. In 2017, they finally settled in Otash village, Hassan's ancestral home.
Ehlam is one of 500 women benefiting from the 'Productive Safety Nets' (PSN) programme, implemented by World Vision, and funded by the World Food Programme to support vulnerable households create income opportunities and thus meet their needs. This particular one is fuel-efficient stoves making.
"I was very grateful when I was selected to be trained on how to make stoves," the mother of four shared. We heavily rely on farming to earn a living but it alone is not sufficient to meet all of our needs," she added. We look around, and see sorghum and millet standing tall on their farm. They also grow groundnuts and sesame.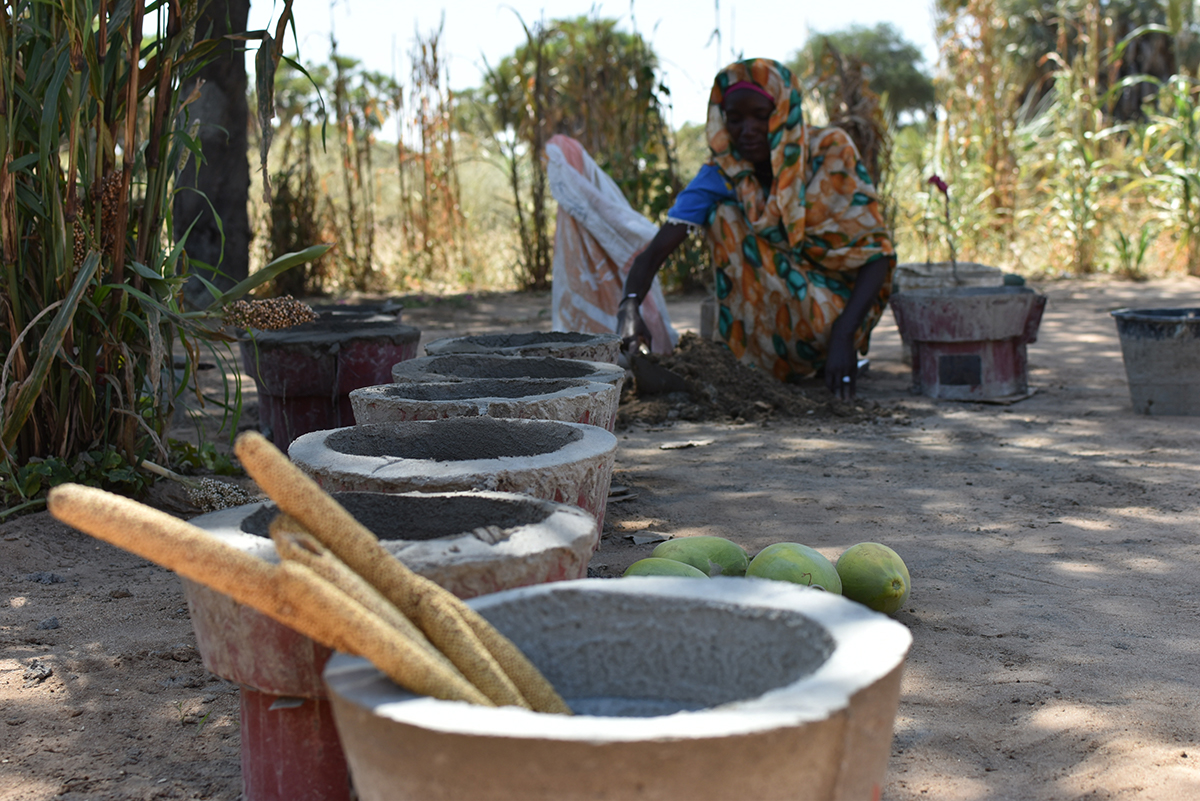 During the training session that lasted three months (August to October 2019) each household selected received 4,500 Sudanese Pounds (96 US$).
Equipped with the needed skills on how to build fuel-efficient-stoves and some cash, Ehlam was ready to venture into the stove-making and selling business. "I used the capital to procure the materials such as cement, metal and wire needed to build the stoves," Ehlam noted.
Building the fuel-efficient stoves
"I use water and sand which don't cost money and mix with cement. A bag of cement costs me 600 Sudanese Pounds (about $12 USD). I then put the mixture inside a metal frame so that the stove will have a particular shape when the mixture is dry," Ehlam explained.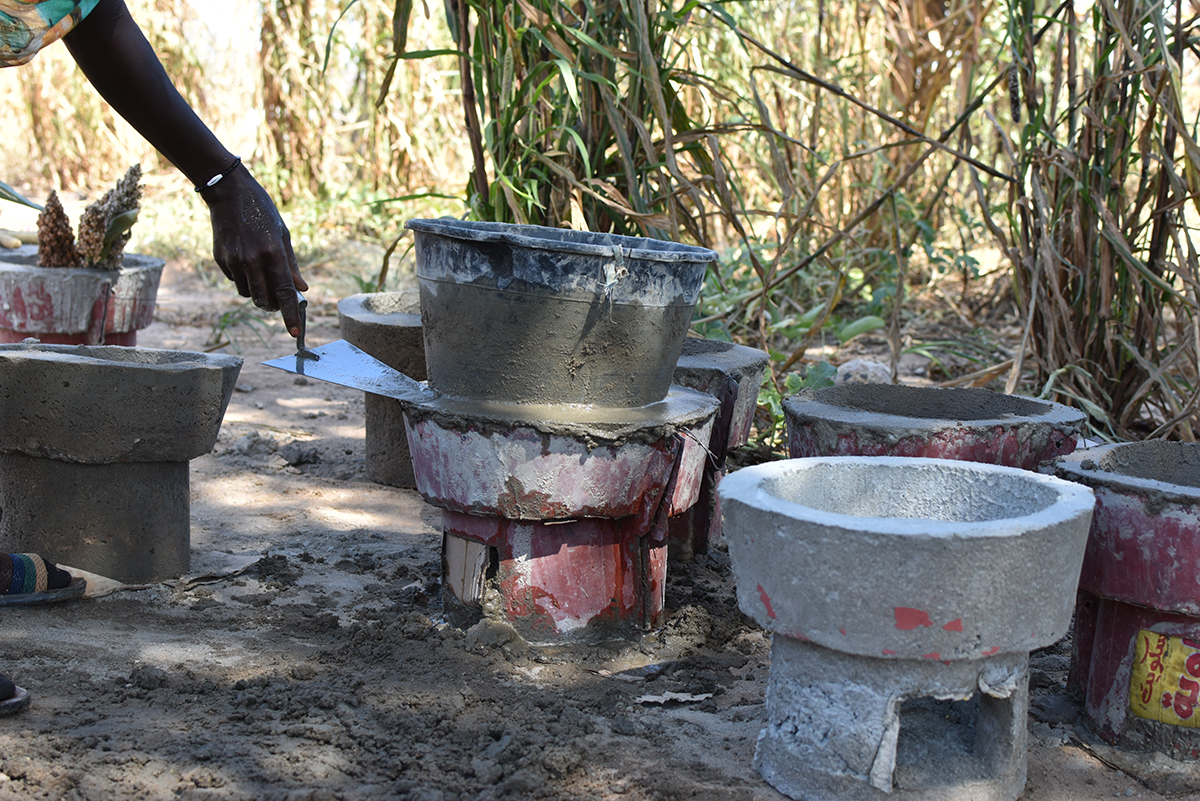 She made it look so easy, but it is labor-intensive. With a target of building 40 stoves each week, she had to build at least five each day. She had thus far been able to build 30 stoves weekly.
The day before she had been to the busy Duma Highway market and managed to sell 10 stoves, earning about $35 USD, $17 USD was her profit  after subtracting $12 for cement and $6 for transportation costs.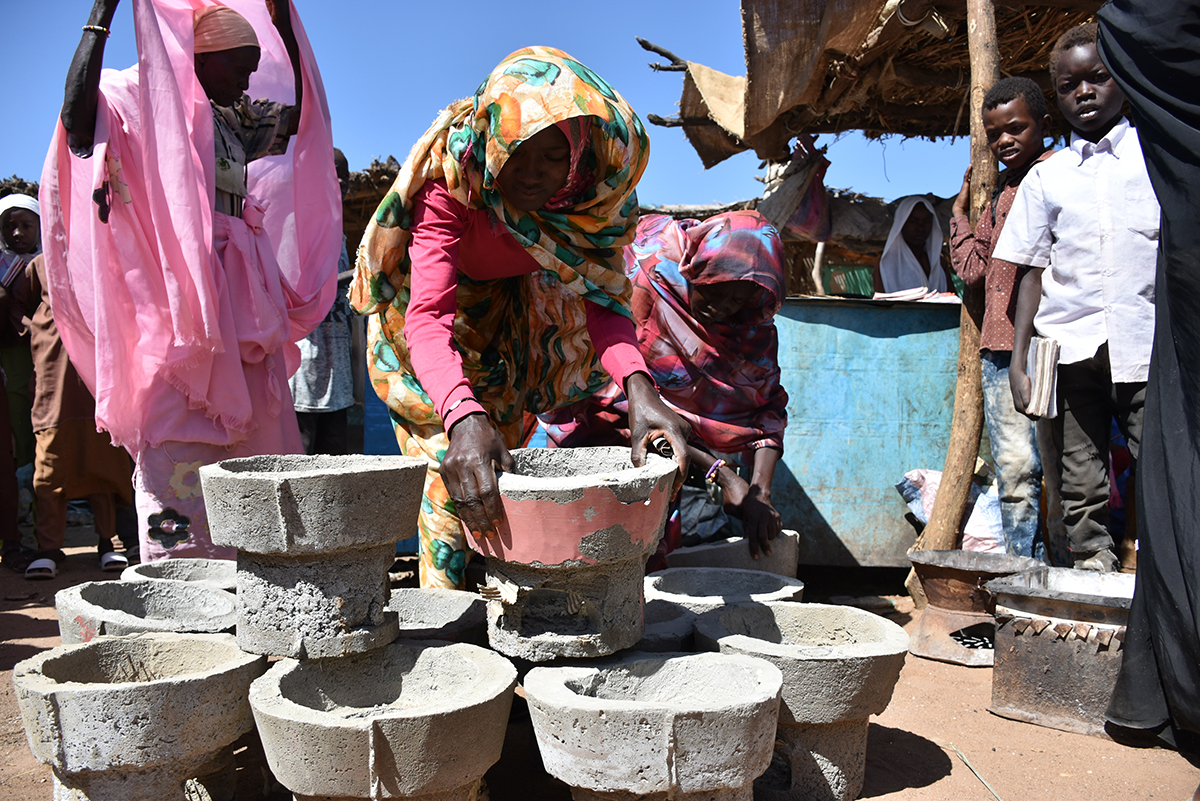 According to World Vision's Nojoomi Abdulshafie, the project aims to support the most vulnerable households in the area, particularly those who fled years ago due to conflict but have now resettled back, to have a means of earning income.
"The project is also contributing to strengthening the communities' resilience to economic-related shocks, through diversifying their livelihood options," Abdulshafie empasises.
Even though Ehlam has been building stoves for a little over two months, she was positive about making it a reliable means of livelihood. "My first sales gave me the confidence boost I needed to know that this business could grow bigger and guarantee a better education for our children," she noted. Currently two are in school, third and second grades.
Maintaining a soft-spoken tone, for the most part Ehlam's eyes revealed untold sorrow. Yet, at the same time there was something in her, which gave us hope that she was not giving in to defeat but instead was determined to build a better life for her children.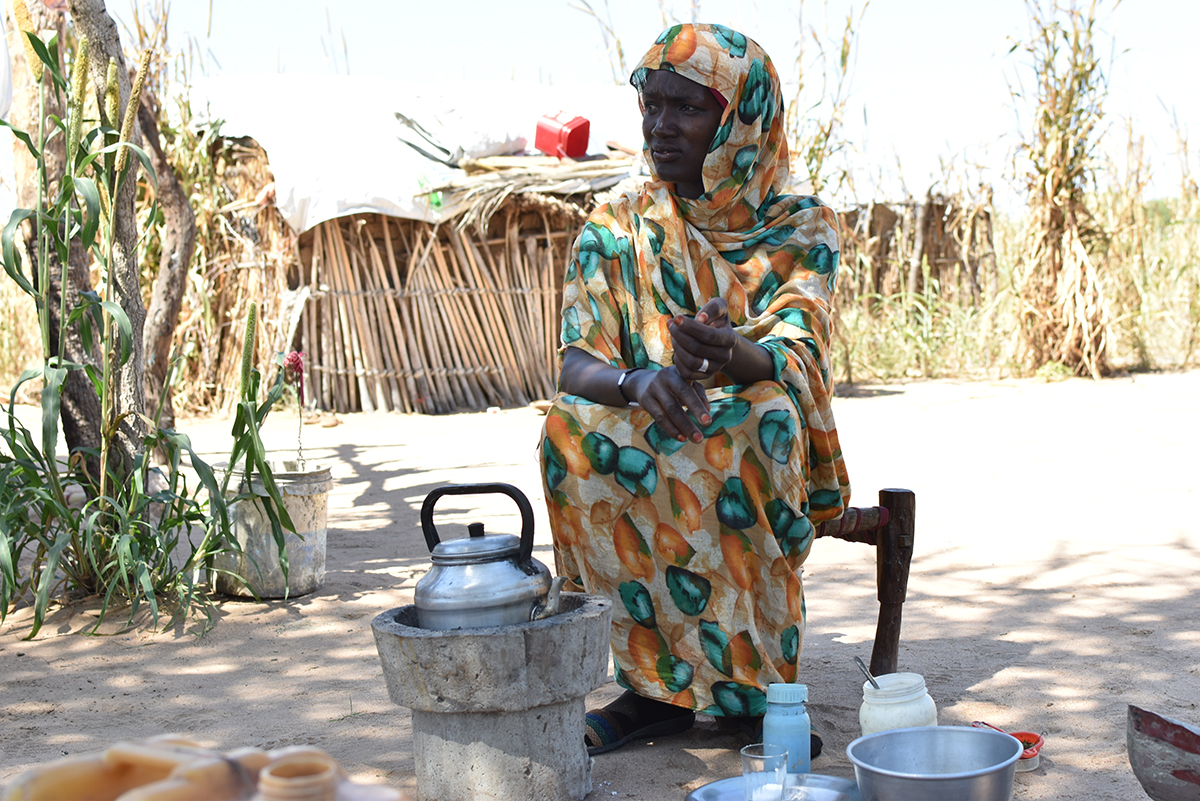 Not just stoves, they are fuel-efficient and using less charcoal
While earning her income, the fuel-efficient stoves are also contributing to minimising the impact of Ehlam's actions on the environment. "The stoves don't use as much charcoal, and what's more, the charcoal lasts for long. The stoves are also designed to keep the heat of charcoal longer" she says.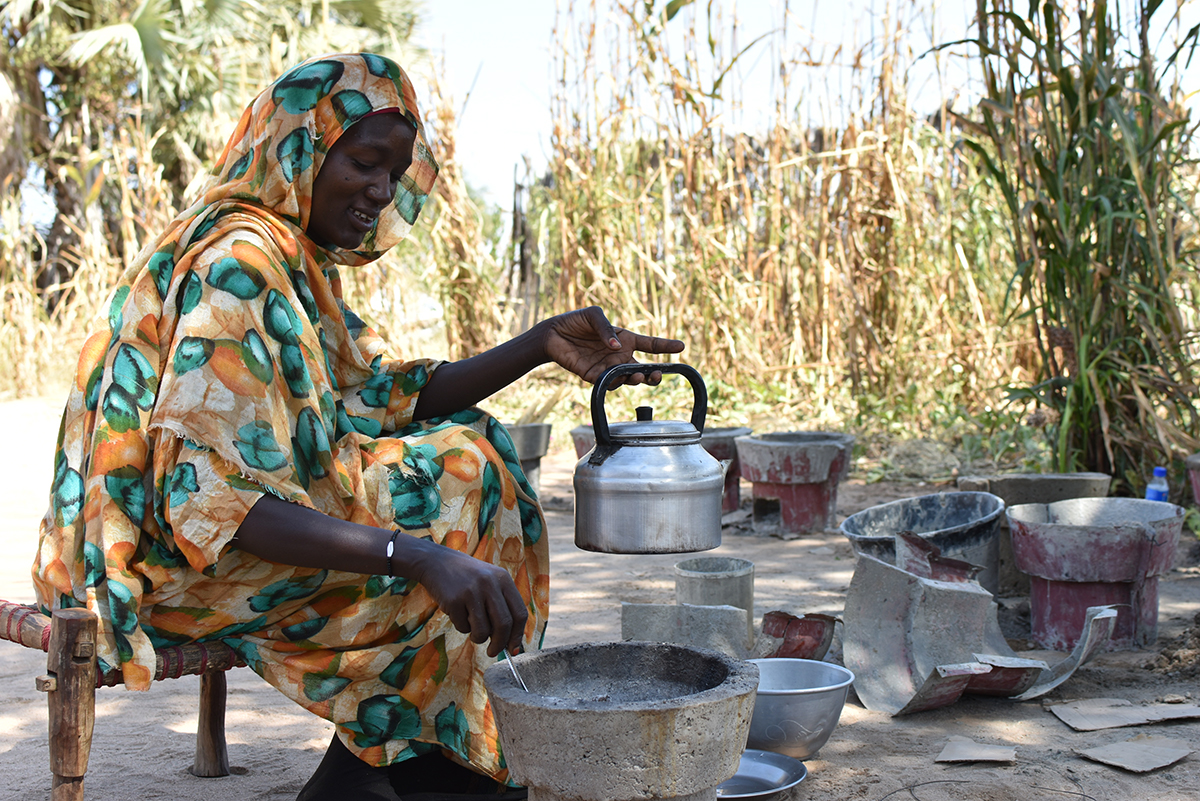 At a time when high staple food prices have been predicted to persist in Sudan to at least May 2020, according to Famine Early Warning Systems Network report. As a result, the majority of vulnerable households are facing difficulties to meet their daily food needs. With this new income, Ehlam and Hassan are better prepared to get by during the lean times.
We didn't meet their four children. Ehlam told us she had sent them to live with their grandmother in Nyala. "The quality of education here is not very good and I thought the best chance for them was to take them to Nyala, where the quality of education was much better," she explained.
This programme also has a component on vegetable production through which at least 2,800 people in both East and South Darfur states where World Vision operates in, have been reached since May 2019.
Learn more about our work here.