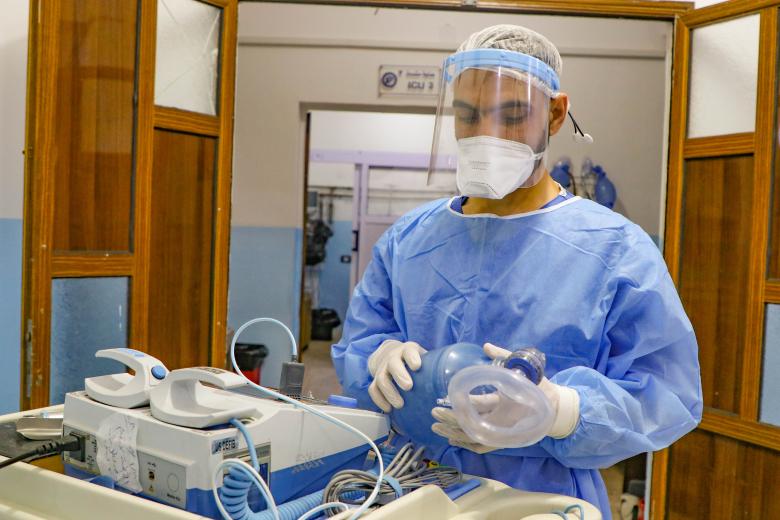 Meeting the inspiring team behind the World Vision-supported COVID-19 isolation facility in Northwest Syria
Thursday, July 7, 2022
A young care technician with a displacement journey of his own
Ahmad* is a 28-year-old care technician at a COVID-19 isolation facility in Aleppo, Northwest Syria, which cares for many affected displaced Syrians. Ahmad was himself displaced from his hometown close to Damascus, four years ago. He currently resides in a city in Northwest Syria and shares a house with his parents and beloved little brother.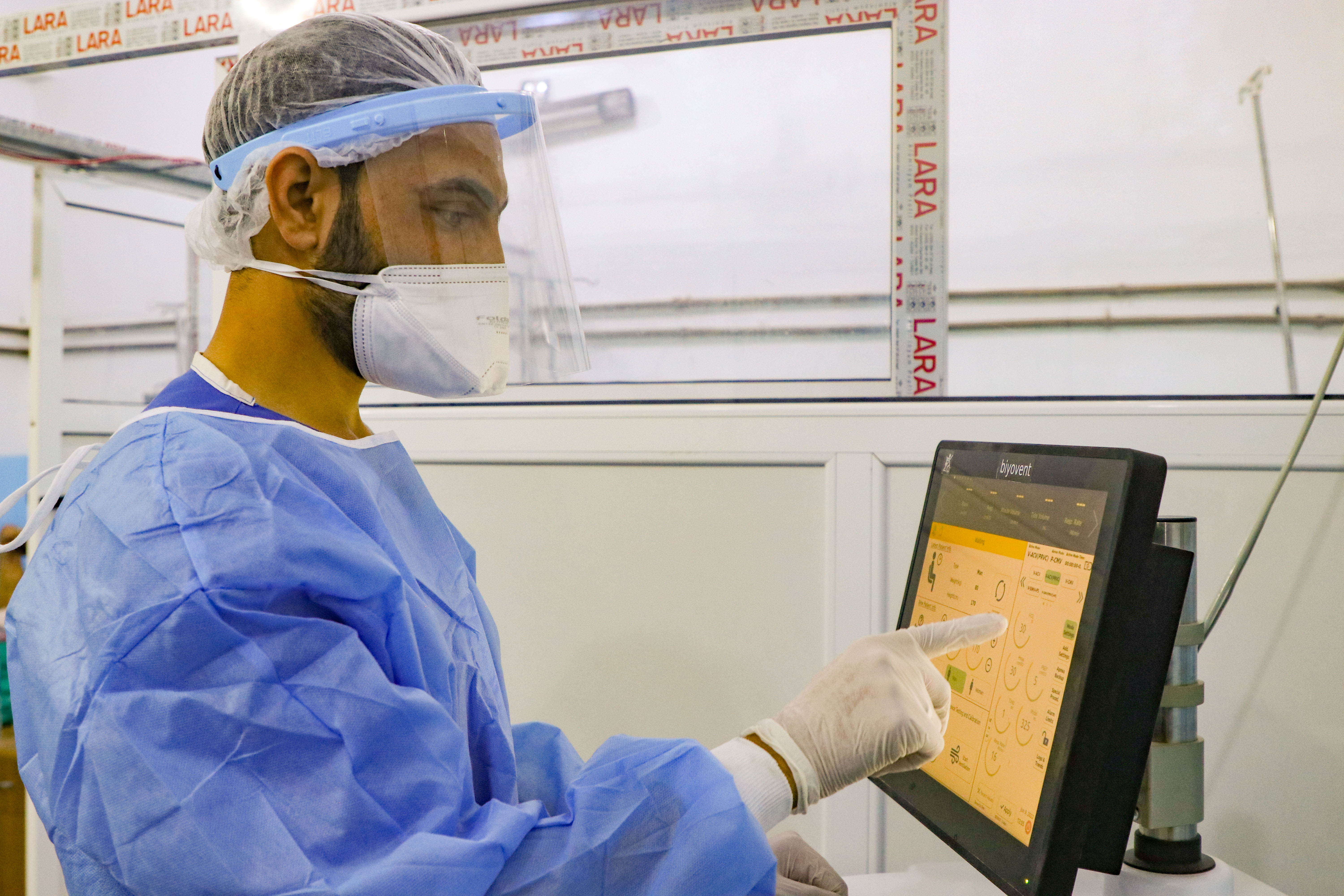 The young technician is very grateful to have had the opportunity to work at the hospital, which has improved his financial condition after being displaced and losing all of his material possessions due to the war. This experience also meant that he had to carry the burden of caring for his parents and younger brother after they were displaced, which added to the stress of his daily life in an already challenging context. Ahmad's dream is to get married and have a family of his own one day. He is working on improving himself and developing his personal and professional skills further so that he can one day be ready for this lifelong commitment.
"After being displaced with my family back in 2018, my life changed when I began working at the hospital's isolation facility two years later in 2020. There, I gained hands on experience throughout my work journey, which also increased my practical knowledge" said Ahmad. "I still hope to achieve my ambitions despite the many difficulties that I have faced together with my family over the past years."
The head of the infection control team at the hospital, describes Ahmad as "a person with great ambition who maintains very good relations with all the hospital staff." Although the young care technician's displacement journey was very challenging for him and his family, he has somehow found a new loving community of supportive coworkers inside the hospital's walls. This encourages him to continue investing in himself while also assisting others.
This particular facility, which hosts Ahmad and his colleagues, is one of the few hospitals Northwest Syria that is still receiving COVID-19 patients. It is also the third hospital designated for this purpose and supported by World Vision through its local implementing partner, SAMS.
A beloved doctor, father and brother
Dr. Moayad is an internal specialist working at the same COVID-19 Isolation facility as his colleague Ahmad since 2019. He is originally from one of the villages of the beautiful southern Aleppo countryside but has been residing in Northwest Syria since being displaced with his family. He is 38 years old and has four children, and he also supports both of his elderly parents since being displaced.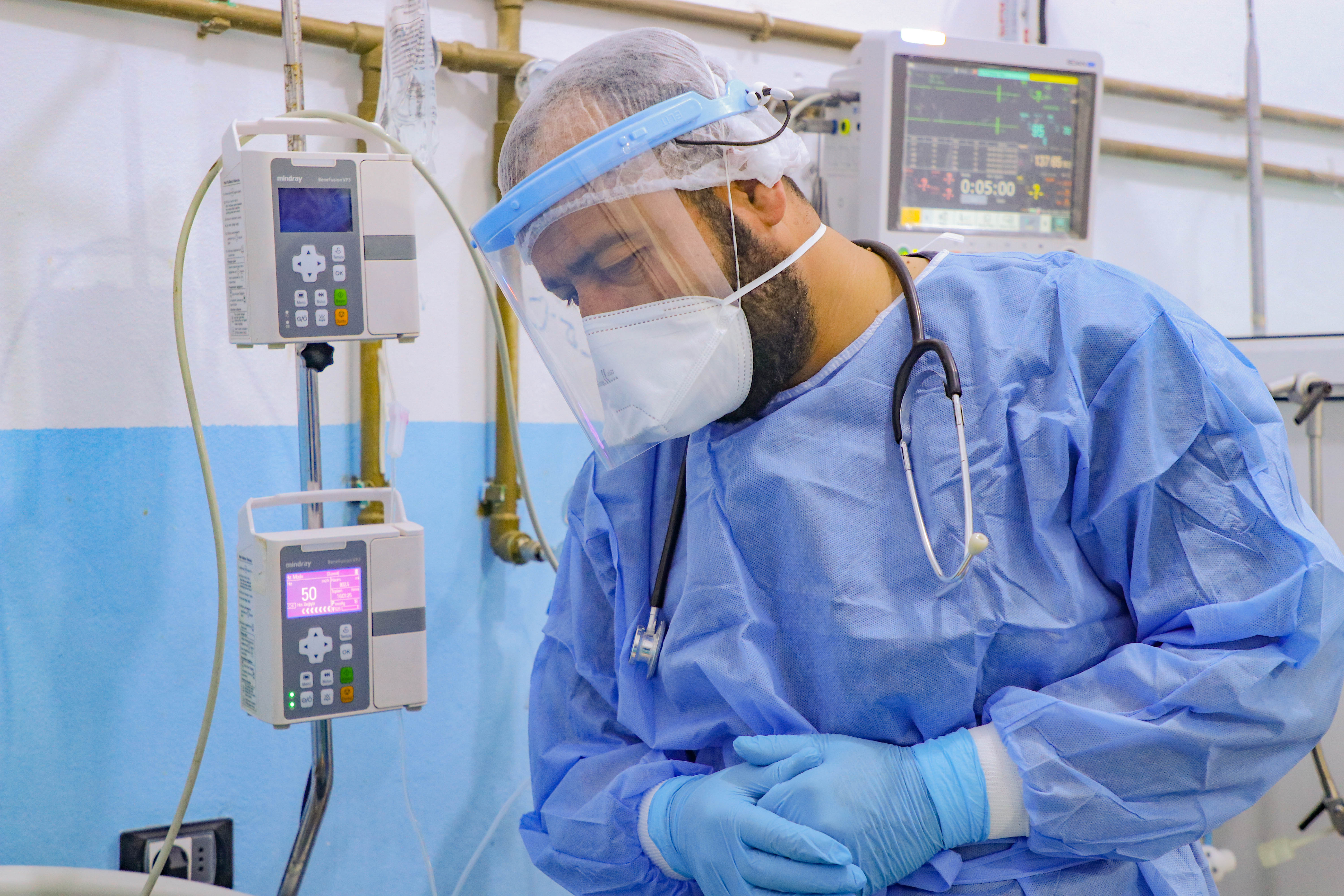 ©World Vision supported local partner in Northwest Syria
Back in Aleppo, his family used to work in agriculture, growing a wide range of fruits and vegetables in their village. He remembers running in the fields as a boy and feeling an absolute sense of freedom. But as he grew older, and war began knocking at their village's gates, he recalls an overwhelming sense of fear. "Before we became displaced, we were experiencing daily military threats at our village, which was very scare and stressful for my family," he said.
Today, the entire family depends on his income as a medical doctor. He worried about his brothers also finding work opportunities and being able to support themselves and their own families. "I am responsible for most of my family because of the lack of job opportunities... Looking for a job for my brothers is one of my biggest concerns because of the difficult [economic] conditions here in Northwest Syria," he said.
The World Vision-supported and SAMS-run hospital is considered one of the main hospitals in northwestern Syria which is providing care for COVID-19 patients. With more than 40 beds distributed between the intensive care departments and the hospital wards, it is the only hospital in the western Aleppo countryside that provides this much-needed service.
According to the human resources officer at the hospital, Dr. Moayad is a person who "adheres to daily work rules and regulations, maintains a positive attitude, and is loved by all the hospital staff!"
World Vision has been delivering life-saving assistance and health, WASH, education, protection and livelihood support to over 1.2 million people inside Syria since the start of the crisis in 2011. On average, more than 75,000 beneficiaries benefit from World Vision's Syria Response's health supported services in the community, primary health-care facilities and hospitals. As part of its response to COVID-19 in Northwest Syria, World Vision is working in five COVID-19 dedicated facilities where we provide life-saving support by running intensive care units with equipment, and staffing as well as providing essential pharmaceutical supplies such as medications, consumables and oxygen. In addition, World Vision supports the epidemiological surveillance of COVID-19 by providing support to the PCR-laboratories, sample collection, transportation, analysis and result reporting, and contact tracing of cases, as well as the training of 1,500 volunteers, providing Information, Education and Communication materials and other support. World Vision's Syria Response is also advocating for the equitable distribution of COVID-19 vaccines and recently participated in a research survey assessing national vaccine deployment readiness.
World Vision worldwide is responding to the devastating impact of COVID-19 in more than 70 countries, reaching more than 66.1 million people, including 28.9 million children.
*The names of staff and patients have been changed to safeguard their privacy.