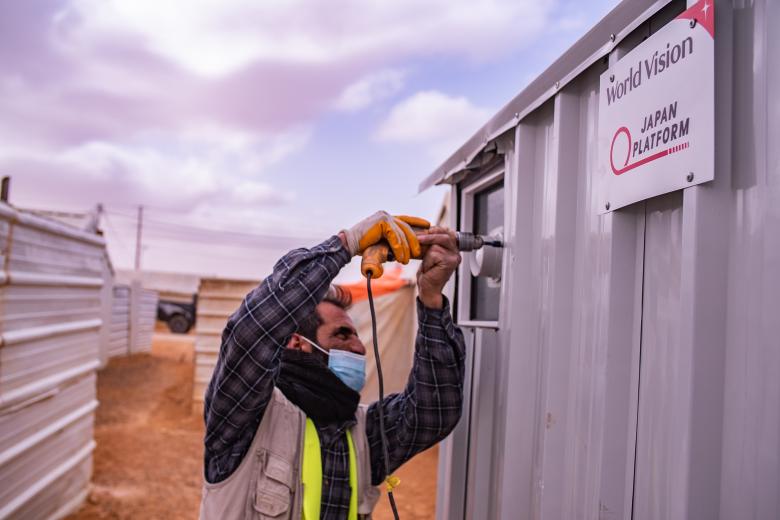 World Vision Supports Vulnerable People in Azraq Camp
Wednesday, April 6, 2022
"I am a mother and a father to my children. I dedicate my life to the sake of my children. When I saw World Vision installing the private latrine, I immediately went to see if they can support us," - Dunya* a Syrian widow mother of four children from Azraq Refugee Camp
In 2011, the Syrian population faced one of the worst human catastrophes the world had witnessed in modern times. The calming sound of birds and playful children have been replaced by the continuous sound of bombs and artilleries that still define Syrian children's childhoods and future. Millions of families' realities suddenly shifted from peace to uncertainty, fear and dangerous displacement journeys. Soon after the war broke, everyone inside the country was faced with the difficult decision of staying despite all odds or leaving without having anywhere to go. Forced by the circumstances of war, most of them had no choice but to leave their lives behind, and look for a future elsewhere. The endless waves of people leaving the country had now resulted in more than 6.8 million seeking refuge outside Syria. 
As a result, thousands of them headed to Jordan, making it the third-largest refugee-hosting country in the Middle East. Situated 90 kilometres away from the Syrian border, almost 674,000 Syrians started a new life in this neighbouring country. The camp became the starting point for a new life for thousands of families and a safe place that they could call home, at least until they could decide what to do next.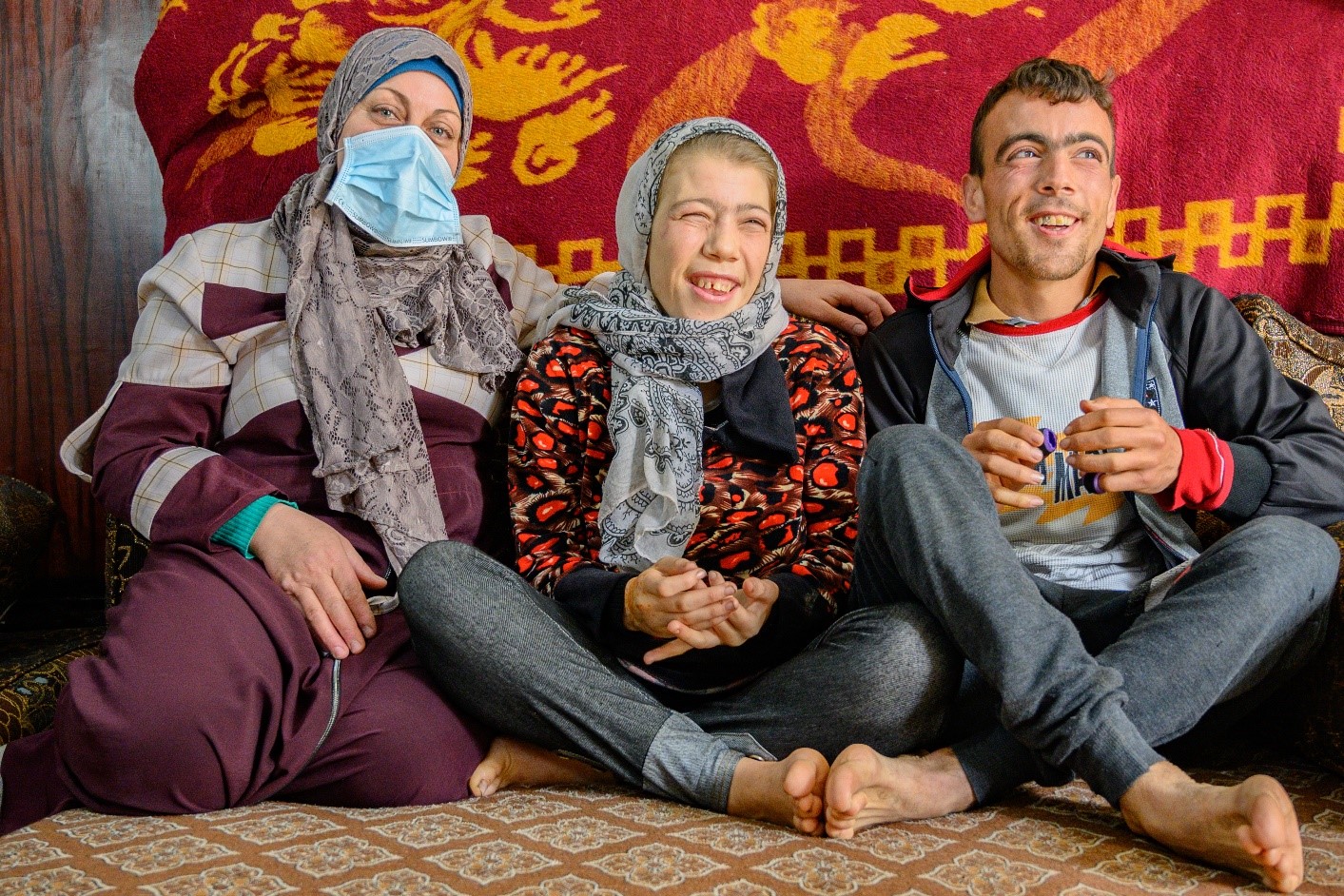 A widowed mother loses everything due to war
Dunya, 45 used to live in west-central Syria along with her children. Her three-bedroom house was everything Dunya wanted in life. "I built the house of my dreams, but we never got to live in for long," she mentions with sadness. The war deprived them of the joy of living in a new house and forced them to leave their dream life behind, so that they could find a safe haven from the fighting elsewhere. Before Dunya had a stable financial situation. The small land her father-in-law owned was enough to cover all their financial needs. They used it to grow vegetables and fruits and sell it in the market. When her father-in-law's family passed away because of the hardships of the war, Dunya's world collapsed again as she witnessed the immediate effects of the fighting - the constant shelling affected the land they depended on for their primary source of income; their house was in ruins and securing daily needs became more challenging every day as prices increased.
Like millions of Syrians, Dunya came to the heart-sinking realisation that she must leave to keep her children safe and be able provide for them. "I had nothing left back in Syria, we had no place to stay. I could not provide for my children," Dunya recalls. That is when she decided to head to Jordan in 2014. "My children and I got into a car with people I have never met before, and we drove along with them until we reached the Jordanian border", she adds.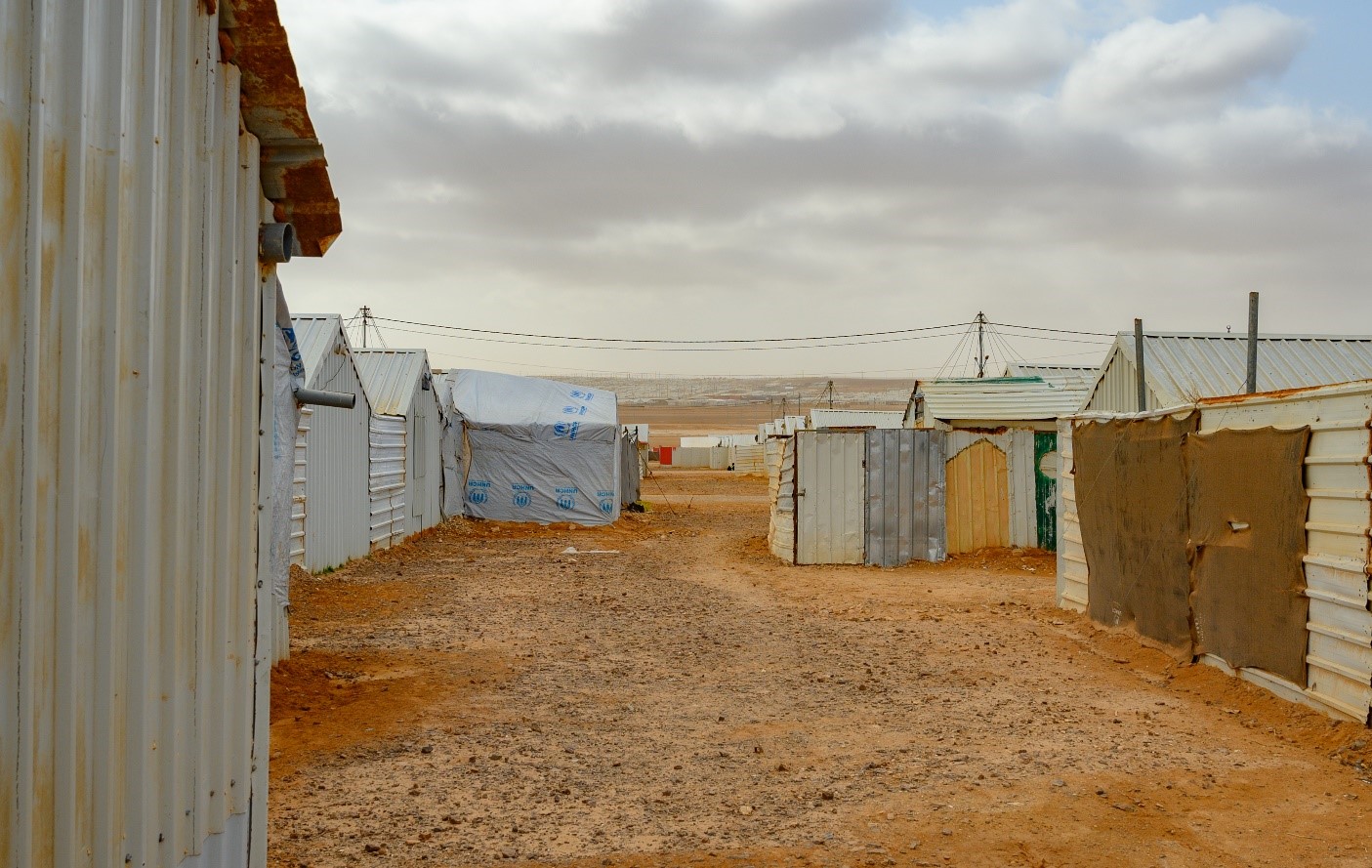 Raising children with disabilities as a refugee widowed mother
Adapting to a new environment and the living situation in the camp took its toll on Dunya and her children. "When we first arrived, my children did not want to stay here [at the camp]. They kept asking me to go back," she tells with sorrow. Dunya has two disabled children - Aya*, 20-year-old girl and Husni*, a 22-year-old young boy who has been visibly distressed as a result of the sudden change affecting them physically and mentally. They started acting with aggression and did not stop voicing out their wish to return back home.
"My children suffer from a genetic disease which resulted from Endogamy [1], " Dunya continues to explain. Their illness requires specific medication, medical diapers, and constant care. As the main head of the household since her husband passed away in a car accident, when Husni was a couple of days old only, Dunya knew she was responsible for everything. This meant she had to  manage it all by herself, and in some cases, this means leaving her children alone in the house. There is no one else to help her out.
One day, Dunya went to buy food and medication for her children. Meanwhile, hungry Aya wanted to prepare food, but she did not know how to manage the stove. After struggling for a while with the stove, unintentionally, Aya lit up a match igniting a fire in the kitchen.  Feeling overwhelmed and stressed, she did not know how to put the fire out. The fire kept creeping closer and closer to Aya, eventually reaching her. Upon Dunya's arrival, she discovered the extent of the damage and the harm it caused to Aya. But Dunya did not care about the burnt shelter; all she cared about was her children. She immediately rushed to the emergency room, embracing her daughter and crying along the way. Unfortunately, Aya suffered severe burns on her right side and lost her sight that day.
The unfortunate fire forced the family to relocate again to another shelter. The camp conditions were far from what they used to have in Syria. They were living in a small shelter with no private latrine and with little of the comfort that they used to know as a good home.  This made it even more difficult for Dunya to look after her children. For a while, the family used a temporary latrine they created, but it lacked plumbing and the proper materials needed to operate correctly. The makeshift latrine would get the family out of trouble, but it was not a long-term solution. This all forced Dunya to keep thinking about different ways to make her children's lives better and avoid any other accidents that may harm them. She could not close an eye for nights on end.
World Vision Provides Support for Dunya and her Children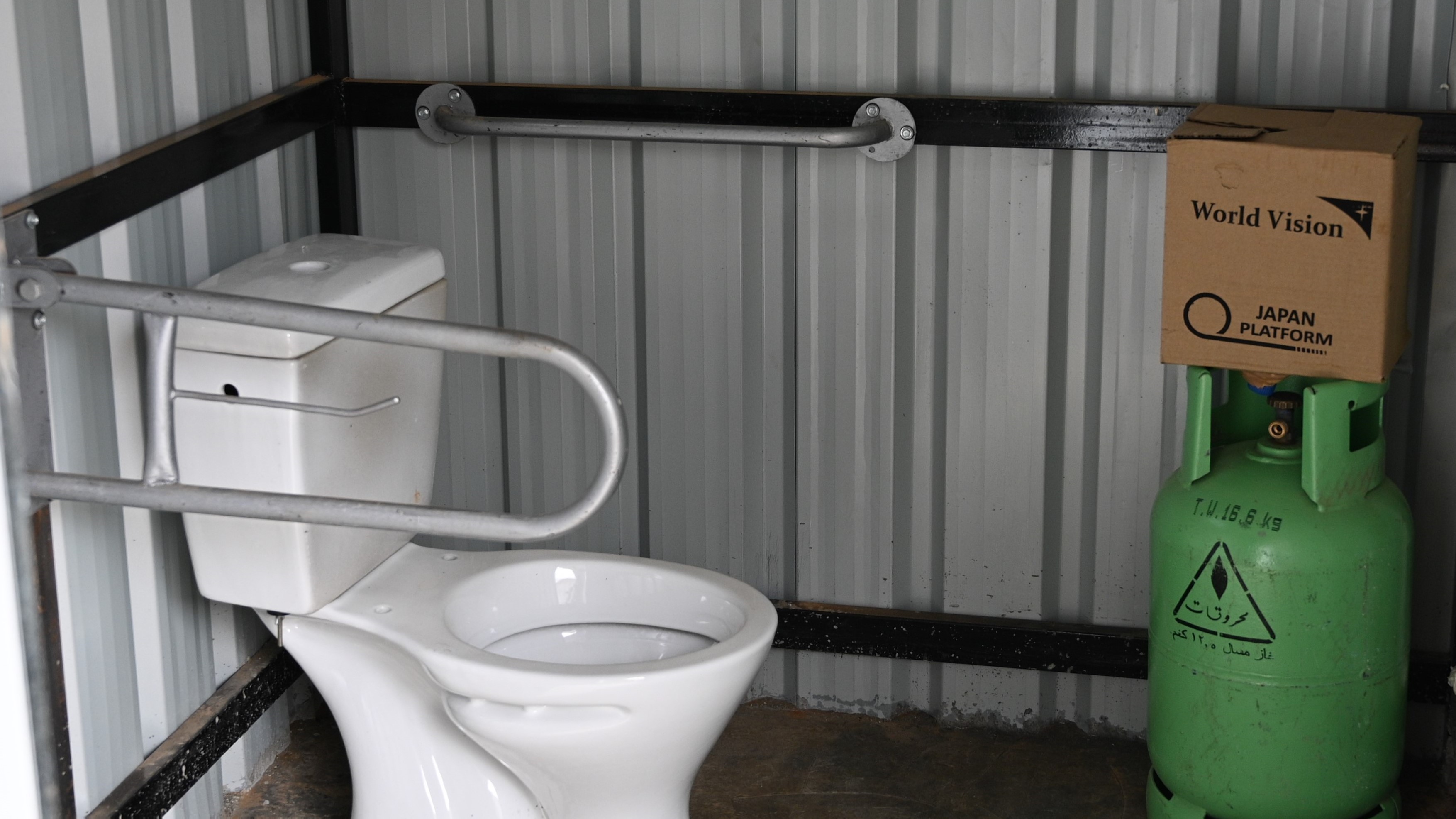 In March 2021, World Vision implemented a sanitation project in the camp by installing latrines. It was then when Dunya heard about the work World Vision was doing. "My elder son came running through the door saying that World Vision staff are working here", she says.
Dunya immediately put her shoes on and went to talk to the team, explaining her situation and the difficulties she faced as a result of not having a private latrine. When Yahya*, [one of the World Vision engineers who was working at the site] was made aware of Aya and Husni's barriers in accessing the communal bathrooms, he informed the rest of the team, prompting a quick response. "As soon as Dunya informed me about her situation, I checked with our team. We immediately added her name to the list and started working on providing her with a private latrine," added Yahya. "Within two days, the latrine was installed and ready to be used, I am so grateful," Dunya mentions. Being a mother of children with special needs,  Dunya now feels that her blind daughter is much safer using the private latrine. 
Improving the Camp's Infrastructure and Services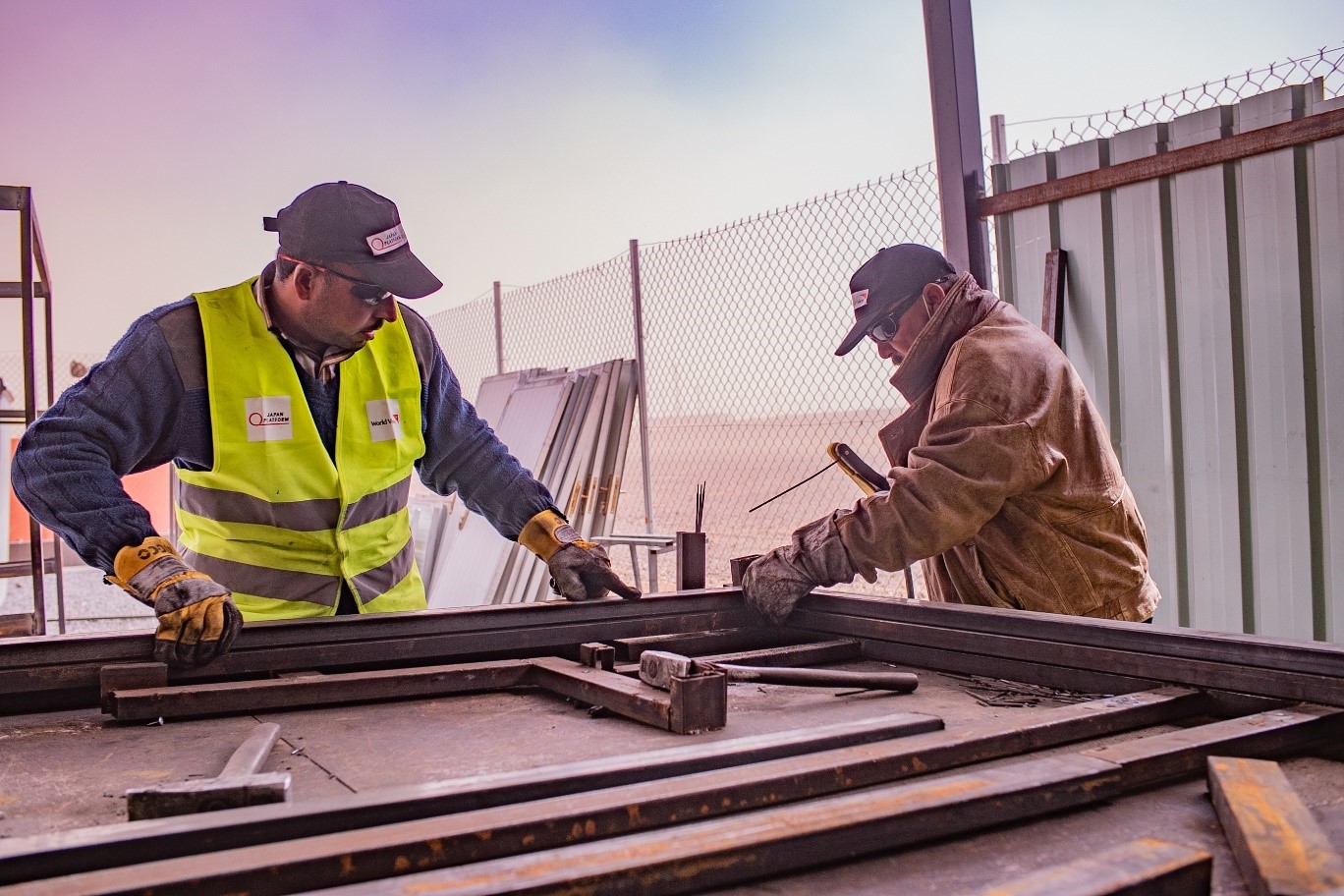 World Vision, along with other humanitarian agencies, work towards enhancing the environment and infrastructure in the Azraq Refugee Camp by providing essential services to its residents. One of those projects is the "WASH assistance for preventing COVID-19 in Azraq refugee camp and Informal Tented Settlements of Jordan" project implemented by Japan Platform. Initiated in 2021, with a duration of one year, it aimed at improving Syrians' accessibility to sanitation services.  According to a needs assessment report conducted by World Vision and Action Against Hunger before launching the project, only 16 per cent of the people living in the camp had access to private latrines, most of the residents using the communal ones. Many people living in the camp have started constructing their latrines in their shelters [2].
However, these were not always safe or properly isolated and installed and presented the risk of causing injuries.  According to the exact needs assessment, approximately 22 per cent of the households had a disabled family member who had difficulties accessing the communal latrines found in the camp. The high number of people with disabilities, along with the even higher number of people who didn't have a properly installed latrine, has led World Vision to take action and solve one essential need that would help people in the camp to live a more dignified life. So far, World Vision has installed almost 170 latrines for families who have a member who cannot use the communal latrines: people with disability, the elderly, people who suffer from diseases. The sanitation project offers cash-for-work opportunities for Syrian refugees in the camp. Thirty volunteers conduct the fabrication, assembly and installation of the private latrines. With their help, World Vision improved the lives of 1,350 families like Dunya's and her four children.
[1] Endogamy is a tradition among certain families where people marry within the same blood relation. Parents can give birth to children who suffer from genetic diseases due to the close blood relation.
[2] Half of the residents at the Azraq Camp are using self-constructed latrines in their shelters, which can cause many issues including the draining of wastewater into the holding tank. Most of those latrines have an opening at the top [roof] which offers no privacy to individuals who are using it. Another issue with this type of latrine is the door which opens against the wind, this poses a threat to older people, children and people with a disability as they present accessibility difficulties.