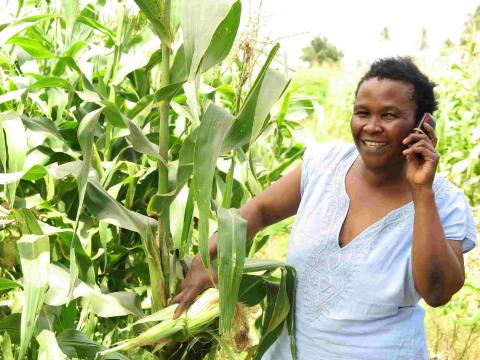 How a heroine broke dependency
Wednesday, January 17, 2018
Written by: Melkizedeck Karol (WVT) and Jessica Biseko (VFT)
It is a common practice for women in Africa to depend entirely on men in providing for their families. This is not the case for a 47 year old Mariamu Bakari. Unlike many women in her community she has courageously stood up to sustain economically despite her husband's condition.
In a small village of Uzambara, Same District in northern Tanzania, a group of women are optimistic with farmer-led and business initiatives to enhance their economic development and improve their family livelihoods. Same District is usually dry and farming is not feasible to depend on rainfall. It is unreliable and unpredictable.
Mariamu Bakari is one of the group members. She is married with three children namely, Shabani Bakari 23 years old, Asina 20 years old and the last one Rajab Bakari 16 years old.
You may have asked yourself where Mariamu's husband is. She has a sad story, although her face is usually smiley. Her husband has been paralysed for 2 years. As Mariamu puts it ""My husband was a fine man, on the first day he became sick, he fell down, we took him to different hospitals, his condition improved but deteriorated later on".
Before joining the group Mariamu was engaged in making snacks such as buns that she sold in the streets. "We had a small self-help group called Mshikamano before we were trained by World Vision on savings groups. I encouraged my colleagues and we established a registered savings group called Chavuma" Explains Mariamu.
Being a member of Chavuma savings group, where Mariamu and her colleagues save and took loans to generate income for their farming and small businesses, Mariamu says due to her great dreams, the loans were not enough. "Fortunately in 2013, we were called to a meeting organised by World Vision and VisionFund (SEDA at the time) in collaboration with our local government where they introduced to us farming loans".
After being linked to VisionFund, Mariamu and fellow group members organised themselves and were given a loan by VisionFund for farming. Her first loan was TZS 500,000/- (About US$250). Unfortunately the harvests were not so good due to serious shortage of water for irrigation in that year.
Despite the challenges encountered, Mariamu explains "I had to find another means to repay the loan so I collected some income from my other small business for that". Later on, Mariamu decided to take another TZS 500,000 loan but this time she focused on her small business rather than farming. She increased stock in her small stall where she sells foods such as rice, flower, beans, sugar and other non-food items for home use.
In the third loan, Mariamu received TZS1, 000,000/= (US$500), but she faced the hardest time as one of the group members ran away so the group had to bear the price of repaying the loan. "That was a disaster, I honestly gave up because it was a burden to me, but my loan officer from VisionFund advised me to take an individual loan" explains Mariamu.
Mariamu decided to take an individual loan. This round she qualified for TZS2, 600,000/= (about US$1,138) of loan. The money enabled her to expand her business, as she became a registered mobile money transfer agent in the area. She also bought a fridge for soft drinks like juice, water and soda as preferred by her customers. With her business, Mariamu has been able to pay for her children's school fees and cater for other family provisions.
"Also, with the same loan, I managed to buy a welding machine for my son who completed welding training. He now has a workshop here and he is doing very well" narrates Mariamu as she smiles. Shabani is Mariamu's first son; Shaban is now a well-known welder in the village. He makes metal items including building materials such as doors, window and home appliances like tables, chairs and beds.
Mariamu is also happy to share "It is through farming and my businesses that I built a 4 bedroom house as compared to two bedroom house before".
Mariamu adds, "through World Vision and VisionFund training, I have learned how to save and keep financial records but most importantly, with the loans, I have been able to expand my business. Today, I am able to provide for my family".
"I have been taking care of my husband and children alone, ever since he fell sick. It is hard but I love him so I cannot abandon him. I advise my fellow women not to depend on men but always learn to be self-reliant".
Mariamu's future dream is to be a successful entrepreneur by diversifying her business, establish a hardware store and expand her store to a wholesale. "World Vision and VisionFund have been like a life saviour and partner in my business and family, am very thankful."