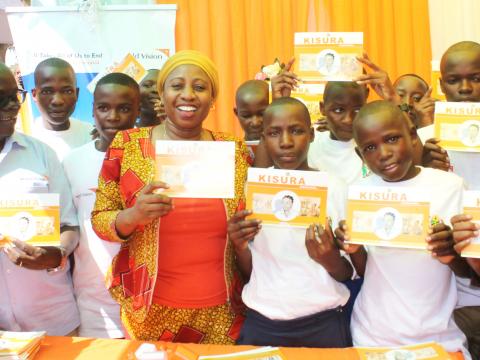 A Story Book Set to Help Rewrite the Stories of Young Girls in Tanzania
Monday, July 8, 2019
In Tanzania, the 'Day of the Africa Child' was celebrated widely, including a national commemoration which was held in Katoro ward; Geita Region, Lake zone.  World Vision was part of more than 14 stakeholders who partnered with the government through the Ministry of Health, Community Development, Gender, Elderly and Children to commemorate the day. At this event; Hon. Ummy Mwalimu was the Guest of Honor. The theme for this year was 'A Child is the Foundation of a Sustainable Nation: Lets #Care, #Protect and #Develop them'.
Among many other activities which were carried out by different organizations event; our team in Tanzania launched our first locally-produced child-focused comic booklet called 'Kisura'.
The 36-page booklet tells the story of a young girl who escaped marriage at her tender age, continued with her studies and pursued her dreams. This booklet addresses different issues faced by children in Tanzania, such as poverty which is one of the main reasons why parents/guardians allow their children to marry at a young age. It also educates audiences by focusing on the fact that, it takes support from everyone to help all children reach their full potential.
At this event; Hon. Ummy commended World Vision for launching this booklet. "No one is excluded from the role of protecting, caring for and developing our children," she said. "To have a nation that is free from child abuse means we have created a safer environment which is not only conducive for the growth of children but also better for a sustainable future."
"I sincerely appreciate all the efforts, time and resources invested into this book," she added. "We have finally found a simpler way to talk to different age groups and raise awareness on the matter at hand. If we will ensure that this book is accessible in all schools, government offices and other key areas; we would win a big war in front of us" she added.
Furthermore; Hon. Anthony Mtaka; Simiyu Regional Commissioner congratulated World Vision for all that has been done through various ongoing projects in his region and asked for services to be extended to Geita.
Kerensio, 16,  a student from Bujunangoma Secondary School in Katerero AP said, "I love the storyline in this book. It really spoke to me as a girl. I could be a victim of the same circumstance. With this book, I am more aware of what to do when such a situation happens to me or any of my friends. Thanks to World Vision for their tireless efforts to protect us."
Stanley Kashula, Kerensio's father, believes this book will contribute to bringing changes in our societies. "You know most people living in villages don't believe in the power to educate a girl child. Culture and traditions guide us to think it is a waste of time and resources to do so. After reading the book, I can tell you I now have a strong conviction in my heart to make sure I become part of this movement. Girl children deserve to access all [the same] opportunities given to boys," he said.
In March 2017, World Vision International launched a five-year global campaign to help end violence against children. The campaign is responding to an issue that affects over one billion children every year in every country, including Tanzania—Violence against children.
In Tanzania,  we are focusing our efforts on Ending Child Marriage. According to Tanzania Demographic and Health Survey (TDHS 2015), 31% of girls between the ages of 20 and 24 are married before their 18th birthdays. Child Marriage is a widespread problem that is prevalent in most of the regions where we are working in Tanzania. These regions include Shinyanga, Tabora, Simiyu, Dodoma, Morogoro, Singida, Kagera, Tanga, Arusha, Manyara, Kigoma, Dar es Salaam and Kilimanjaro. Our goal is to contribute to the reduction of child marriage incidences in Tanzania aligned to Sustainable Development Goals by 2022.tection concerns