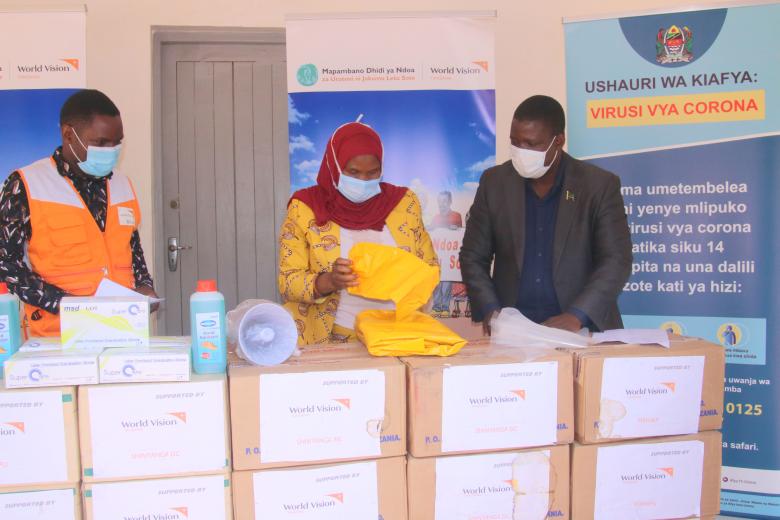 World Vision is complimenting the Tanzanian government's efforts in fighting COVID-19
Wednesday, May 27, 2020
Written By Agness John, Senior Communications Officer
World Vision has donated equipment worth more than 200million Tanzanian Shillings (TZS) to Regional authorities in Dar es salaam, Arusha, Tabora, Shinyanga and Simiyu to compliment the Tanzanian government's efforts in the fight against the COVID-19 pandemic. This donation was made as part of promoting preventive and control measures and supporting health systems strengthening.
To kick off the distribution exercise in an event that took place on a National Day of Prayers, equipment and supplies comprising of thermal scanners, megaphones, personal protective equipment (PPE) hand-washing facilities, and sanitation supplies such as sanitisers, were handed over to the Prime Minister of the United Republic of Tanzania Hon. Majaliwa Kassim Majaliwa for distribution in the Dar es Salaam Region.
In his acknowledgement while receiving the donation, Hon. Majaliwa said, "We are grateful for development partners, faith leaders, media and artists for continued awareness raising and sensitisation on COVID-19 control and preventive measures. Also, we thank partners for supporting by providing PPE to health workers on the frontlines, serving the general public."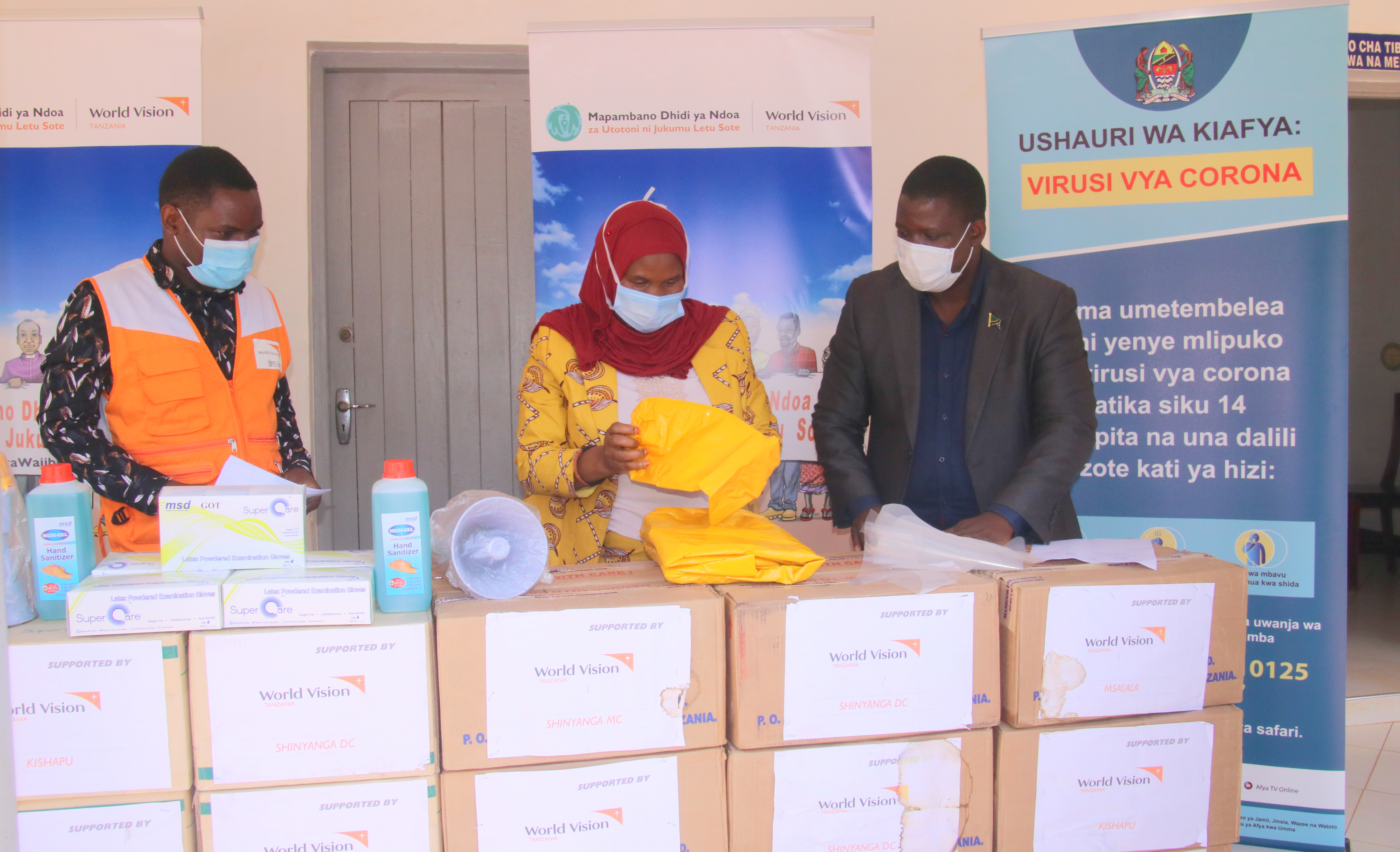 Similar equipment and sanitation supplies were handed over on different occasions to the Arusha Regional Administrative Secretary Richard Kwitega, Tabora Regional Commissioner Aggrey Mwanri, Shinyanga Regional Commissioner Zainabu Telack and Simiyu Regional Administrative Secretary Jumanne Sagini.
"We thank World Vision for the support. We were facing the deficit of the equipment needed to curb the spread of the virus. We call upon other stakeholders and development partners to continue supporting the government's effort in the fight against the disease," stressed Richard Kwitega, Arusha Regional Administrative Secretary.
World Vision has been working with the Ministry of Health, Community Development, Gender, Elderly and Children in Tanzania on key measures for COVID-19 prevention and control of COVID- 19, including; packaging of messages to public, use of PPE and testing kits, public announcement kits and hand-washing facilities within all of our operation areas and other high-risk areas.
Gilbert Kamanga, National Director for World Vision in Tanzania expressed that, "messages on COVID-19 control and preventative measures such as frequent hand-washing with clean running water and soap, limiting movement and social distancing, as well as wearing of masks while in public should reach everyone so as to ensure people are taking protective measures to lower the risk of transmission."
He also called on faith leaders to continue raising awareness in their congregations and through their networks: "Faith leaders let make sure every person is every street has a message on how to protect themselves from COVID- 19. Let us protect ourselves without waiting on the government to come up with drastic measures. We should also unite to fight stigma for it is as bad as any other tragedy."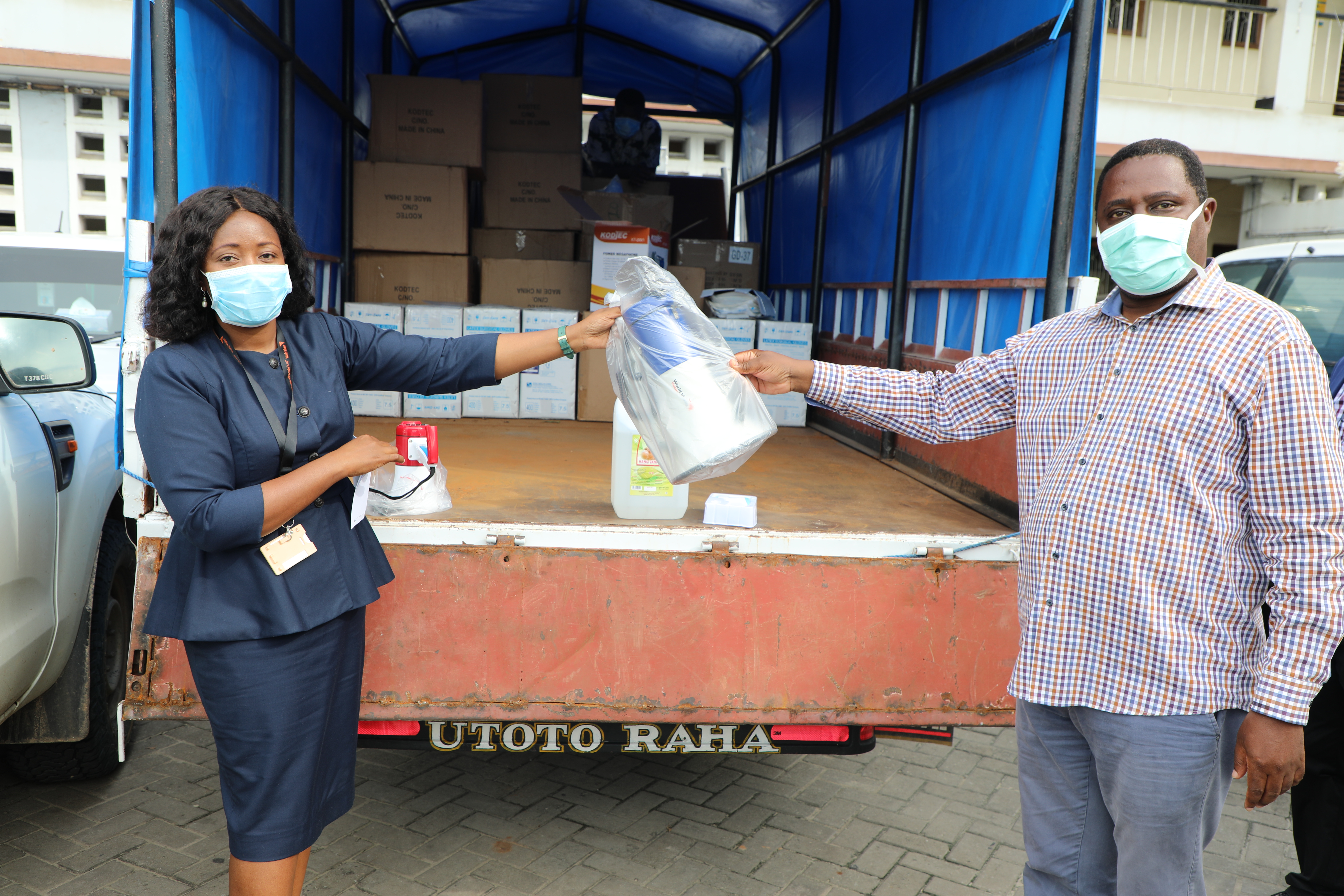 In collaboration with the Government of Tanzania, World Vision is strengthening the capacity of health facilities and community health workers also named as #AfyaKomandoos through training sessions on COVID-19 for prevention and effective management of the disease. World Vision is also facilitating trainings to religious leaders on addressing stigma and ensuring members of their congregations are staying safe.
In Tanzania, a case of COVID-19 was first reported on March 15 2020 in Arusha region. As at 11 May 2020, Tanzania had a total of 509 confirmed cases, 183 recoveries and 21 deaths according to the Tanzania Ministry of Health, Community Development, Gender, Elderly and Children. The transmission classification at the beginning was an imported case, but clusters of cases are increasingly growing. The virus has hit Dar es Salaam and Zanzibar the hardest.